It's snappy, fast-paced, high-tech, provocative, staffed mostly with young faces, and insists on defying the laws of media gravity.
Lebanon's Murr Television (MTV) news operation is defiant despite repeated assaults on its journalists and a mother station forced to shut down for seven years for political reasons.
"My aim isn't to insult people but to highlight what's wrong, to correct the ills," said Ghayath Yazbeck, head of news and political programs at the station whose owners are accused of receiving funding from the U.S. and being a mouthpiece for the former Lebanese Forces (LF) Christian militia.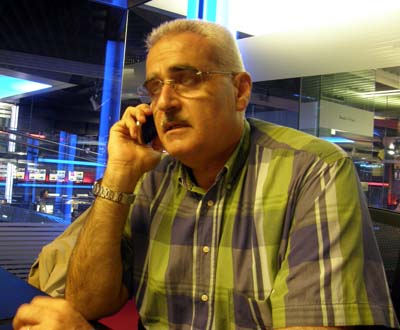 Ghayath Yazbeck, head of news and political programs (Abu-Fadil)
The Lebanese Forces are feuding with rival channel LBCI TV's CEO Pierre El Daher over ownership of that station, which the LF founded and which El Daher has been running since LF chief Samir Geagea was jailed for a few years on charges of blowing up a church.
So critics said control of a channel like MTV would provide the LF with a platform, but Yazbeck denies any such affiliation.
By making waves, MTV knows it's ruffling feathers in Lebanon's politicized and sectarian landscape but feels the impact and audience share justify it.
Last month reporter Joyce Akiki and her crew were assaulted and their camera smashed in a village that is home to a large Shiite population while covering news of illegal construction on land purportedly owned by the Christian Maronite patriarchate.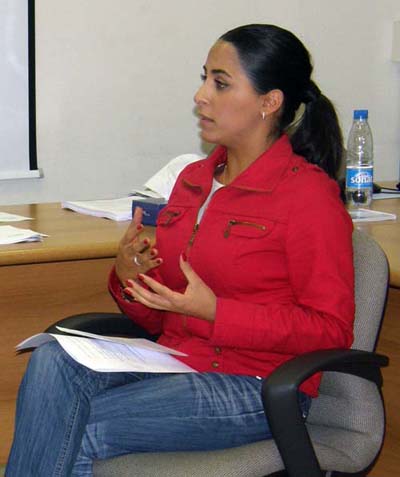 MTV reporter Joyce Akiki (Abu-Fadil)
She accused the municipal policeman of barring them from shooting footage and acting like a Hezbollah militiaman.
The church had previously sent topographers to survey the land who were also accosted. There have been recurring incidents in the village.
But the pro-Syrian daily Assafir blamed MTV for making hay by referring to "Hezbollah's state within a state."
It charged MTV with turning it into a daily serial highlighting the Shiite residents' assault and their Hezbollah protectors on the innocent Maronites in the region.
Another MTV reporter, Joelle Kozaili, was harassed when she covered building code violations near Beirut International Airport in the southern suburbs, noted as a Hezbollah stronghold.
She and a cameraman were taken for questioning by Hezbollah partisans as they tried to film illegal construction perilously close to the airport's runways.
"We won't remain silent about any harm befalling a journalist whatever the affiliation and we won't accept having the media being scapegoated," said Said Nasser El Dine, acting president of the toothless Lebanese Journalists' Union (LJU).
Lebanese broadcast media don't have a union and the LJU has no jurisdiction except over print media.
The equally ineffective National Audiovisual Media Council, whose members reflect Lebanon's sectarian divides, didn't blink or issue a condemnation statement following the incidents.
Asked if MTV was intentionally targeting Hezbollah or the Shiites, Yazbeck replied: "When I'm covering civic issues, cleaning up (government) administrations, when I say people have a right to decent health coverage, that you have a right not to have potholes on the roads, who have I insulted? Which group or sect in Lebanon isn't adversely affected by these problems?" he asked.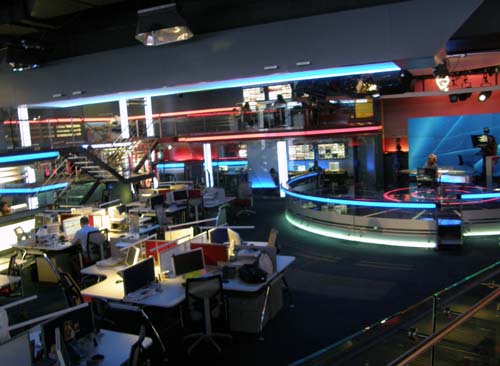 MTV Anchor on the air in MTV's high-tech newsroom (Abu-Fadil)
In June Yazbeck told the daily An-Nahar Lebanese TV stations lacked the feel for investigative journalism, adding that wrongdoers must be investigated, exposed, brought to justice, and held accountable.
"It's time we emerged from our factional cocoons where the Lebanese tend to side with fellow tribesmen even if their hands are covered with blood, instead of siding with what's right," he insisted, adding he would continue to focus on thorny issues, regardless of which religious sect was at fault.
His argument: journalists should uncover violations that hamper the rebuilding of the state and undermine it and the judiciary from doing their jobs.
It's the kind of attitude that got MTV in hot water in 2002, when major shareholder Gabriel El Murr ran for parliament and won against his niece Mirna, daughter of Michel El Murr, a former cabinet minister and legislator then allied with Syria and the pro-Damascus former president Emile Lahoud.
The brothers Gabriel and Michel have had their political differences over the years.
According to Lebanon's electoral law at that time, media were barred from publishing or broadcasting campaign fare for a specified period prior to the vote, and faced indefinite closure if they veered off course.
MTV was charged with broadcasting promotional programs to boost Gabriel El Murr's chances at the ballot box during that blackout so it was shut down and countless employees found themselves jobless overnight. His election victory was nullified.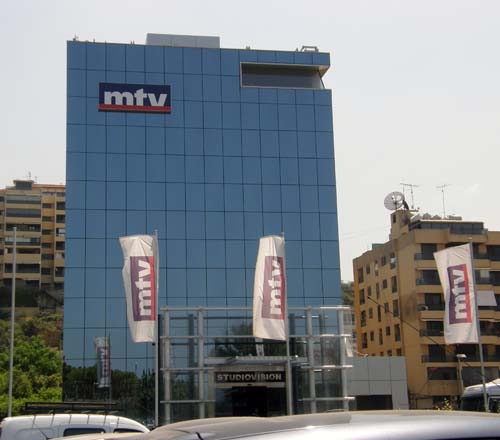 MTV news division (Abu-Fadil)
The MTV channel also broadcasts entertainment shows and has a sizeable production arm, which was also harmed by the closure.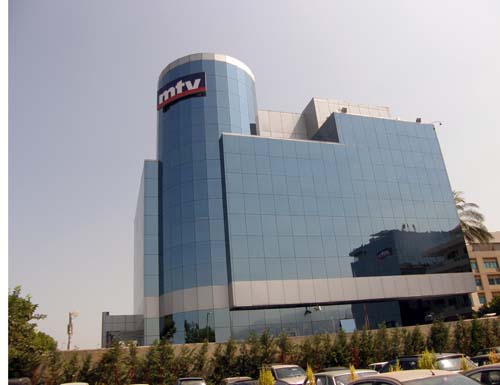 MTV entertainment and production center (Abu-Fadil)
El Murr's and MTV's supporters complained the case was taken to extremes for political purposes.
The electoral law was later amended with regard to media coverage by limiting penalties to a maximum shutdown of three days.
Fast forward to 2009 when MTV reopened with great fanfare and a state-of-the-art news operation that has been the envy of local and regional channels.
"You can watch us on your iPad, iPod, iPhone, on the website and we twice got prizes for our technological advances and innovations," Yazbeck boasted.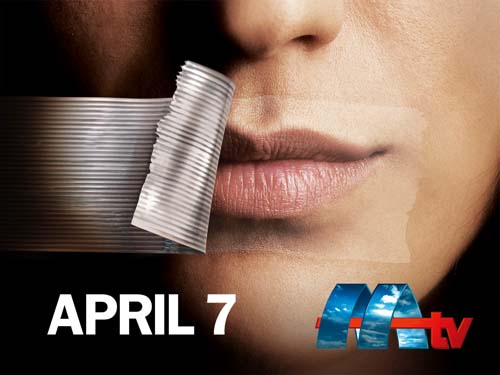 Relaunch ad with old logo showing its forced silence had ended (courtesy of MTV)
So what are MTV's successes and failures?
"I can tell you what the criteria are for success: The high viewership we have," Yazbeck said. "Another factor is the advertising market, of which we've secured almost 40 percent. A third factor is our interaction with the people, which is a very basic matter."
The obstacles, he said, were financial and logistical and the fact MTV had set very high standards for itself.
"We're being hard on ourselves and this is costing us financially, but we consider it a good investment in the right direction," he admitted.
MTV's investment has included hiring mostly young reporters and anchors. The news team of 160 includes 11 reporters, six anchors and five producers. Two reporters also anchor.
The station poached Joe Al Khawli, Majed Bou Hdair and Mona Saliba from rival LBCI.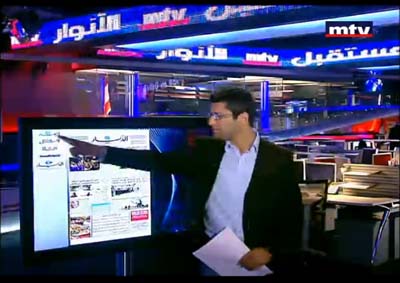 Joe Al Khawli's press review (Abu-Fadil)
After MTV was relaunched, LBCI laid off veteran reporter Denise Rahme Fakhry. She's now a senior correspondent at MTV.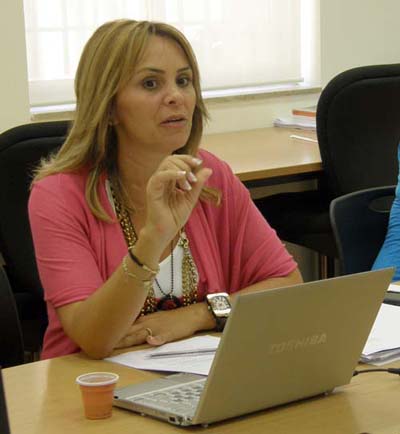 Denise Rahme Fakhry (Abu-Fadil)
Talk show host Walid Abboud, an earlier MTV stalwart who had moved to LBC, returned to his original station.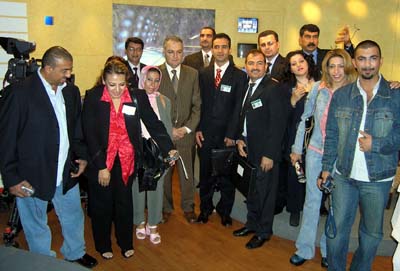 Walid Abboud (center) at LBC with visiting journalists (Abu-Fadil)
In January 2009 MTV CEO Michel El Murr (Gabriel's son named after his politician uncle), said the relaunch was like rising from the dead.
When it first opened in October 1991, MTV's logo was "the sky is the limit."
Popular in the Community