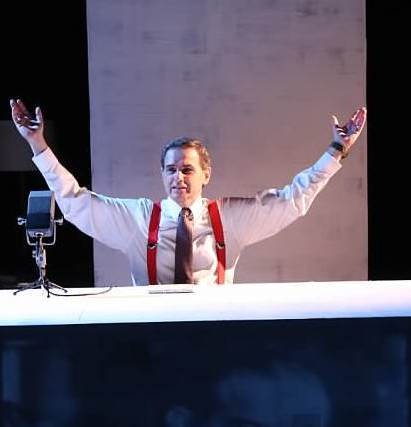 In order to fully appreciate, both intellectually and emotionally, that and how broadcast news reached its present nadir - and also how glorious it was during its peak -- spend an hour and forty-five minutes with a fine facsimile of Edward R. Murrow, the man who turned reporting the news into "a powerful weapon for truth." If you (sob!) don't know who Murrow was, and (sob! sob!) suffer from the delusion that information about what's happening on the planet should be dispersed as it is presently by (ugh!) Wolf Blitzer or (ugh! ugh!) Lyin' Brian Williams, Murrow, the play, will set your records straight. Edward R. Murrow (1908-1965) was a CBS radio and television news giant (1940-1961), renowned for his honesty and integrity, who first attracted notice during World War II when he broadcast live communiques from London rooftops, accompanied by the cacophony of Nazi bombers decimating the city.
Murrow, the man, furnishes the frame for Murrow, the reporter. Both are magnificently brought to life via a superb collaboration between Playwright Joseph Vitale, Performer Joseph J. Menino and Director Jeremy Williams. Bravo! Bravo! Bravo! for individually and jointly doing Murrow proud. Vitale's impeccable research included immersing himself into biographies of Murrow, transcriptions of his actual broadcasts and recollections of the late Fred W. Friendly, a president of CBS News who co-created with Murrow the prize-winning historical documentary series, "See It Now!" Vitale also spoke at length with Murrow's only son, Casey, gaining his trust and acquiring permission from him and the Murrow Estate to quote from Murrow's scripts and letters. How powerfully do Murrow's words still resonate? You'd be hard pressed to find any phrases more powerful, honest or memorable.
Merino's resemblance to Morrow is impressive and his performance had so much vitality and subtle mobility that it never felt like a One-Man Show. I sat in the dark, scribbling phrases, worth remembering, spoken by this man for all seasons who had been most inspired by two woman, his proper Quaker mother and a college speech teacher, crippled by polio as a child.
His mother's oft repeated instructions? It is better to wear out than to rust. His teacher, Ida Lou Anderson, gave Murrow the Meditations of Marcus Aurelius in which he found his mantra: If you work at that which is before you, following right reason seriously, vigorously, calmly without allowing anything else to distract you, but keeping your divine part pure, as if you might be bound to give it back immediately; if you hold to this, expecting nothing, fearing nothing, but satisfied with your present activity according to nature . . . you will be happy. And there is no man who is able to prevent this.
To follow Vitale's Murrow through recent history is a privilege. His last European assignment, at the end of WWII, was being with Patton's Third Army when they liberated Buchenwald. Murrow's stunned broadcast about this experience ended with the following chilling comments: I pray you to believe what I have said about Buchenwald. I have reported what I saw and heard, but only part of it. For most of it ... I have no words
Later, preparing his equally memorable broadcast decrying the demagoguery of the late of Senator Joseph McCarthy, he defined broadcasting's equal fairness doctrine as "the measure that assures that Jesus and Judas get equal time." He warned listeners that "We must not confuse dissent with disloyalty. We must remember always that accusation is not proof and that conviction depends upon evidence and due process of law." He also accepted blame for broadcasting's and his own contributions to McCarthy's rise to power. "We cannot escape our responsibility for the result. Cassius was right. The fault, dear Brutus, is not in our stars but in ourselves."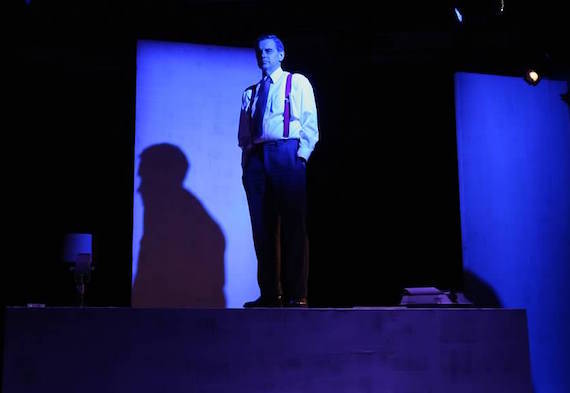 Jeremy Williams' staging is flexible and elegant. Projections of black and white stills and kinescope clips reprise the times in which Murrow worked. An old fashioned corner with a traditional lamp and a red leather armchair represents the home/office. A large rectangular wooden block with a moveable microphone on it does double duty as Murrow's desk/studio. It becomes a rooftop whenever Menino steps on it and utters Murrow's iconic phrase, "This ... is London," as in the photo above. A word about The Wild Theater. Behind its white storefront façade sits a neat, modern space stacked with comfortable stadium seating, versatile lighting and fine acoustics. I have never seen anything but top drawer, ultra-imaginative productions at this venue.
What! Did Murrow have no downside? Well, there was the tradeoff with CBS Chief William Paley, unmentioned in the play, where Murrow agreed to host the first celebrity interview show, "Person-to-Person," in order to keep his high-cost, low-rated historical series on the air. His guests included then-Senator John F. Kennedy and his wife Jacqueline, Elizabeth Taylor, Frank Sinatra, Jerry Lewis, Marlon Brando, Groucho and Harpo Marx, Margaret Mead, Harry Truman, Marilyn Monroe, Fidel Castro, Ethel Waters, Sammy Davis Jr. and John Steinbeck. I'm still reluctant to put the entire blame for the (Argghhh!!) Kardashians entirely on Murrow. How could anyone have known the genre would decline so much?
Phoenix Theatre Ensemble's Production
At The Wild Project Theater
195 E. Third Street, NY, NY 10009
May 12-14, 17-21 @ 8 PM
May 12 @ 3 PM, May 11 @ 2 PM
www.PhoenixTheatreEnsemble.org
Box Office: 212-352-3101
Photo Credits: Gerry Goodstein
Popular in the Community