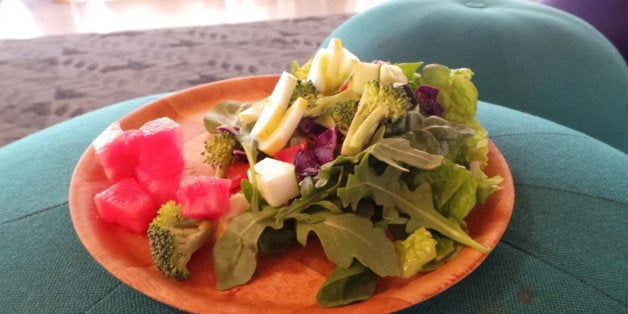 Move over, meatless Mondays and vegetable quesadillas! One private early childhood-12 school in southern California is going all the way, eliminating all meat and animal products from its cafeteria and offering an entirely plant-based menu.
MUSE was founded by actress Suzy Amis Cameron and her sister Rebecca Amis in 2006, with a focus on sustainability. According to spokeswoman Jennifer Mau, MUSE's board and administration made the decision to go vegan last spring; all lettuce and nearly half of the produce will be sourced from on-campus gardens and greenhouses thanks to the school's seed-to-table initiative, which grows about 200 different varieties.
MUSE was already moving toward the change, serving entirely plant-based meals one day a week to its 150 students beginning in September 2013. Last fall, it upped that number to two days a week, plus two days of vegetarian-friendly fare.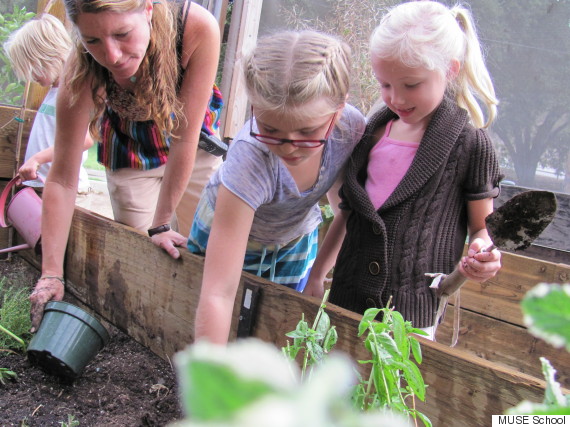 MUSE's School new vegan menu is an outgrowth of its seed-to-table initiative.
Parents' response to the initiative has been largely positive, Mau says.
"The way we eat is the easiest and most impactful way we can alter our carbon footprint as a school," MUSE's head of school Jeff King said in a statement. "The largest consumers of water are not people but cattle. To truly deliver our mission of sustainability, we had to find a sustainable way of eating. The answer was to create our 'One Meal a Day for the Planet' program -- plant-based lunches and snacks -- for our students."
Nutritionists interviewed by The Huffington Post applauded MUSE's move away from the typically highly processed foods and drinks that too often remain standard American cafeteria fare. Studies show reducing one's meat intake not only has an environmental impact, but also a health one — reducing risk of heart disease, stroke, cancer and diabetes, as well as curbing obesity.
There are general caveats. Marion Nestle, a professor of nutrition and food studies at New York University, told HuffPost that a vegan diet is in line with the health world's recommendation to eat mostly fruits, vegetables and grains, but that any successful diet must offer a variety of choices.
"One basic tenet of healthful diets is to include a variety of foods, and vegan diets need variety too," Nestle said via email. "The menus must be planned to be adequate in calories, protein, and variety."
David Katz, an instructor in medicine at Yale's School of Public Health, agreed, noting that "it's possible to do a vegan diet badly, but if it's done well, it's one of the best diets we have."
"Just calling it vegan doesn't guarantee it is high nutrition and a lot could be lost in translation," Katz noted. "But the potential is great."
Mau, noting that students are only eating one meal a day at MUSE, said school officials are very careful about their approach to plant-based proteins in an effort to ensure the meals are as nutritious as possible.
Katz also pointed to early research indicating a link between healthy eating and physical exercise and improved student behavior and academic performance. It's evidence, he says, that MUSE's efforts could be beneficial for their students in ways beyond their physical health.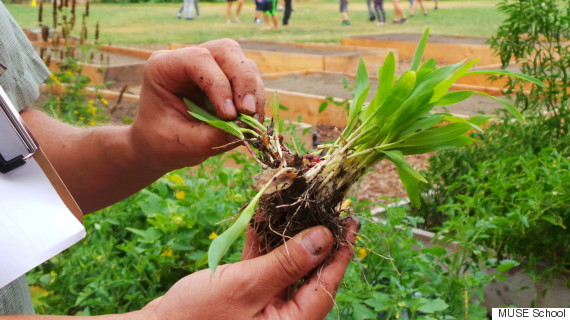 A corn sprout grown at MUSE School.
MUSE's embrace of a plant-based menu comes at a time when more and more schools across the country are also reducing their reliance on meat and animal products.
Since 2009, Meatless Mondays, a public health campaign associated with the John Hopkins Bloomberg School of Public Health, expanded their program into the school sphere, with Baltimore City Public Schools becoming the first public school system to offer an an all-vegetarian menu to start off each week.
Since then, another 53 districts have also joined the movement, including schools in Los Angeles, San Diego, Philadelphia, Boston and Detroit, and others are working with the program to implement more meat-free proteins into menus that still meet the requirements of the National School Lunch program.
Meatless Mondays isn't advocating necessarily for students to go vegetarian or vegan -- rather, the program's goal is for people to diversify their diets and incorporate more plant-based meals. Children, spokeswoman Diana Rice notes, are at a particularly important time in their lives as their eating habits tend to be less entrenched than adults.
"This is something people can participate in without feeling that they have to change their diets completely," Rice told HuffPost. "It teaches them from a young age that a meal doesn't have to have meat in it to be a solid meal."
Before You Go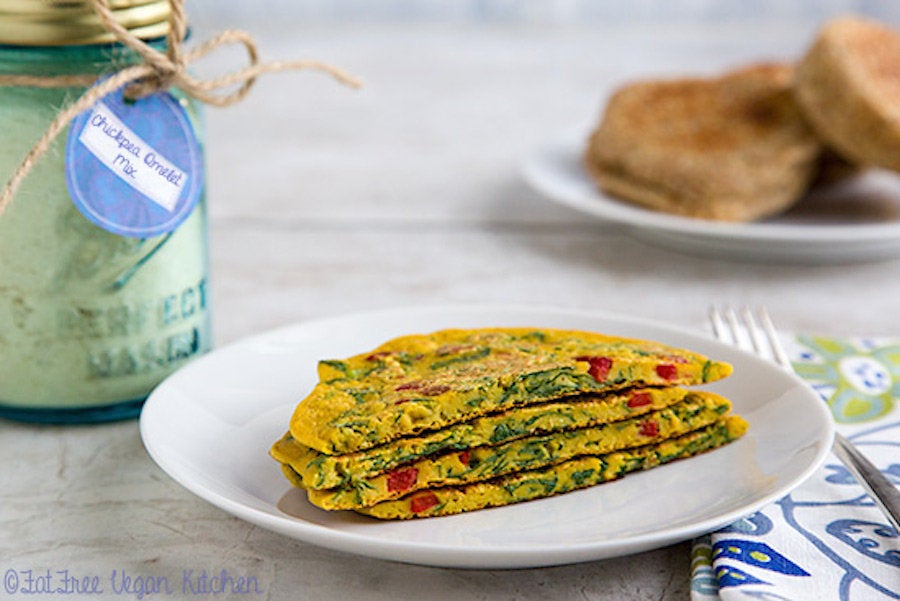 Impressive Vegan Hacks
Popular in the Community