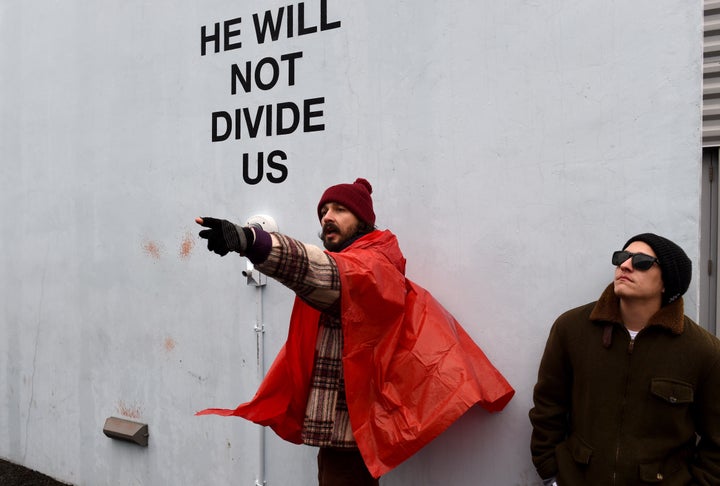 All weird things must come to an end.
Shia LaBeouf's live-stream video installation "He Will Not Divide Us" ― which had been planned to last the duration of /www.huffingtonpost.com/news/donald-trump"}}">Donald Trump's presidency ― was shut down Friday amid concerns over public safety.
New York's Museum of the Moving Image, which has played host to the installation since Trump's inauguration in January, released a statement on its website about the closure despite pushback from the "American Honey" actor. 
"The installation created a serious and ongoing public safety hazard for the Museum, its visitors, staff, local residents, and businesses" the statement reads. "The installation had become a flashpoint for violence and was disrupted from its original intent."
The interactive installation encouraged visitors to say the words "he will not divide us" into a camera mounted outside the museum. Visitors included celebrities like Jaden Smith, who was first to participate in the project.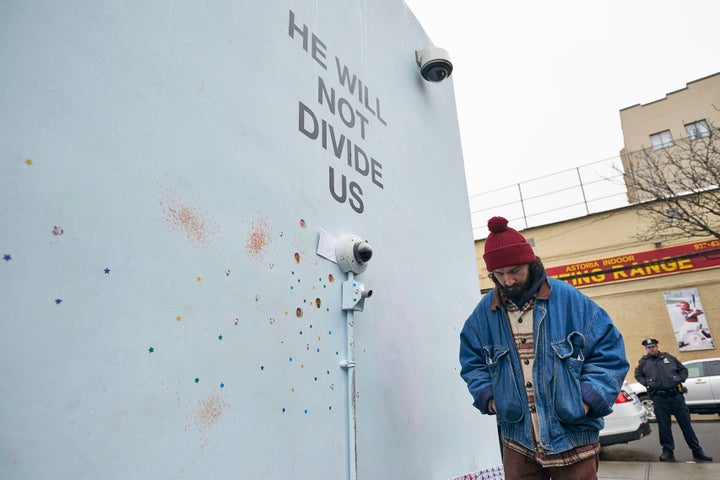 The site, however, soon became a hotbed of confrontation between protesters and presumed Trump supporters. In January, a video of LaBeouf engaging in a shouting match with a white supremacist quickly went viral. That same week, the actor was arrested during an altercation with a 25-year-old man after LaBeouf allegedly grabbed the man by the scarf and scratched his face. Ever since, police have been patrolling the installation day and night to prevent future incidents.
"While the installation began constructively, it deteriorated markedly after one of the artists was arrested on the site of the installation and ultimately necessitated this action," the museum's statement continues. "Over the course of the installation, there have been dozens of threats of violence and numerous arrests, such that police felt compelled to be stationed outside the installation 24 hours a day, seven days a week."
LaBeouf took to Twitter to express his disapproval about the closure with a screenshot from the former installation's website: "THE MUSEUM HAS ABANDONED US."
Despite the negative public attention, the museum maintains it was "proud" to host the digital art installation, which was watched by millions of viewers around the world. 
"HEWILLNOTDIVIDE.US generated an important conversation allowing interaction among people from many backgrounds and with different viewpoints," the statement concludes. "However, ending our engagement with the installation is the most prudent path forward to restore public safety to the Museum, its visitors, staff, and the community."
Calling all HuffPost superfans!
Sign up for membership to become a founding member and help shape HuffPost's next chapter
BEFORE YOU GO
PHOTO GALLERY
Celebrity News & Photos: 2017