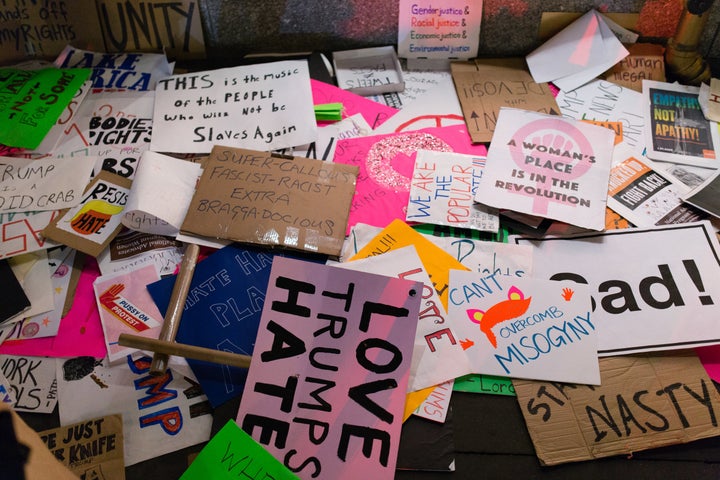 And they also know how to make a good protest sign.
Amateur and professional photographers memorialized many of the smart, compelling and even hilarious signage found in marches across the country (and across the globe). But upon seeing some of the poster art left purposefully in front of government buildings and Trump towers, some across the internet wondered whether or not anyone ― or any organization ― had plans to collect and archive the physical Women's March signs.
Thankfully, as New York Magazine reported, museums, libraries and galleries around the world are indeed collecting your signs in an effort to remember the historic marches that took place a day after the inauguration of President Donald Trump.
Among them is the Smithsonian's National Museum of American History, which sent curatorial team members to collect art left over from protests on Inauguration Day and the day after in Washington, D.C.
In an email to The Huffington Post, The New York Historical Society explained that it is also collecting items from the Women's Marches. "We collected approximately 20 signs in D.C. and New York City, as well as several buttons, hats, flyers and stickers," Communications Manager Marybeth Ihle told us, "but anticipate that many more items will flow in over the next few weeks as people respond to our outreach efforts."
Last year, the New York Historical Society opted to preserve some of the "Subway Therapy" post-it notes that appeared in NYC Metro stations not long after Trump's election.
Below is a breakdown of sign collecting efforts we've discovered on Twitter. If your state or country isn't included in this list, we suggest reaching out to your local history museum, art gallery or library to see if they are starting a collection of their own. If they are, let us know! And we'll add them here.
California:
The Sutro Library on San Francisco State University's campus is also collecting materials from all the marches. Materials can be dropped off or can be mailed to: CA Women's March Collection, 1630 Holloway Ave., San Francisco, CA, 94132. For more information, please contact: mattie.taormina@library.ca.gov.
Colorado:
Georgia:
Illinois:
Indiana:
Iowa:
Kansas:
Maine
Massachusetts:
Michigan:
Montana:
New Jersey:
North Carolina:
Ohio:
To make a collections donation to the National Underground Railroad Freedom Center in Cincinnati you can contact Curator Ashley Jordan at ajordan@nurfc.org and Director of Museum Experiences Richard Cooper at rcooper@nurfc.org.
Pennsylvania:
Virginia:
In a Facebook message to HuffPost, an employee from the Virginia Historical Society confirmed that the organization is collecting signs.
Canada:
U.K.:
This article has been updated to include a statement from the New York Historical Society and will continue to be updated as we learn of more institutions' collecting efforts.

Related
Before You Go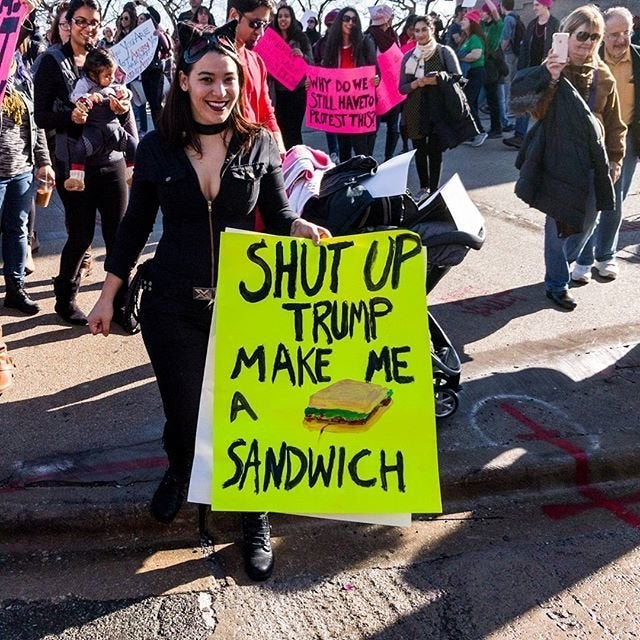 Signs from 2017 Women's Marches
Popular in the Community