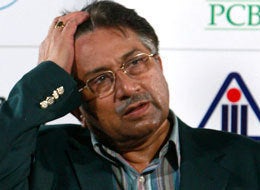 The Financial Times reports that Pakistani president Pervez Musharraf will resign in a matter of days:
Pakistan's beleaguered president Pervez Musharraf is to step down after nine years in office, government officials and a member of his circle have told the Financial Times.

A senior officer in Mr Musharraf's camp on Thursday conceded that he had decided to step down to avoid a parliamentary impeachment that was likely to begin on Monday.
Musharraf's main rival and leader of the new ruling coalition, Nawaz Sharif, has spoken out against granting Musharraf legal immunity:
As speculation mounted that Pakistani President Pervez Musharraf would resign instead of face impeachment, a leader of the new ruling coalition said Thursday that the embattled former army chief should not be granted legal immunity...

...in his own Independence Day address, former Prime Minister Nawaz Sharif, whose party is a member of the ruling coalition, ruled out "safe passage" for Musharraf.

Sharif, who Musharraf pushed out of power in a 1999 coup, alleged the president had violated the constitution and compromised the nation's sovereignty, a reference to the president's alliance with the U.S. in the war on terror. Sharif's party has previously not only demanded Musharraf's impeachment but also called for him to be tried for treason -- which carries the death penalty.

"Should safe passage be given to someone who has done this to Pakistan?" Sharif asked a crowd in the eastern city of Lahore. "He wants safe passage by breaking Pakistan's law. He wants safe passage by breaking Pakistan's constitution. He is asking for safe passage by selling out Pakistan's sovereignty."
REAL LIFE. REAL NEWS. REAL VOICES.
Help us tell more of the stories that matter from voices that too often remain unheard.