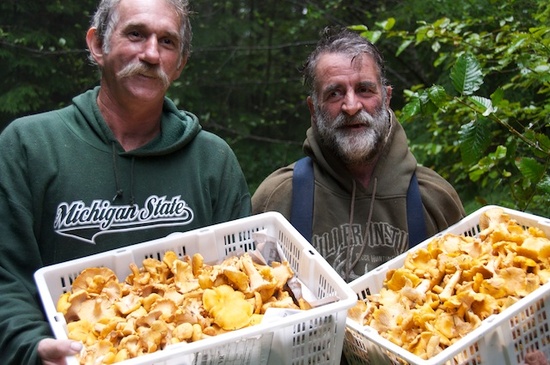 Doug is one of the characters in my book. He's been hunting mushrooms commercially in the Pacific Northwest for 30 years. Before that he was a logger and he also captained a crab boat. Sometimes Doug cuts steel to make a little extra cash or digs razor clams. He's been roaming up and down the West Coast for decades doing outdoor jobs to pay the bills, mostly picking mushrooms. In recent years I've been roaming with him, meeting the pickers and buyers who work in a hidden economy known as the mushroom trail. Many of the pickers are refugees -- from the Old Economy at home or war-torn countries abroad. They move with the seasons, preferring the fluctuations of a crop tended by nature (and the Gold Rush hope of hitting the mother lode) to the more stable yet monotonous alternative of agricultural work.
Recently Doug has put down more permanent roots in the woods outside Chehalis, Washington, where he's caretaking a property and building a little cabin for himself. In his mid-'50s, he told me he was getting too old for mushroom picking and needed to rest his body. The TV shoot seemed like the perfect way to go out -- a valedictory lap on the mushroom trail.
On the Thursday morning before Labor Day weekend, we met at a café in the moldering timber town of Hoquiam, on the Olympic Peninsula, two hours southwest of Seattle. As luck would have it, the first major rainstorm of the season greeted us. We drove north through a downpour into the foothills of the Olympic Mountains, a former wilderness of jumbo Douglas firs, Sitka spruce, and red-cedar converted into an industrial forest of lumber products. These were dense, dark and untrailed woods that would unnerve the average hiker. Near a salmon stream, Doug had us pull over so he could check his lobster patch. The lobster mushroom is a species of fungus that parasitizes another species of fungus, transforming a white, gilled and rather unpalatable mushroom into a bright orange and choice edible. The kingdom of fungi is full of such oddities. Doug said he couldn't remember the last time he ate one; for him, a mushroom is strictly currency.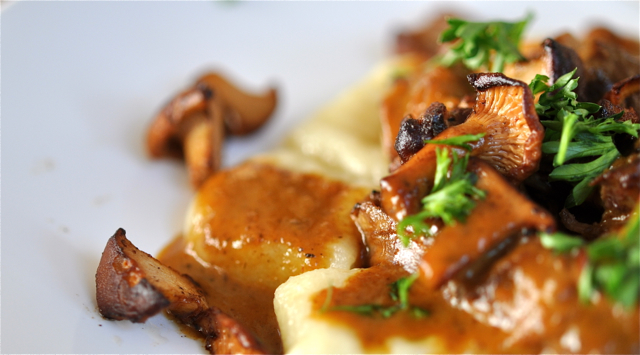 After picking a few lobsters, we moved on. Our main quarry was a species of mushroom partial to the young Douglas firs so common in the cutover timberlands of the Northwest, the beloved golden chanterelle, a wild edible found on restaurant plates from San Francisco to New York and all over the world, where it might be scattered across a cut of meat or used to spruce up a rich pasta sauce. The southern Olympic Peninsula, with its Paul Bunyan spirit and miles of timberlands, is the center of chanterelle harvest in North America.
Dressed in hoodies, jeans and work boots -- without a shred of Gore-Tex -- Doug and his picking partner Jeff led the film crew down a steep and slippery slope covered in rain-washed salal and Oregon grape. It was tough going and wet -- walking-through-a-car-wash wet. Despite the noon hour, it seemed like night was falling. "Don't worry," Doug reassured his guests. "We won't get you lost in the woods." The stumps of the original forest, some of them as wide as VW buses, dwarfed the new conifers crowding around them. At the foot of these trees we spotted them: the fluted, egg-yellow caps of golden chanterelles peeking from the moss. Clusters of chanterelles appeared every few yards -- a pound here, a few pounds over there. Doug guessed this one slope could fill his and Jeff's five-gallon buckets several times over, with about 80 pounds apiece. For their labor, the buyer in Aberdeen would pay them $2 per pound, about $160 for the day. A week ago and the price was closer to $7 per pound, but now, with the beginning of the rainy season, the mushrooms were popping, and Doug was competing with Mexican immigrants, Southeast Asian refugees, and other former loggers and fishermen like himself.
The film crew marveled at this golden twinkling bounty and Doug laughed. "It ain't so much," he said in the laconic way of experts in the rural arts. "You should see this place when the flush is really on." He got down to business and the film crew tagged along. It didn't take long before everyone was soaked and sweaty from bushwhacking up and down the folds of a soggy Northwest forest. The crew, struggling hopelessly to waterproof their gear, seemed a little irritated at the implacable weather. Doug grinned. "This is just a drizzle," he said, bending down to slice off another mushroom at the heels, his bucket filling as the tape rolled, making what might be his last run through a patch that he's picked every season for the last 20 years.