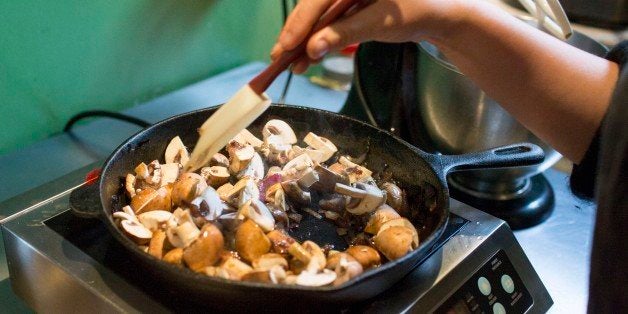 Okay, I'll admit it; I'm mad for mushrooms! With their wide array of flavors and textures, mushrooms are one of my favorite ingredients to cook with. Whether I'm making a pasta sauce, soup, a pizza, a side of roasted veggies or just looking for a fresh, raw ingredient to add to salads, mushrooms add a depth of rich, earthy flavor that is unparalleled by any other ingredient. I like to call them umami bombs because they have so much of that delicious umami flavor!
When it comes to choosing mushrooms, the first decision is which variety of mushroom will work best with your specific dish. The two things you want to consider are flavor and texture. Here are some of my favorite mushrooms and where they fall on the flavor/texture profile:
Noki: These Japanese mushrooms are extremely delicate in both size and flavor. They work best in clear broths.
Champagne Mushrooms, also known at Button Mushrooms: These are the most common mushrooms. Their flavor is deep but not too strong and they can be used in almost anything, cooked or raw.
Portobello: Hearty and substantial with a medium-level flavor profile, Portobello mushrooms are a great meat alternative in burgers or pasta sauces.
Cremini: More intense in earthy flavor than Button Mushrooms, Cremini are great as a pizza or salad topping.
Shiitake: These are the most flavor-intense mushrooms! They have a buttery taste that works well in sauces and stews.
Chanterelle: Sweet and fruity, Chanterelles are in season during the summer and make a great pizza topping or pastry filling.
Morell: These might be my #1 favorite mushrooms. They're extremely versatile and can be purchased dehydrated when they're out of season. Their earthy flavors are great in soups and gravies.
No matter which variety you choose, remember to look for mushrooms that are dry rather than slimy. Your mushrooms should have no bruises or discolorations. I always recommend looking at the bottom of the stem to determine how fresh a mushroom is. If the mushroom is old, the bottom of the stem will be dark or discolored. If it's fresh, the stem will be the same color as the rest of the mushroom.
A little dirt is OK - just wipe it off before cooking. On that note, don't ever wash mushrooms or rinse them in water! The water gets absorbed into the mushroom and will give the food a slimy texture when cooked. To clean, just give your mushrooms a dry rub to get the dirt off and you're good to go!
If you're looking for a delicious way to enjoy the rich flavors of a variety of mushrooms, give my Wild Mushroom Pizza (recipe below) a try. You can use any combination of mushrooms you can find on this luxurious pizza. The drizzle of truffle oil is optional but it seriously takes this pizza over the top. It's expensive, but a little goes a very long way!
Enjoy!

Wild Mushroom Pizza
Prep: 30 minutes
Bake: 6 minutes per pizza
Makes: 2 11-inch pizzas
Ingredients:
•2 tablespoons extra virgin olive oil
•1 clove garlic, minced
•All-purpose flour
•2 portions hand-tossed pizza dough, at room temperature (see recipe below)
•1 cup shredded mozzarella cheese
•¼ cup shaved Romano cheese
•2 cups thinly sliced mixed mushrooms, such as shiitake (stemmed), cremini and portobello
•1 cup thinly sliced fresh chanterelle mushrooms
•3 tablespoons grated Parmesan cheese, divided
•1 teaspoon cracked black pepper
•¼ cup julienned scallions
•1 teaspoon white truffle oil (optional)
1.Preheat oven to 500 degrees Fahrenheit. If using a baking stone, arrange a rack in the upper third of the oven and place stone on rack. Heat for 1 hour. (If using a baking sheet, arrange rack in middle of oven.)
2.In a small bowl, combine olive oil and garlic; set aside.
3.Lightly flour a work surface. Place one portion of dough on the surface, being careful to maintain the round shape and thickness of the dough; do not press. Lightly flour the top of the dough. Using your index fingers, press a 1-inch rim around the outer edge of the circle. Once rim is formed, press air out of the center of the dough, rotating as you work, to form an 11-inch circle. Take care to maintain a uniform thickness in the center. Gently toss dough in the air a few times. Set aside and repeat with remaining ball of dough. Lightly sprinkle a pizza peel or rimless baking sheet with flour. Transfer one dough circle to prepared peel. (If using a baking sheet, lightly flour the baking sheet. Transfer one dough circle to prepared sheet.)
4.Brush about 1 tablespoon of the garlic-infused oil over the dough circle on peel, making sure any pieces of minced garlic are evenly distributed, avoiding the rim. Sprinkle with half of the mozzarella and half of the Romano. Top with half of the mixed mushrooms and half of the chanterelles. Sprinkle with 1 tablespoon of the grated Parmesan, ½ teaspoon of the cracked black pepper, and 2 tablespoons of the scallions.
5.Using small, quick back-and-forth movements, slide pizza from peel onto hot pizza stone. (If using a baking sheet, place sheet on rack in oven.)
6.Bake, rotating pizza halfway through baking time, until bottom of crust is crisp and top is blistered, 6 to 8 minutes.* If desired, drizzle with ½ teaspoon white truffle oil. Sprinkle with 1 ½ teaspoons grated Parmesan. Repeat with remaining dough circle, garlic oil, and toppings.
*TIP: Do not pop any bubbles that form on the dough.
Prep: 20 minutes
Stand: 2 hours
Makes: 4 11-inch pizza crusts
Ingredients:
•4 ¾ cups all-purpose flour, plus more for shaping dough
•2 ½ teaspoons fine sea salt
•1 teaspoon sugar
•2 ½ teaspoons active dry yeast
•2 ½ teaspoons extra virgin olive oil
•2 cups lukewarm water
1. In the bowl of a stand mixer fitted with a dough hook, whisk the 4 ¾ cups flour, salt, sugar, and yeast. Add oil and the water, beating on low speed until dough is smooth. Divide into four balls. Place each in a separate bowl covered with plastic wrap. Let rise at room temperature (about 70 degrees Fahrenheit) in a draft-free area until dough has more than doubled in size, about 2 to 2 ½ hours. Shape according to directions in recipe.
2. Use immediately or follow directions for storage:
• Short-term storage: Can be stored for up to 3 days. Place each dough ball in a separate bowl covered with plastic wrap; chill. To use, let bowls sit at room temperature covered with plastic wrap for 2 to 3 hours, or until dough has more than doubled in size.
• Long-term storage: Can be stored for up to 3 months. Immediately after shaping, wrap each dough ball separately in plastic wrap. Place dough balls in a large freezer bag. Seal, label, and freeze. To use, unwrap desired number of dough balls and place each in its own bowl covered with plastic wrap. Thaw in the refrigerator overnight. Let bowls sit at room temperature covered in plastic wrap for 2 to 3 hours or until dough has more than doubled in size.
Recipe courtesy of Chef Brian Sullivan and California Pizza Kitchen