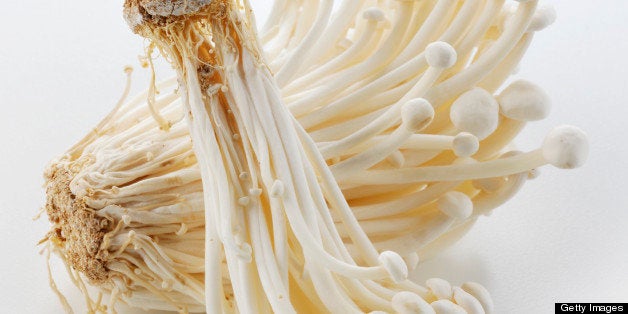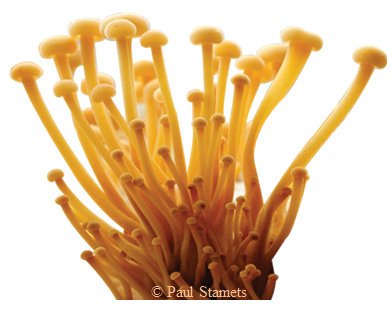 Enoki mushrooms, a tasty variety commonly sold in grocery stores, were one of the first mushrooms studied for preventing cancer. Credit for discovering this medical benefit goes in large part to Dr. Tetsuro Ikekawa, a former epidemiologist at the Research Institute of the National Cancer Center in Tokyo, Japan. He wondered why the cancer rates in the Nagano Prefecture of Japan were abnormally low from 1972-1986, compared to surrounding provinces. Ikekawa found it was the center of enoki mushroom cultivation. A cluster within the population of Nagano died less frequently from cancer: enoki mushroom growers and their families. Since many enoki farmers gave their employees the bruised or blemished mushrooms that were deemed unattractive to shoppers, these Nagano citizens ate far more enoki mushrooms than their neighbors. Dr. Ikekawa surmised that their higher rate of enoki mushroom consumption correlated with the lower cancer death rate in Nagano Prefecture.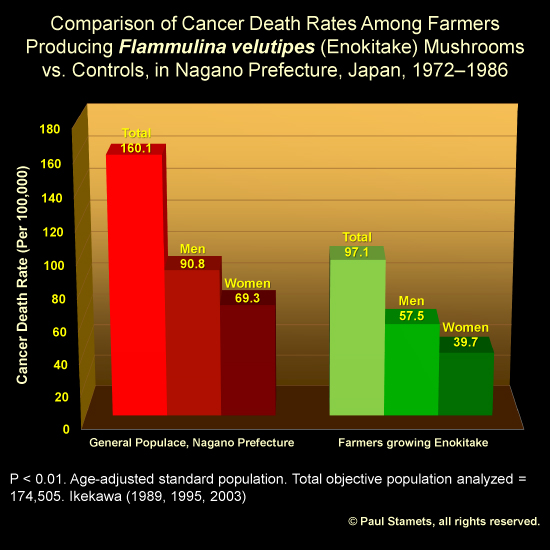 At the time of the research, the average cancer death rate in the Nagano prefecture was 160 per 100,000. This rate dropped to 97 per 100,000, comparatively, in families of enoki growers (Ikekawa, et al,,1989, 2003). Men's cancer deaths decreased by 36.6 percent, and women in this cluster benefited from a 42.7 percent decrease in mortality from cancer. The population base in this study was around 175,000 people and was age-adjusted. By contrast, the United States currently records 173 deaths from cancer per 100,000 as of 2009 (The Henry J. Kaiser Foundation).
While there are no clusters of enoki growers and enoki eaters to study in the U.S. like there are in Nagano, this Japanese study could inspire epidemiologists to study the effect of higher mushroom consumption. Such research could support the widespread theory held by many mycologists and physicians that increased mushroom consumption can lower cancer fatality rates.
Dr. Ikekawa's 1989 epidemiological study published by the Nagano Prefectural Research Institute of Rural Industry corroborated years of lab-scale research by Dr. Ikekawa and others. In a flurry of medical research -- sparked in part by Ikekawa's1969 article in Cancer Research on the cancer-fighting properties of many gourmet mushrooms -- Japanese researchers sought to isolate, purify, and identify the constituents in enoki mushrooms that provided the anti-cancer effects. Their research focused on two classes of protein-bound polysaccharides: FVP (as in Flammulina velutipes polysaccharides, such as EA6), and FVE (for Flammulina velutipes extracts). As a result of this research, two new compounds -- flammulin and proflamin -- were isolated. Proflamin is a glycoprotein, containing more than 90 percent protein and less than 10 percent carbohydrate with a molecular weight between 13,000-17,000 Da. Notably, this molecule is orders of magnitude lighter than the heavy beta glucan polysaccharides. Comparative tests of proflamin showed better immune mitigated, cancer-fighting activity against melanoma and other cancers than the well-known PSK isolated from turkey tail (Trametes versicolor) mushrooms. (Ikekawa, et al., 1985).
In 2009, the journal Immunology published a study showing that ingesting enoki extracts containing these substances significantly improved survival rates of mice infected with Human Papilloma Virus (HPV), a leading cause of cervical cancer. Two sets of mice were infected with the HPV oncovirus, and one set was given an extract of enoki mushrooms.
Tumor protection assays showed that 60 percent of mice co-immunized with HPV-16 E7 plus Fve, as compared with 20 percent of those immunized only with HPV-16 E7, remained tumour-free for up to 167 days after challenge with the tumour cells.
The positive immune reactions were augmented from expansion of HPV specific interferon (IFN)-gamma-producing CD4(+) and CD8(+) T lymphocytes cells (Ding et. al., 2009). In a later study by Yin et al. (2010), Chinese researchers found that three unique beta glucans found in enoki mushrooms (beta-linked glucose, galactose, mannose and fucose sugars) induced a significant increase in cellular nitric oxide expression from murine peritoneal macrophages. Nitric oxide production by immune cells is one of the key mechanisms that our bodies use to destroy diseased cells. Enhancement of these types of immune responses is seen consistently with many medicinal mushrooms that have been tested by cancer researchers.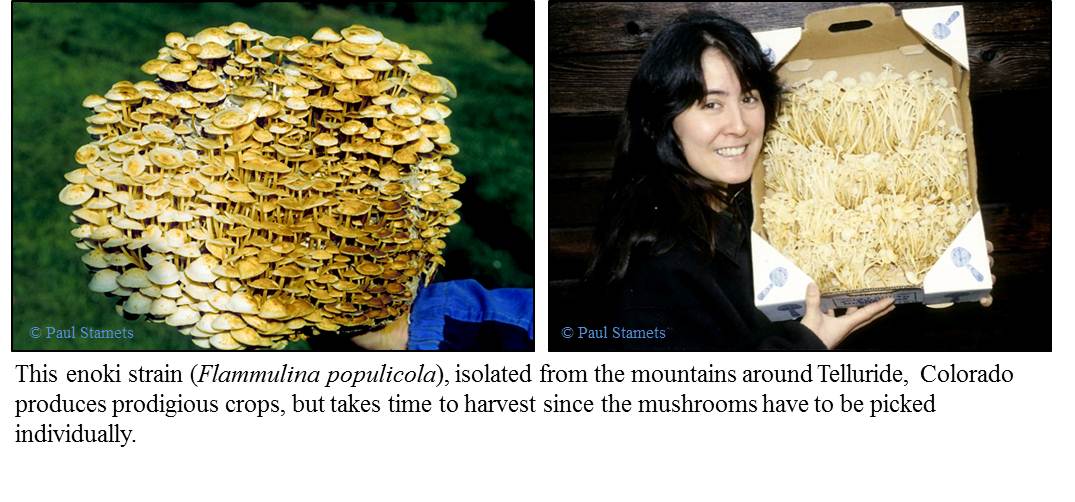 Nutritional Properties
Enoki mushrooms are a rich source of important nutrients (Stamets, 2005). Our analysis showed that for every 100 grams (dry weight), enoki offers:
346 calories
53 percent carbohydrates (31 percent complex carbohydrates, 22 percent other sugars)
26 percent protein
26 percent dietary fiber
3 percent fat (1.0 gram polyunsaturated, 1.2 grams total unsaturated, 0.23 grams saturated)
Significant quantities of many vitamins and minerals: 0.35 mg thiamine, 10.9 mg pantothenic acid (B5), 61 mg niacin, 1.69 mg riboflavin, 14 mg calcium, 0.61 mg copper, 8.3 mg iron, 3,100 mg potassium, 54 µg selenium, and 19 mg sodium.
Remarkably, enoki mushrooms have no cholesterol, vitamin A, nor vitamin C.
Enoki is also a rich source of antioxidants, particularly ergothioneines. These hydrophilic antioxidants are even richer in the mycelium substrate than the harvested mushrooms (Bao et al., 2010).
The Double Morphology of Enoki Mushrooms
Known colloquially as "winter," "golden needle," and "velvet foot" mushrooms, enoki mushrooms grow across much of the world, inhabiting dead conifer trees and stumps, and generally appearing throughout the late fall and winter months. Although common both in nature and in cultivation, enoki mushrooms (Flammulina velutipes, Flammulina populicola) can look very different depending on where they grow. In the wild, an enoki mushroom is often squat-looking and its stem is rarely more than twice as long as the cap is wide.When they are grown by farmers and hobbyists, however, their stems elongate, the caps are smaller, and a forest of golden colored needle-like mushrooms shoot up all at once. At their bases, stems are adorned with dark brown fur-like fuzz, hence the name "velvet foot."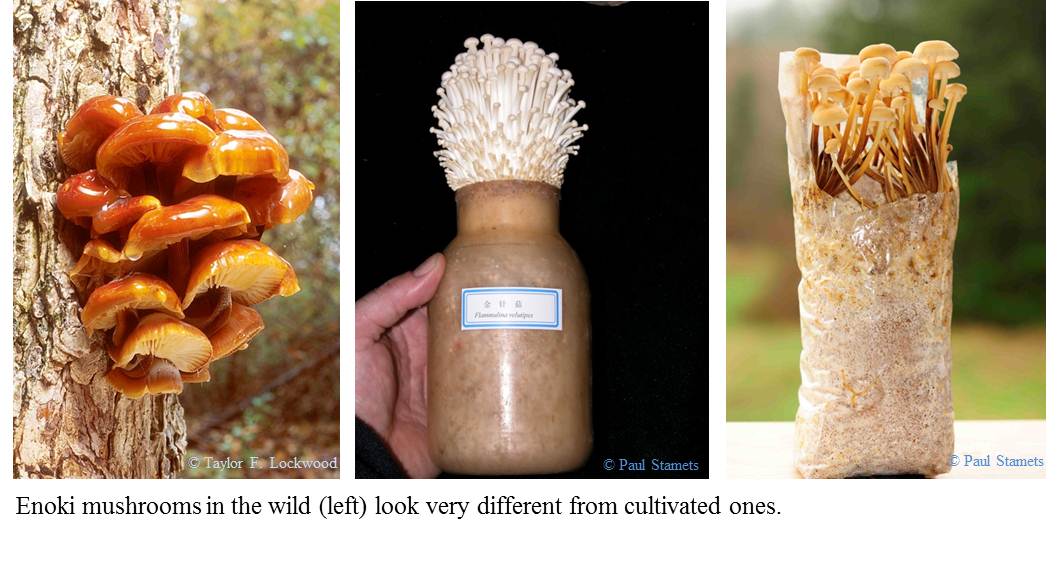 Japanese mycologists figured out that if the mushroom mycelium was grown in bottles, in low light, something remarkable happens. The pooling of higher carbon dioxide (the mycelium exhales carbon dioxide as it digests the wood) make the stems grow longer. This is likely a response by the mushroom to elevate its cap above the surface of the ground so that its spores can fly free. If the light levels are also reduced, however, the cap remains small and produces few spores. Both conditions allow for simple harvesting and longer shelf-life in stores. If exposed to a lot of light, as in nature, the caps broaden, the gills release spores, and soon thereafter the mushrooms quickly rot. This dance between light and carbon dioxide is a common feature in the art of mushroom cultivation. While all mushrooms respond to these changes to some degree, enoki cultivators have perfected this atmospheric interplay to guide a wild mushroom into its present uniquely Japanese aesthetic.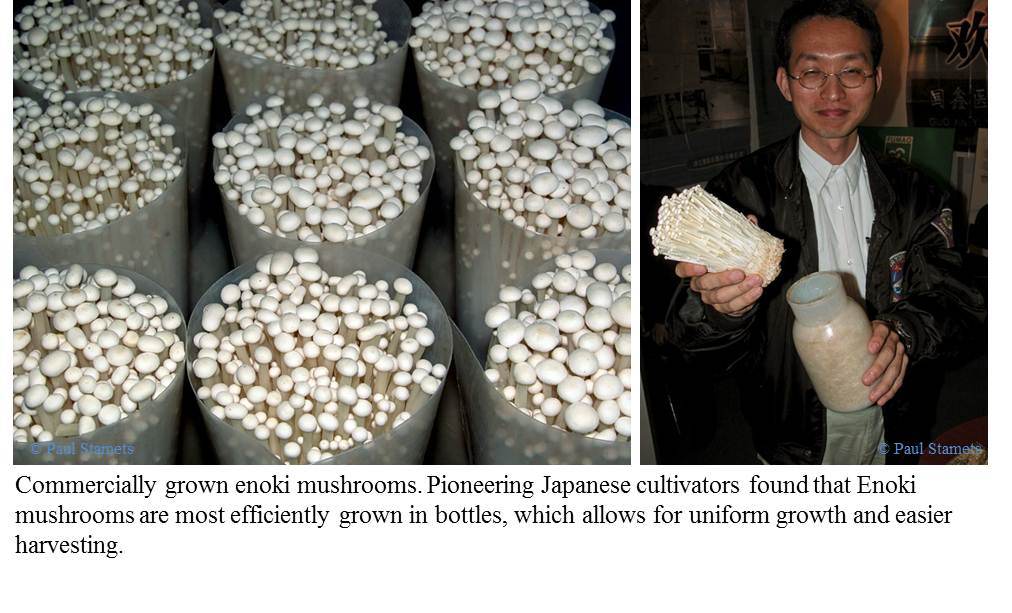 Enoki mushrooms deserve more research to understand how increasing consumption might decrease cancer death rates. Ikekawa's epidemiological data and the isolation of immunomodulating molecules from enoki by other researchers makes me want to explore the properties of enoki mushrooms beyond their obvious culinary appeal.
Financial Disclosure: Paul Stamets, author of Growing Gourmet & Medicinal Mushrooms and educator of mushroom cultivators world-wide, is also the Founder of Fungi Perfecti, LLC -- a company that supplies mushroom related products including whole, encapsulated powders, and extracts of mushrooms.
Bao, H.N., Ochiai, Y., Ohshima, T., 2010. "Antioxidative activities of hydrophilic extracts prepared from the fruiting body and spent culture medium of Flammulina velutipes." Bioresour Technol. Aug; 101(15):6248-55. Epub 2010 Mar 25.
Ding, Y., Seow, S.V., Huang, C.H., Liew, L.M., Lim, Y.C., Kuo, I.C., Chua, K.Y., 2009.
"Coadministration of the fungal immunomodulatory protein FIP-Fve and a tumour-associated antigen enhanced antitumour immunity." Immunology. Sept; 128 (1 Suppl):e881-94. Epub 2009 Mar 26.
Ikekawa, T., Uehara, N., Maeda, Y., Nakanishi, M., Fukuoka, F., 1969. "Antitumor activity of aqueous extracts of edible mushrooms." Cancer Research 29: 734-735.
Ikekawa, T., Maruyama, H., Miyano, T., Okura, A., Sawaskai, Y., Naito, K., Kawamura, K., Shiratori, K., 1985. "Proflamin, a new antitumor agent: preparation, physicochemical properties and antitumor activity." Japanese Journal of Cancer Research 76: 142-148.
Ikekawa, T., et. al., eds. 1989. "Twenty-years of Studies on Antitumor Activities of Mushrooms," Nagano Prefectural Research Institute of Rural Industry.
Ikekawa, T. 1995. "Enokitake, Flammulina velutipes: Host-mediated antitumor
polysaccharides." Food Review International 11, 203-206.
Ikekawa, T., 2001. "Beneficial effects of edible and medicinal mushrooms on health care." International Journal of Medicinal Mushrooms 3: 291-298.
Ikekawa T. 2003. "Beneficial Effects of Mushrooms, Edible and Medicinal, on Health Care in Japan," Proceedings of the Global Holistic Health Summit, Bangalore, India. January 2003.
Maruyama, H. and T. Ikekawa, 2005. "Combination Therapy of Transplanted Meth-A Fibrosarcoma in BALB/c Mice with Polysaccharide EA6 Isolated from Enokitake Mushroom Flammulina velutipes (W.Curt.:Fr.) Singer and Surgical Excision" International Journal of Medicinal Mushrooms Volume 7 / Numbers 1-2.
Stamets, P., 2000. Growing Gourmet & Medicinal Mushrooms. Ten Speed Press, Berkeley, CA.
Stamets, P., 2005. "Notes on nutritional properties of culinary-medicinal mushrooms." International Journal of Medicinal Mushrooms, vol. 7, p. 109-116.
Yin, H., Wang, Y., Wang, Y., Chen, T., Tang, H., Wang, M., 2010."Purification, characterization and immuno-modulating properties opolysaccharides isolated from Flammulina velutipes mycelium." Am J Chin Med. 38(1):191-204. China Pharmaceutical University, China.
For more by Paul Stamets, click here.
For more on natural health, click here.
Related