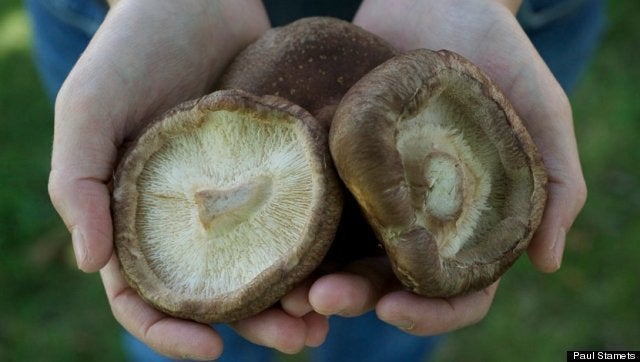 How much vitamin D can 100 grams of fresh mushrooms make from sunlight? A lot, but a lot more when mushrooms are dried, pulverized, and then exposed to UVB light lamps. Caution: Using UVB light lamps can cause damage to your eyes and skin. Do not attempt this without taking necessary precautions.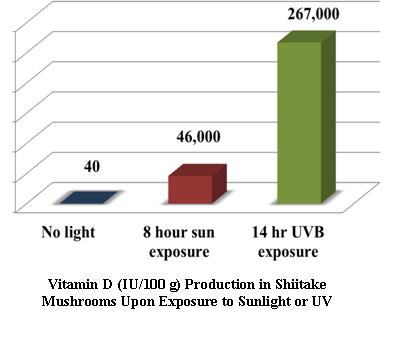 Robert Beelman at Penn State University was one of the pioneers who learned that pulsing high intensity beams of UV could generate vitamin D (and also -- bonus -- surface-sterilize the mushrooms). Thanks in large part to his work, UV-exposed mushrooms -- primarily the fresh button variety -- are increasingly available in grocery stores. When we ranked the vitamin D concentrations of shiitake exposed to no light, exposed to sunlight with gills up, and exposed to continuous UVB light after slicing, the results were impressive: more than a six-fold increase under UVB light compared with sunlight.
These results make sense. When mushrooms were sliced, more ergosterol-rich surface area was exposed. The indoor UV light was more intense than sunlight. The combination of these resulted in more vitamin D being produced. Although up to 12 hours of sun exposure to upside-down (gills up) shiitakes created 46,000 IU of vitamin D, I am sure sliced ones would give you more, as the surface area would increase. However, the sun is a convenient source of UVB, whereas setting up a UVB light chamber is not.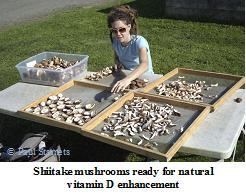 1. Obtain fresh organic shiitake, maitake, button, oyster, shimeji or other mushrooms.

2. On a sunny day in June, July or August, slice the fresh mushrooms. Place them evenly on a tray exposed directly to the sun from 10 a.m. to 4 p.m.
3. Before nightfall, cover the mushrooms with a layer of cardboard to block moisture from dewfall.
4. The next clear day repeat exposure to the sun from 10 a.m. to 4 p.m.
5. Remove the mushrooms and finish drying (if necessary in a food dehydrator until they are crispy).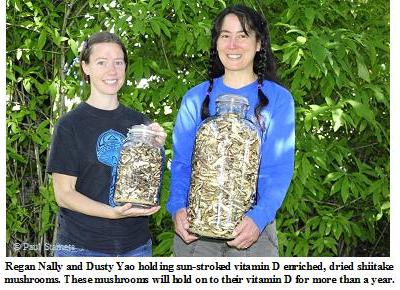 6. When thoroughly dry, store in a glass jar or sealed container. Adding a tablespoon of uncooked rice as a moisture absorber will help keep the mushrooms dry. The mushrooms should be good for a year or more, depending upon conditions.
7. Take 10 grams daily per person, about a small handful. Rehydrate in water for one hour. The mushrooms will swell. Then cook as desired.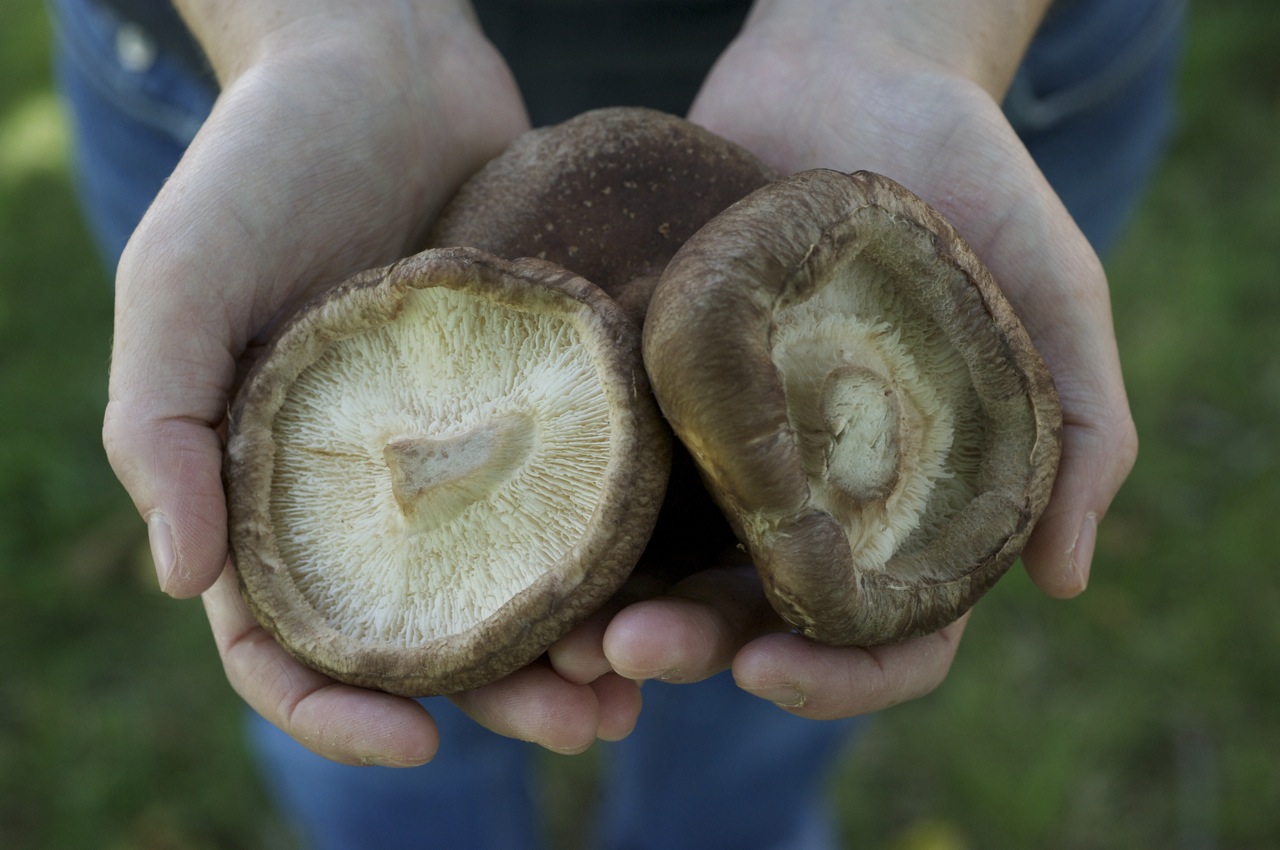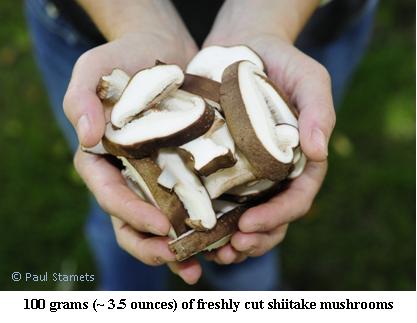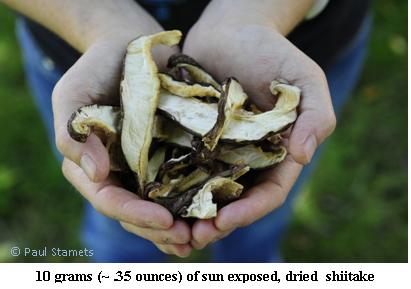 A natural question to ask is how much of the vitamin D from consuming mushrooms makes it into the bloodstream. Comparing 26 people who took a vitamin D2 supplement to 26 others ingesting vitamin D-enriched mushrooms four times per week for five weeks, researchers at the University Medical Center in Frieburg, Germany found that the serum levels of vitamin D were similar. They used button mushrooms exposed to UV light that resulted in 20,000 IU/100 grams fresh weight. Subjects ingested 120 grams fresh (≈24,000 IU) of vitamin D-enriched mushrooms, which is about a quarter of a pound, roughly a handful. The results showed similar levels of vitamin D were absorbed in the blood in both groups: Those who ingested a supplement in pill form and those who put freshly-cooked mushrooms in soup. At the end of the study, both groups' serum vitamin D levels increased to ~50 nmol/L, which is considered to be a healthy baseline level. A general consensus amongst many health care practitioners is that you need to replenish your vitamin D so blood serum levels are between 50 and 125 nmol/L of 25-hydroxyvitamin D. Care should be taken to avoid over-supplementation, as serum levels over 125 nmol/L can be hazardous (see chart).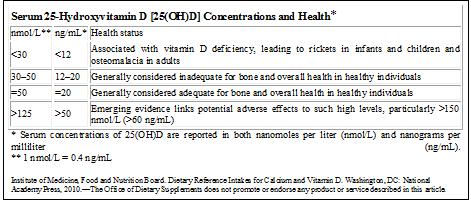 Mushrooms are not only wonderful sources of vitamin D, but they offer us many opportunities for maintaining and improving health. Whether you expose cultivated mushrooms or wildly-harvested edibles, both become jam-packed with vitamin D after light exposure. Mushrooms are truly super foods!
References Used for This Blog:
Beelman, R. & M. Kalaras. "Post-harvest Vitamin D Enrichment of Fresh Mushrooms." HAL Project# MU07018 (April 30, 2009), Penn State University.
U.S. Mushroom Council & Australian Mushroom Growers Association.
Holick, M.F. "Vitamin D Deficiency." New England Journal of Medicine, 2007; 357(3):266-81.
Institute of Medicine. "Dietary Reference Intakes for Calcium and Vitamin D." 2010. Washington, DC.
Lappe J.M., Travers-Gustafson D., Davies K.M., Recker R.R., Heaney R.P. "Vitamin D and calcium supplementation reduces cancer risk: results of a randomized trial." American Journal of Clinical Nutrition. 2007; 85(6):1586-1591.
Rejnmark, L. "Vitamin D with Calcium Reduces Mortality: Patient Level Pooled Analysis of 70,528 Patients from Eight Major Vitamin D Trials." Journal of Clinical Endocrinology and Metabolism. Published online May 17, 2012, doi: 10.1210/jc.2011-3328.
Stamets, P. & G. Plotnikoff. "Anticancer Medicinal Mushrooms Can Provide Significant Vitamin D 2 (Ergocalciferol)." International Journal of Medicinal Mushrooms. 2005; 7(3):471-472.
Stamets, P. "Notes on Nutritional Properties of Culinary-Medicinal Mushrooms" International Journal of Medicinal Mushrooms. 2005; 7(1&2):103-110.
Stamets, P. Mycelium Running: How Mushrooms Can Help Save the World. 2005. Ten Speed Press, Berkeley.
Urbain, P., et al. "Bioavailability of vitamin D2 from UV-B-irradiated button mushrooms in healthy adults deficient in serum 25-hydroxyvitamin D: a randomized controlled trial." European Journal of Clinical Nutrition. 2011; 65:965-971.
For more by Paul Stamets, click here.
For more on natural health, click here.
Related