Rosanne Cash has never been more naked as an artist than she is today. Her new album The List isn't the record of a deteriorating relationship like Interiors, that people can pick apart for clues to her private life. It's not a meditation on love and loss like Black Cadillac, which everyone associates with the passing of her dad Johnny Cash, June Carter Cash (a second mom to Rosanne) and her beloved mother Vivian Liberto Cash Distin -- even though "Black Cadillac" in particular came to her before any of them died.
It's just Rosanne Cash as a singer, putting her stamp on 12 songs that came from The List, a compilation of 100 songs her father insisted she learn if she wanted to have a career in music. The album is out now on Manhattan Records and it's inspired a flurry of activity: she plays Letterman on Wednesday night (11:30 EST on CBS) and kicks off the fall season at the eclectic space St. Ann's Warehouse in Brooklyn with two intimate shows October 9 and 10 that are certain to be memorable.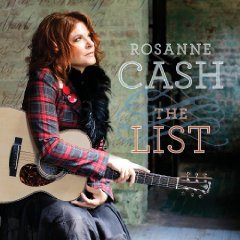 "I had always kind of put my voice on the back burner when doing my own work," admits Cash, the 54 year old mother with three daughters from her first marriage to Rodney Crowell, a daughter she helped raise from his previous marriage and a son with her husband John Leventhal, who arranged and produced The List.
"John kept encouraging me with this record to just put my voice front and center, to just go for it. Stop hedging my bets. That was liberating; a little scary at some points but it was really fun. I never thought that I was...I mean, I thought that I could be a good interpreter in some ways, but I knew a lot of singers that had better technique than me. I was always kind of setting myself up for failure in comparison. Besides, I always put my stock in being a songwriter. This is an honorable profession. This is what I'm doing. So here we are 35 years later and to go, 'OK, I'm just a singer on this,' it took some courage on my part. Ultimately, it wasn't that heavy a deal; it was just fun."
It's hard to imagine Rosanne Cash shy or tentative about anything. She's made a Grammy-winning career out of boldness, from her commercial smash hits like Seven Year Ache and King's Record Shop to the Blood On The Tracks-worthy examination of a relationship on Interiors. Cash has also branched out in numerous creative ways, from a book of short stories -- Bodies Of Water -- to pieces for the New York Times on songwriting to a very funny essay in The Nation about how she'd make a better Republican candidate for VP than Sarah Palin. (Cash is also at work on her memoirs, which she plans to finish next year.)
But there was always the weight of that bloodline: the granite monument to Americana that was her dad, the direct link to folk via her mom and the Carter family, not to mention the constant pressure of the public eye. Cash wasn't always happy about sharing her family with the world, but she was always honest about it and people respected that, were even drawn to it. So Cash wasn't just ready to record these songs artistically, she was also ready to share one more private piece of her life.
"Even beyond that," agrees Cash, "to not be afraid of the legacy any more and to accept what my parents left me, because my mother loved this music just as much too, so her love is also there. I probably carried a chip on my shoulder a little longer than necessary: I don't want to draw comparisons to my dad; I don't want to trade on his name; I want to do this on my own; I want to separate myself.
"Well, 35 years is a long time to do that," she laughs. "It's kind of not gracious. And it's my family. It's my family. I accept this and I love it. I love these songs like DNA."
Her love of these tunes is obvious on the album, as well as the maturity of an artist and woman who has lived a complicated, full life and learned a few things on the way. Her version of "Take These Chains From My Heart," for example, instead of being pleading or heartbroken, is almost understanding in a way.
"Well, that would be the sensibility of a woman my age, rather than a 25 year old," says Cash. Obviously, her approach now is very different than it would have been when she first learned them as an 18 year old, sitting on a tour bus and getting her dad to sing these songs to her one by one.
"Very different. How could it not be? I've now brought a whole life to these songs, which is the greatest part to me. I think if I'd tried to do these when I was 25 or even 30, I would have just tried to sing them without having lived any of it. But I've lived a big life and I could bring a lot of it to these songs."
Perhaps she embraces her legacy most fully on the closing track, "Bury Me Under The Weeping Willow," one of the Carter family classics.
"That was really emotional for me," says Cash. "I thought about Helen Carter, who taught me how to play the guitar and how important the Carter women were for me, how much I learned from them. Helen taught me I could really own these songs. I couldn't just admire them from afar; I could step inside them."
But that lament for lost love, in which a woman asks to be buried under a certain tree and hopes the man that left her might see the grave and think of her sometime, wasn't that a bit...submissive for Cash to identify with?
"There is a way to sing it without being a victim," explains Cash. "Also, I was really aware I was doing a period piece. It's something you can't forget. This song is from the Twenties."
So Cash has opened up to her family history and to her own talents as a singer. Just don't ask to see the entire list: she's holding onto that for a little while longer.
"Number one, I want to do Volume Two," says Cash, about her plans to do a follow-up album. "And number two, I want to eventually do the right thing with the list. I'm not just going to post it on the internet. I think it has to be archived properly."
Note: Go to my Popsurfing podcasts to hear my entire interview with Rosanne Cash.
Popular in the Community