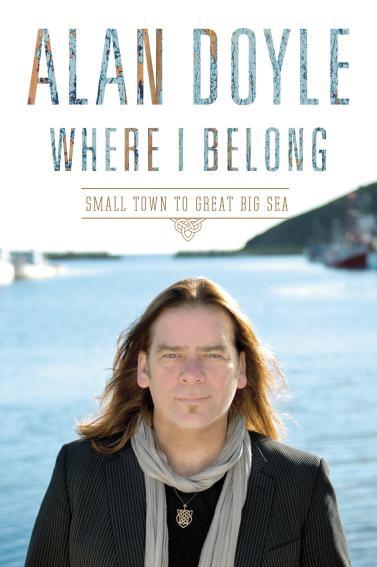 Alan Doyle is a self-professed lucky bastard, and I suspect he may also be magic. Sitting in the green room at Joe's Pub with the musician-producer-actor and now author to chat about his new memoir, Where I Belong, I watch Alan tune his guitar, arrange details with the stage manager, steam his suit jacket, and effortlessly charm everyone in his modest Newfoundland manner while giving thoughtful answers to my questions. Knowing the man is always up for a new experience, I can't resist surprising him with his first Tarot reading as well.
"Death?" Alan exclaims as I turn over his cards.
Quickly assuring him that Death most often means change or transition, I point out that the card following it, Six of Swords (release and new directions), indicates the six weeks Alan will be on tour promoting his book. Still looking skeptical, but with a congenial wink, the master storyteller hums a few teasing bars of his song "Straight to Hell."
This is typical of Mr. Doyle. Be open and accepting of people, consider everything an adventure, and inject as many melodies as possible into the atmosphere. He comes by it honestly, readers of Where I Belong will find, since he was born in Petty Harbour, Newfoundland, a small fishing village where the Doyle clan was renowned for music-making.
You might expect the memoir of a rock star (over twenty years as the frontman of iconic Canadian band Great Big Sea) who has appeared in major motion pictures and counts Oscar winner Russell Crowe among his best friends to be full of Hollywood gossip, but that's not the case here. Instead, Alan has elected to go backward and share the tales of his early life in a real-world Narnia of sailors and icebergs and giant squid. Alternately laugh-out-loud funny, tearfully nostalgic, and stunningly beautiful, the stories in Where I Belong have nothing to do with the famous and everything to do with the legendary.
I hope that people won't take the book as some kind of rags to riches story, because that's not at all what I intended it to be. I was 25 before I even realized we had very little when I was a kid. I spent exactly no time dwelling on that when I was a young fella. And I got super lucky to live like a generation before mine, almost, in a weird way.
He's alluding to the fact that Petty Harbour modernized slowly in its isolation, such that even by the 1970s many families like the Doyles lived in bathroom-less houses, hitchhiked daily just to get to work, and threw raucous kitchen parties in the event of running out of oil. Reading descriptions of this town neatly divided into Catholic and Protestant areas by a river, where even uncomfortable traditions were adhered to "because that's the way things have always been done" (such as buying groceries from the irascible Maureen on the Catholic side rather than avuncular Herbie on the Protestant side), one gets the sensation of traveling back not a few decades ago but several lifetimes' worth. Still, it's evident from Alan's reminiscences of exploring the wharf with his brother, playing in bands with his family and friends, and eating his mother's wonderful bread that this existence was truly an awesome one.
"You don't miss what you don't have growing up," Alan notes.
Newfoundlanders are really good at dealing with hard times, but if that's how it's always been, they're just times, b'y [Newfoundland slang for friend]. All that stuff people look back on -- "Sounds like you had to eat lots of your mother's bread a good many times? Fish and bread was all you ate?"
He grins enthusiastically at the memory. "Yes! Yes, I did! So good! Fried fish was fuckin' fantastic!"
With Where I Belong Alan has crafted a coming-of-age story that reads almost like a male version of A Tree Grows in Brooklyn in its Irish sensibility, episodic narrative, and rapturously detailed universe small in physical scale but infinite in color and character. It's astounding how an entirely true tale can commingle so many mythical figures -- Fisherman Frank who won't let an eight-inch hook through his hand stop him from working; Billy "the Bottler" who has mysterious dalliances with call girls; the terrifying teacher Mr. Gushue -- with such earthy wit. Literal toilet humor (see the section on "The Bathroom Ballet") exists alongside anecdotes of sexual curiosity (searching for porn magazines in the hazardous Old Woman's Gulch) and aching adolescent humiliation (street hockey fights settled by being tossed into the sea). The beating heart of life itself runs through this book.
I would be remiss not to state that Where I Belong also features one of the most reasoned, respectful treatises on faith and religion ever written. In the chapter "Transubstantiation," Alan examines Catholicism's impact on his upbringing and his ongoing quest to determine why people behave the way they do in the name of a higher power.
"I remain fascinated by religion," Alan admits (he even has a degree in English and Religious Studies from Memorial University).
It was the first time I was ever encouraged not to ask a question. And I also found it weird the way people acted in church; these big strong men that I saw all week that looked like superheroes go to Mass and they're all cowering, no cap on. Freaked me out. I think because the river divided the two halves of the town, I was aware more than most kids of the effect it had on the physical footprint of [Petty Harbour]. It's like, "Well, that's the first thing religion does, I guess. One guy goes over here, one guy goes over there."
Religious influence in the Doyle family stemmed primarily from Alan's grandmother, who he remembers as "a wonderful, welcoming, funny lady who never said a bad word about anybody. She had an amazing wisdom behind the most innocent things like [asking], 'Still playing in the band? Not working?' 'No. No, actually, I'm not.'"
Oddly enough, though Where I Belong chronicles Alan's lasting love affair with music, he confesses that having a creative career still feels like getting away with something.
To my Nan, my uncles, my parents, for as much music and art as went around in my family, I don't know if it ever occurred to them at one single time that you could do it for a living. It's a funny thing when you grow up in a fishing town with those kind of old-school values about labor and work and sweat equity. Work is, "There was no fish there and now there's some fish there. There's a fence up where there was no fence." Writing a book or practicing guitar, that's something you do after work is done.
Indeed, Alan wrote most of Where I Belong in the midst of other adventures, jotting down the first pages while filming the movie Winter's Tale in New York with Russell Crowe and Colin Farrell. The songwriter's gift extends to his prose; the memoir careens deliciously in the mellifluous voice of the traveling bard. ("The rule for me writing songs is if I don't say it, I don't sing it," Alan asserts. "And with the book I'd write a section and record myself reading it. If it didn't sound like me then I rewrote it.")
How did a small-town boy become so open to the wide world's treasures? For this Alan credits the other most influential woman in his life -- his mom. In the colloquial expression, "She was not belong to Petty Harbour [meaning she came there from elsewhere]. She was always encouraging us to look outside. So I was lucky enough to have it both ways. I was lucky enough to have people who encouraged me to be fascinated with what was next to me, but then to have my mom going, 'Get the feck out of here.'"
Out he's gone, toward gold records, film and television, and international fame, but never losing sight of his mother's best pearl of wisdom, "Be good." According to Where I Belong:
It's one of the most brilliant pieces of advice I've ever heard... Be good to people. Be a good son to your mom and dad, a good brother to your siblings. Be a good husband to your wife, a good dad to your son... Be a good bandmate to your bandmates. Be a good celebrity to your fans. Be good.
"It just implies that goodness is not something that comes by itself," Alan sums up now. "It's your job. You don't need to know anything else."
While Alan prepares for that most elusive and incredible of dares, making people happy through songs and stories, I feel compelled to reveal one last card before I leave.
"Remember this one," I whisper. "It's so you."
He studies it, smiles, and launches into the chorus of his upcoming single "So Let's Go." It's off to new challenges, new territories to conquer, already.
I'm left smiling too. The card is The Magician.
--
Where I Belong is now available from Doubleday Canada. Find it on Amazon here. Learn more about Alan's adventures here.
REAL LIFE. REAL NEWS. REAL VOICES.
Help us tell more of the stories that matter from voices that too often remain unheard.