Music is one of the purest forms of emotional expression and artists use their talent to craft songs, rhythms and harmonies that speak to our souls. The lyrics of our favorite musicians tell not just their stories, but ours as well. We relate to their lyrics and attach a piece of ourselves to an idea, a memory or an emotion in the songs we hear. Musicians pour their souls into writing lyrics meant to inspire us to think deeply about the world, our role in it and even what we could do to make it better.
"Music expresses feelings and emotions in ways that words cannot, and has a physical, visceral quality that can move the body, mind and spirit. It's so powerful that I've dedicated my life to creating it," explains Cris Jacobs, recently named one of Rolling Stone's top 10 country artists to watch in 2017.
Jacobs recently became involved with Sing Me A Story (SMAS), a national nonprofit that enables artists to record original songs based on stories written by children in need to create uniquely powerful collaborations. Jacobs wrote "The Ballerina," for a young lady named Margot.
"I think a child hearing a song based on their own story can have a huge impact, even if just for the simple joy of realizing that someone thought their story was worth taking the time to write about," Jacobs said. With a belief that music is therapy, a kind of medicine and a way to connect with the world, the SMAS approach is far from transactional.
"Imagination and creativity play a major role in a child's health and in the health of our communities," said SMAS founder Austin Atteberry, who was inspired to start the organization after his experience volunteering in a Nashville children's hospital, where he would perform and record songs for children and their families. "The greatest gift we have is the ability to give to others. These kids are so often on the receiving end of charity; we love being able to empower them with that opportunity to create something bigger than themselves, and hope that it further inspires them to continue using that imagination and creativity to go on and do great things."
"Music can change the world because it can change people." - Bono
Musicians not only have the ability to inspire us with their art, but also with their action off the stage to give back to the communities that supported them in their youth and helped mold them into the stars they are today. For instance, Grammy Award-winning country artist Zac Brown has just completed a facility called Camp Southern Ground in Peachtree City, Ga., which during the summer, hosts children with social or emotional challenges such as autism, ADHD and dyslexia in a safe space for them to engage in athletics and arts activities. When camp is not in session, military nonprofits use the facility to provide aid to families suffering from post-deployment issues such as PTSD.
"I went to camp when I was young and am a former camp counselor, so my inspiration stems from the positive impact I know a camp experience can have on a child's life," said Brown. "I wanted to create a place for kids of every background, with a special emphasis on children with various developmental disorders, learning or attention issues, and social or emotional challenges. Camp Southern Ground helps children develop a connection to the land, learn where their food comes from and understand the eco-system and our impact on it. Camp Southern Ground is a farm to table facility and allergen free, so the kids do not have the option to eat badly. Especially for those living with neurodevelopmental disorders, a clean diet and exercise play a significant role in improvement of their symptoms. We can track their progress and help the kids and their families bring those healthy habits back home."
Academy Award winning rapper Common started his own foundation to provide youth education initiatives in his home city of Chicago to inspire and empower inner city children to become leaders in their schools and communities. Common Threads recently joined the Common Ground Foundation and the Gardeneers for a pair of community events where students planted school gardens, painted murals on their school buildings and sampled healthy snacks.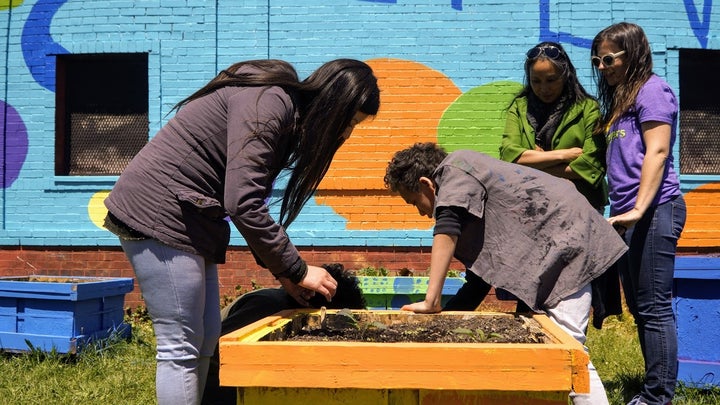 Opening new doors for children is exactly what the cast of the wildly popular Broadway musical, Hamilton, is doing for 60,000 public school children in New York, Chicago and LA. As part of a unique education program created by the show's star Lin-Manuel Miranda and producer Jeffrey Seller, the show's cast gives students a once-in-a-lifetime opportunity to experience Hamilton firsthand.
Each event brings hundreds of public school students and their teachers to see a special matinee of the Broadway musical sensation. After months of studying the historical events surrounding the play, students are encouraged to create their own musical tributes to Hamilton. The program culminates with a special daylong event that allows students to perform their acts on stage, a Q&A session with several members of the "Hamilton" cast and a special, exclusive performance of the show.
"Music expresses that which cannot be said and on which it is impossible to be silent." – Victor Hugo
Artists often use their music to elevate the conversation on social issues, shaping public opinion to generate support for people who are suffering. Classical pianist James Rhodes has brought awareness to the healing powers in music and has worked to destigmatize mental illness while sharing his own experiences of abuse during early life. "These are the pieces that come up in my head unwarranted at 4 a.m. to get me through another rotten night of insomnia," Rhodes says. "These are the ones that always give me hope and a reason to hang on in there because if music like this can exist, then there is simply no question that the good outweighs the bad. They are my inside tracks."
Demi Lovato, another young artist who has worked to break down the myths around mental illness with songs like "Warrior," has opened up about her own history of struggles with bipolar disorder, insecurity and body image issues. She has poured her heart into creating lyrics and found time to speak out publicly through the "Be Vocal: Speak Up" campaign that benefits half a dozen organizations that support mental health advocacy. Lovato's message has empowered many to be strong in the face of adversity, to speak up to receive the help they need and to speak out to make their voices heard rather than stay silent.
Removing the stigma around mental illness can empower those who have felt marginalized, much as the passion, perseverance and tireless activism of LGBT community leaders produced tangible results like the federal legalization of same-sex marriage in 2015. Allies such as Lady Gaga have carried a loud and powerful voice in support of LGBT rights and equality. In her music, she tackles head on the issues of sexuality and gender identity, bringing these issues into the forefront of pop culture to promote tolerance and acceptance of people from all different backgrounds.
Gaga's Born This Way Foundation recently launched Channel Kindness, a digital platform featuring stories of kindness as documented by young people from across the country, highlighting acts of compassion and generosity that shape our communities.
"Music gives us a place to find ourselves by discovering songs that put into words the thoughts and emotions we cannot express. It becomes a badge we wear to reveal what is similar between people from otherwise completely different backgrounds. Music has a special power to uplift and connect people, opening our eyes to a world we don't necessarily see." – Chad Bernstein
Children learn many lessons from exposure to music and the arts. When Dr. Chad Bernstein saw music's power to give children a passion and sense of purpose, he decided to dedicate his career to bringing that experience directly to children and schools in underserved communities.
"I had been playing with a band in Miami when a friend asked us to come speak to these kids at a juvenile detention center about music," said Bernstein. "It quickly became clear that we weren't going to get anywhere by talking to them, so we grabbed our instruments and just started playing. The whole class got into it and that was what really unlocked the door for me. We realized there was something we could offer to these kids that society had kind of written off, that music was something everybody could latch onto, it was our way to build a bridge for these kids that wasn't otherwise there."
Guitars over Guns, the nonprofit Bernstein founded in 2008 after his watershed moment in the detention center, offers music and mentoring at schools and community centers in Miami and Chicago, with a curriculum that includes traditional instrument lessons as well as classes in rap and hip-hop, music production, sound engineering, dance and visual arts. The program has reached more than 2,000 students since inception, but it's the stories of the individuals whose lives have been touched by the program that truly reflect the transformational power in music education. Bernstein described a girl named Santamarie, who had found Guitars over Guns after being expelled from her old school.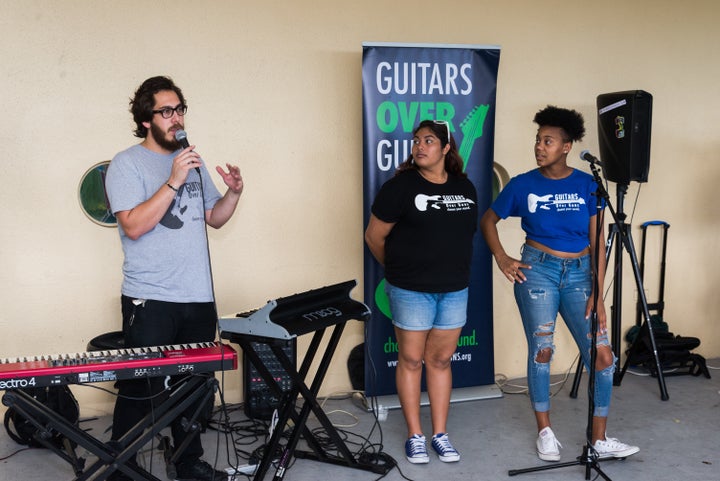 "Music gave her an anchor for her day, something that drove her to be present in the classroom and stay after school for it," said Bernstein. For Santamarie, who is now on Honor Roll, opening the door to Guitars over Guns' music room helped her find her voice and her way.
Bernstein remembers the raw emotion she showed after her first on-stage performance. "She was so nervous, you could see it. But when she started singing and playing that guitar, everyone went crazy, they loved her. When she got done, she collapsed in my arms crying. She said it was the first time in her life people saw her for who she really was, and it made her realize she didn't have to do all these other things she'd been doing to fit in. Music was something she could identify with and a voice to express herself she did not previously have."
"Art in its highest form is art that serves and instructs society and human development." – Harry Belafonte
There is power in music. Music helps us navigate our own personal worlds by challenging our thinking and helping us explore new points of view.
Related
Popular in the Community