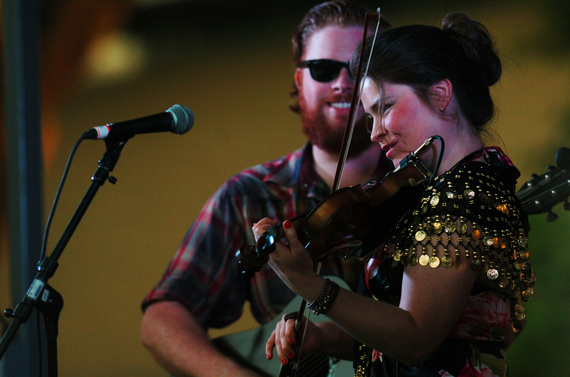 Sometimes I lie in bed and dream of eating another piece of Bonnie Norris' pecan pie. It is the best piece of pie I have ever tasted.
I met Bonnie Norris in Napa, California at the Robert Mondavi Musical Festival this summer where she showed up with baked goods for everyone backstage -- beautiful pink-rose-frosting-topped cupcakes, cinnamon bars and that amazing pecan pie. She managed to bake all day after flying in from Denton, Texas with her brother and music partner Nick Norris; this was their first airplane flight ever. They hopped on that plane to perform two concerts for us in the majestic setting of the Napa Valley wine country.
Bonnie plays a gorgeous fiddle and Nick works magic on his guitar. They perform effortlessly together as if they have been doing it their whole life -- which, well, they almost have. Bonnie was 14 and Nick was 10 when they first started performing for audiences in Texas. In fact, they just celebrated their 20th anniversary of playing on the square in their hometown of Denton. Bonnie started playing fiddle at 10 and Nick started on the banjo at eight years old. The two have been playing music ever since. While they come from a musical family of singers and musicians, they have recently taken their talent to a whole new level.
The story goes that just a few months ago, Live in the Vineyard co-founder and music magician and angel Claire Parr met Bonnie after her family brought home some of her baked goods. Once she heard Nick and Bonnie playing their music together, she invited the sibling duo to join her on stage at the Mondavi Winery Music Festival this past summer.
The Napa crowd fell in love with Bonnie and Nick Norris' performance, and let's just say I wasn't the only one salivating over Bonnie's sweet treats backstage. Bonnie comes by her baking talents as she does her music -- from her gifted family roots. She has uncles who baked pies for the Waldorf Astoria Hotel in New York City and a special Mama who taught her how to beautifully decorate cakes.
It is so special to watch someone like Bonnie Norris, a woman who fully embraces her passions -- baking and playing music -- and engaged in them simultaneously with such love, care and joy.
While she pursues her music career, Bonnie is operating a home-based bakery, where she can bake about everything and anything one would want for dessert, and shows off some serious artistic talent in her elaborately decorated birthday and wedding cakes. Nick is equally hard working -- he'll often go directly from a late-night music gig to drive his regular bread truck route -- another tradition passed down from his family. (Nick is a special character with an awesome guitar collection and dreams of building his own line of guitars.)
At one point in our conversation, Bonnie turned to me and said: "Just like in the Napa Valley, good food and good music go hand-in-hand, I love good music and I love to bake, so while I want to keep writing and playing my music, I hope to open my own bakery one day." We talked about how great it would be to have a place for people to come at night to listen to Bonnie and Nick play music while enjoying her fabulous desserts. We half kiddingly named the imaginary joint "Bonnie's Late Night Bakery."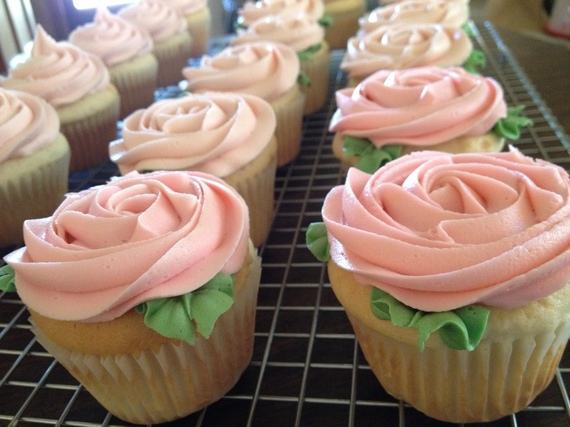 With her real musical skills and genuine sweetness, I have no doubt that she'll succeed. Anyone who has heard Bonnie play her fiddle and tasted her desserts hope her Late Night Bakery becomes a reality soon! (And for those of you fortunate enough to live anywhere near Denton, Texas, you must get yourself a Bonnie Norris dessert -- and find out where she and Nick will be playing next.)
Inspired by Claire Parr and their experience in California wine country, Nick and Bonnie have begun writing and composing their own original music to release by the end of the year.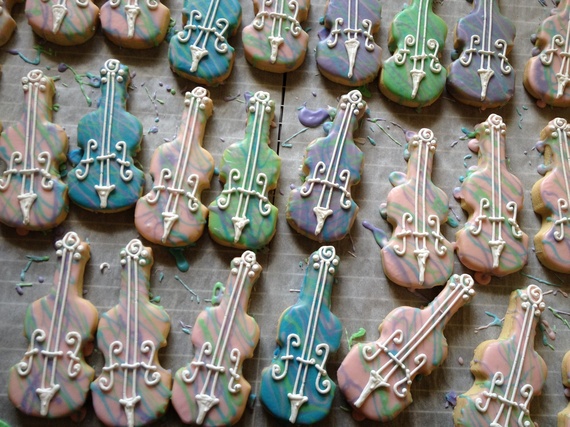 Calling all HuffPost superfans!
Sign up for membership to become a founding member and help shape HuffPost's next chapter