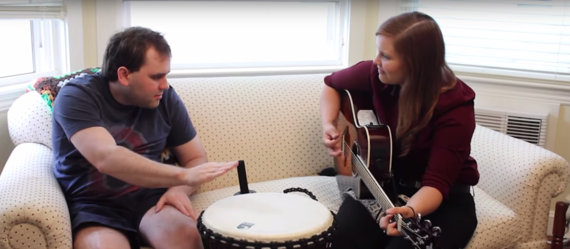 Ancient Greek philosophers believed that music had a therapeutic purpose -- including to treat depression, mania and even hangovers. In the Native American culture, music has played a similar role: In fact, the U.S. Indian Bureau contains 1,500 songs used for healing purposes. During the fallout of World Wars I and II, musicians traveled to hospitals to play for the thousands of veterans who were suffering both physical and emotional trauma. Their positive responses led medical facilities to begin hiring musicians, and before long, it became clear that these individuals would need some additional training to fully leverage the healing power of music.
Today, that power is finally starting to be better leveraged thanks to the evolution of Neurologic Music Therapy (NMT): the therapeutic application of musical components to address cognitive, sensory and motor dysfunctions. In recent years, NMT has progressed rapidly primarily due to advancements in brain-imaging technologies, which have revealed the brain's plasticity (its ability to change) and also the different networks in the brain that music can activate. Meanwhile, a growing body of research has emerged showing that NMT can help patients affected by a range of conditions including stroke, Parkinson's, Alzheimer's dementia, traumatic brain injury and Multiple Sclerosis.
According to a report by Michael H. Thaut at Colorado State University, a study of patients with MS showed that word lists were significantly better learned and recalled when presented and rehearsed via song as opposed to standard spoken presentation and rehearsal. Another study showed improvement in executive function and overall emotional adjustment as well as lessening of depression and anxiety among brain-injured persons treated with NMT. In a pilot study published in Frontiers in Human Neuroscience, the effects of all three NMT techniques combined were shown to significantly improve gait and the sense of body position and movement in patients with Parkinson's disease.

MedRhythms -- a neuro-rehab company based out of Boston and Portland, Maine -- focuses on this intersection between music, neuroscience, and technology, offering therapy to both individuals in their homes and medical facilities. And now that the company is offering its services throughout New England, CEO/co-founder Brian Harris estimates MedRhythms is treating between 400-500 patients a year.
Gradual growth
Launched at the end of 2014, MedRhythms' team has doubled since last July -- and Harris indicated that over the next few months, it will likely be growing exponentially quicker. In January, MedRhythms forged a key contract with the Spaulding Rehabilitation Network, where they are providing their inpatient and outpatient NMT program -- the most comprehensive of its kind in the country.
Harris, who has consulted on the implementation of multiple hospital NMT programs in the U.S., says the field has certainly been steadily maturing, but emphasized that healthcare is a very "slow-moving beat." Still, he noted that a surge in research on music and the brain is raising awareness around the benefits of NMT.
In the fall, Harris will be speaking at an annual conference organized by the American Congress of Rehab Medicine that focuses on progress in rehab research, co-chairing a special interest group on the arts and neuroscience. This year, for the first time, the ACRM conference will have four symposiums on music and neuroscience: a notable win for NMT as a whole.
"To be acknowledged by the ACRM is a huge step," said Harris. "We are at the beginning of a very fast-moving, exciting trajectory in healthcare -- something that's going to become a very important part of peoples' recovery in the next five to ten years."
Improving access through tech
According to Harris, roughly 30 percent of people who suffer a stroke still aren't better by the time their insurance benefits run out. That's where technology comes in: MedRhythms is building a digital platform that will enable the company to deliver NMT at a lower cost and without the need of an actual therapist.
"Our mission since day one has been figuring out how to get NMT to the people who need it," said Harris. "A lot of people need help, and unfortunately, we're likely going to see a shortage of therapists in the coming years."
The software platform will include sensors and machine learning capabilities that can record data from movement, as well as proprietary algorithms that use music and can respond in real-time like a therapist would. Harris revealed that the prototype for the first platform has already been completed, and the goal is to begin rolling out individual products for the platform by next year. Still, he emphasized that introducing this technology does not mean MedRhythms is getting rid of the traditional in-person therapy component. Rather, it will enable the company to help more people -- particularly those in rural areas who might not have access to a medical facility that offers NMT. MedRhythms is currently working on raising an initial round of investment, which will be used in part to bring this technology to market.
"We're using all of the clinical knowledge that we've learned from our therapists to build out the software so that it's actually informed by the practice," said Harris.
In February, MedRhythms hired Dr. Ronald E. Hirschberg to serve as the company's clinical lead. Dr. Hirschberg is an instructor in Physical Medicine and Rehabilitation at Harvard Medical School, consultant physiatrist at Massachusetts General Hospital and staff physiatrist at Spaulding Rehabilitation Hospital, and he is helping the company to coordinate research trials as well as collaborating on the digital platform.
Newfound hope
Harris has a slew of patient success stories to cite since the company's founding. One stroke patient was left with severe walking impairments and underwent Rhythmic Auditory Stimulation (RAS), a particular NMT intervention that uses rhythm to access the movement centers in the brain. Recent research has been strong in favor of RAS to improve gait and upper extremity function. And in just one RAS session, this particular MedRhythms patient doubled his walking speed and tripled his distance while also eliminating the cane he had been relying on.
In a recent Facebook post, one patient's husband recapped his wife's first NMT session at Spaulding Rehab, walking with a cane and walker as well as unaided at varying rhythms to a metronome and then the beat of music.
"This is the first time in nine years that we have some optimism that we may be able to stop the slide toward a wheelchair," he wrote.
While all NMT therapists must be proficient with a piano, guitar and their voice, Harris emphasized that musical knowledge or skill is not required for a patient to reap the rewards of the therapy. And perhaps one of the most remarkable aspects of NMT is how rapidly one can see results: a MedRhythms patient who is unable to speak can gain the ability to say a new word in as little as one session.
"The fact is, 97 percent of humans -- regardless of age, culture, religion, ability, disability, talent -- their brains respond the same to music," said Harris.
All images courtesy of MedRhythms.