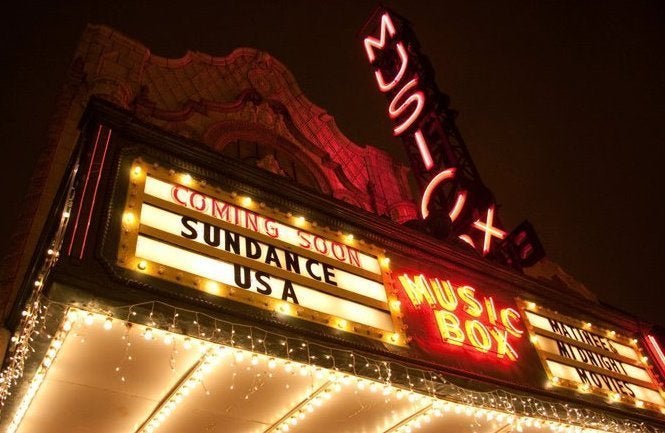 An iconic Chicago movie theatre is bringing a rare format to the masses in a first-ever film fest of its kind at the venue.
With studios making the switch to digital — and cinemas following suit — a modern film shot in the large format is a rarity these days. Until "The Master" last year, the last film to be shot on the wide-gage, high resolution format was 1996's "Hamlet." Picture quality — sharp, crisp, vivid color that's steady and without the distortion that can occur with 35mm — is the draw with 70mm.
The Music Box notes that few people, particularly those born in recent decades, have actually had the chance to see a film in 70mm:
"Due to the costs of 70mm film few films were ever shot in this large format, and following their initial release many of them were also released in 35mm to facilitate wide release. Other films were shot in 35mm and "blown up" to 70mm to facilitate more sound information. When DTS sound and Dolby Surround were introduced to cinemas, 70mm (and auditoriums devoted to 70mm) all but disappeared."
Last fall, however, a screening of the Paul Thomas Anderson's Oscar-nominated "The Master" changed all that. Anderson shot the film in 70mm, but few cinemas actually had the necessary tools to screen it that way.
Doug McLaren, the Music Box's chief projectionist, told the Sun-Times the festival is the theatre's way of capitalizing on the demand kicked up from "The Master" screening; naturally, the film will be a staple of the festival, with screenings Feb. 22, 23 and 25.
Clarification: This story has been updated to reflect that the 70mm Film Festival is the first of its kind at the Music Box Theatre; other cities have hosted similar festivals featuring the format.
REAL LIFE. REAL NEWS. REAL VOICES.
Help us tell more of the stories that matter from voices that too often remain unheard.
BEFORE YOU GO
PHOTO GALLERY
Best Chicago Alt-Cinema