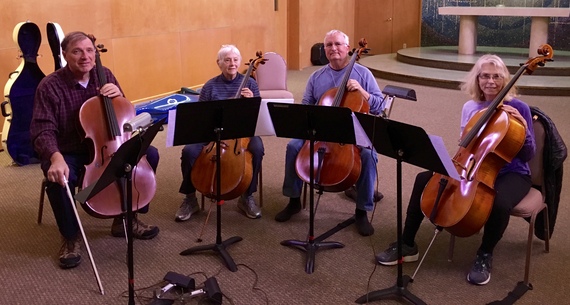 I'm catching a few rays of sun filtering through the forested landscape on a short break, sitting alone on a tree stump. I quickly check my schedule for the next activity. The silence is broken by the sound of violins while off in the distance I hear cellos tuning together. At long last I am at music camp-- an intense experience for string players (violin, viola and cello) who are serious about learning and fine-tuning their art. But we're not kids on summer vacation, in fact I would guess the campers' mean age at 65!
Like summer camps in general, the setting is pristine, located in Sonoma County California, where vineyards are interspersed with dairy cattle ranches in the green rolling hills. The accommodations and foods are simple but good enough and resonate with memories of camp life from a 10-year-old's perspective. Fortunately, this experience isn't solely defined by the room and board. The point of music camp is to create superb music in a supportive and sharing environment. It's not luxurious but if that is what you want, take a cruise!
As a cello student who began learning at 70, I was apprehensive but thrilled to be accepted into the camp-- never having performed for anyone other than my teacher and my husband, the latter skilled at tuning out my playing. At this life stage I had low personal expectations. I'll never play in Carnegie Hall no matter how hard I practice. I continued to remind myself to take pleasure in my playing and leave my competitive ego at home. I didn't expect to play like Yo-Yo Ma but neither would I have his pressure or practice and travel demands!
Over a four-day period, encapsulated entirely by music practicing, sharing and performance, the atmosphere was charged with passion and laughter, partly the result of souls soothed by beautiful healing sounds but also enhanced by a congenial group of dedicated coaches and students totaling nearly 100. Some local to California, others from as far away as England and Hawaii, we hauled our instruments-- and some paid for a separate airline seat for their body-sized cellos. While diverse geographically, our enjoyment in making music together made us a cohesive body that eclipsed other differences like gender, ethnic/racial background or socioeconomic status. Even the few underaged (not senior citizens) campers fit seamlessly and without being judged for their youth.
Here in this pristine environment we made music together day and night, a timeless process that could just as easily have taken place in 1816 instead of 2016. For the first time in my brief musical history of over five years, I understood what it meant to be part of a quartet or string orchestra. Practicing alone is a solo and sometimes isolating event but I had no other point of reference. I couldn't imagine how fantastic the music would sound once blended with a violin and a viola or 3 other cellos. It's hard to describe in words but emotionally the experience was transcendent, taking me to a deep feeling of harmonious satisfaction and pleasure.
Mind you, our cello quartet, pre-determined by level of experience, had almost no skill playing in an ensemble. Only one of us had been to music camp previously. While the three newbies, including myself, had practiced our solo parts from sheet music sent weeks before camp-- we were unaware of the magical sound that would eventually emanate from our quartet. But it didn't happen immediately.
Day one, the coaching session found us sitting in the wrong positions. Who knew there was an order to seat arrangements? And yet, if you've ever been to a classical music concert you'd recall that cellos hang together in a certain section in an arrangement by seniority, skill level or the score requirements-- like melody to base line. Our coach taught us the musicianship that simply playing the right notes doesn't achieve. In a mere four days we felt like pros! And the music we created was heavenly, but not necessarily perfect.

I don't know much about the personal backgrounds of many of the campers but here's what I learned about my own cello quartet: All four of us have been playing the cello for about five years. We are a mostly grey-haired bunch of older professionals-- a couple of whom are still working (two physicians and two psychologists). What does this say about the kind of folks who pursue a fine art choice like the cello later in life? Nothing really more than the fact that this endeavor, not a priority earlier in life, is now possible. We are all looking for a pastime with significant meaning, palpable pleasure, low achievement pressure, cognitive stimulation, and an opportunity to be with like minded people in a supportive community. What can top that?
Popular in the Community