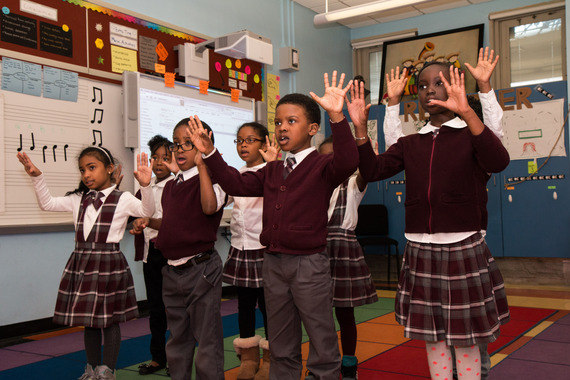 The value of incorporating music into a child's education cannot be understated. There is a heap of incontestable research showing that an education rich in music improves students' cognitive function and academic performance. Simply put, children learn better when music is part of their school curriculum.
While there is clear evidence of music education improving student academics, not as much has been written about music's multiplier effect. Music is a powerful tool that can be harnessed for long-lasting benefits that cannot be overlooked in any discussions about education reform.
Despite its multiplier benefits, over the last several decades schools have cut music programs under budget pressures and a shift in public education toward narrowed curriculum and standardized testing. The result is students who are less engaged and who lack creativity and problem solving skills to compete in a global economy and achieve success in life.
As educators, we are constantly tasked with doing more with less. In an era of dwindling education budgets, offering music education in schools gives administrators a leverageable resource to gain greater return on their overall efforts. I have seen firsthand the knock-on effect of an arts-rich education in engaging students. I'm not talking about a one-off music class or short-term residencies but comprehensive, sequential music instruction for all children. This integrated approach takes commitment but the rewards are invaluable reaping a multitude of benefits.
Incorporating music education in schools has a ripple effect with benefits that extend beyond the classroom. Children who have music education are more likely to have greater self-esteem and self-confidence, participate in extracurricular activities and are less likely to drop out of school. Research shows that teachers, parents and students believe that music instruction is linked to improved social and emotional development and more creative thinking.
At Education Through Music, we believe that all children should have access to high-quality music education as a core subject in school. We go a step further and align the music curriculum with what is being taught in other classrooms, including math, science, social studies and language arts. The tangible impact of an integrated approach is impressive.
The majority of our partner-school teachers agree that music education positively impacts students learning. Our proprietary research confirms that students are more engaged, have higher attendance rates and better academic achievement. Engaged students are more likely to reach their true academic and individual potential.
One of the most impactful contributions we can make to our children's education today is ensuring that we have music education in our schools. Harnessing music as a dynamic educational tool is essential to the future of our children's academic achievement and future success in life. That is why it is so important that we not overlook music's multiplier effect in discussions about education reform. We must bring music back to education because music is essential to revitalizing education in our country and improving children's lives.
Popular in the Community