Although New York singer Marilyn Carino says listening to her catalog of work with new-millennium indie darlings Mudville "feels like a nostalgia trip," she's proud of what she and collaborator Ben Rubin accomplished: critical praise (in 2006, critic John Pareles of The New York Times described their music as "somewhere between Fiona Apple and Morcheeba"), a loyal worldwide following (even in Finland!), and a reputation (one she feels is misguided) as prominent purveyors of the dark, atmospheric beat vibe known as trip hop.
So it won't surprise fans to discover her latest release, Little Genius - recorded solo - packs a brooding one-two punch in tracks like "Time Bomb" and "Monster Heavy" with multi-genre influences and even shades of Carino's muse, Nina Simone. (She says the late chanteuse, whose song "Sinnerman" she discovered while watching David Lynch's "Inland Empire," "drags something very powerful out of me.")
But what folks don't know is how this Brooklynite and queen of downtown club-scene cool unearthed her new batch of torchy electronic soul: she wrote the songs during a three-month stopover on an organic farm called Serenbe in Georgia.
Although Carino spent time in this Southern nouveau Utopia to be with her (famous) artist fiance, she says the stint taught her a lot about independence.
"I was always in the shadow of powerful men in my life," the singer explains over sushi during a recent return visit to Atlanta. "I was alone in this house in the woods while my boyfriend was painting, so I learned Pro Tools and recorded every note of Little Genius myself."
Carino also did all the photography and graphic work for the album, as well as the filming, lighting, production and editing for her solo music videos.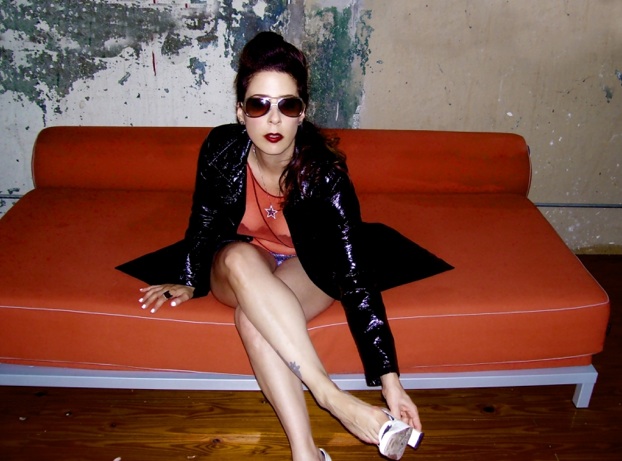 Photo credit: self portrait by Marilyn Carino. Courtesy of Marilyn Carino.
The "Monster Heavy" video below features claymation by Latvian artist Elina Spura. Beware: video not for the faint of art.
As for the album's nine songs, Carino says each has a theme of independence and a liberation from past repression or regression.
"'No Disgrace' is about a childhood friend who ended up a heroin addict, HIV positive and in Bellevue. He called me for help, and I tried to encourage him. I kept thinking, 'If only he could not feel shamed and just be able to enjoy life from this moment on.'"
Carino, a Buddhist for nearly two decades, says her spiritual practice guides her desire to "distill music to its essentials." Her mantra of "simple sophistication" makes for often trance-like rhythms beneath a contralto that exudes sexiness as it dances between buttery low notes, clear chest power, and guttural wails - each sung with the precision and care of a traditional jazz diva. But tunes such as "I Will Have Everything" and "Special Dark" are anything but jazzy. Move over, Florence! Your Machine has some seriously ethereal competition.
Carino has written, recorded and performed with members of R.E.M, Neil Young and Crazy Horse, and legendary producers Sly and Robbie. Little Genius is a fitting title for this collection - and its one-woman creator.
Marilyn Carino celebrates the release of Little Genius with a CD release performance at 116 MacDougal in New York on October 28 and at Grocery on Home in Atlanta November 12. For more information visit www.marilyncarino.com.
REAL LIFE. REAL NEWS. REAL VOICES.
Help us tell more of the stories that matter from voices that too often remain unheard.