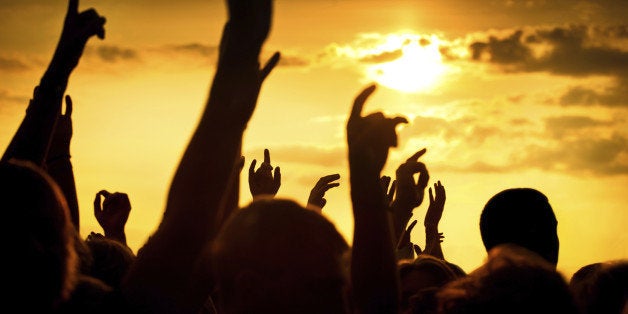 I've been a music lover since I was born, and have attended music festivals since around the '70s. But as I've gotten older, I've noticed that my music interest has stayed completely the same.
Age doesn't mean a thing, and it hasn't slowed me down from seeing any of my performers. Before I geared up for Outside Lands again this year (haven't missed a single year yet), I decided to jot down a few encouraging thoughts for any other music lovers out there 50 and over.
1. Be prepared! Listen to ALL the bands before you go. Create a playlist of all the performers and get to know their music. Don't stick with the old familiar geezer bands you listened to growing up. Now is the time to discover new music.
2. Similar to the above advice, don't blow off music you are almost certain you will hate. For example, if electronic dance music makes you want to kill yourself, disregard the impulse to do so and get to the nearest dance tent. You may be surprised by how listening and seeing something live, surrounded by crowds of exuberant high people, can be so much fun.
3. Don't be turned off by the idea of large crowds. In fact, that is what makes a music festival so much fun. Every festival has its own culture. At Outside Lands, over-50's won't feel so alone. You will find yourself in good company with every geezer Dead Head and hippie that antes up for the pricey ticket. Plus, every under 30 wanna-be hippie and Dead Head. They just look WAY better in headbands, tie dye and fringe leather jackets than the over 50 crowd.

4. Try every single thing offered at the festival! Eat, drink and dance your way through every tent, small stage and food and drink booth. Just remember that it takes a LOT longer to recover from this level of partying the older you get. Take a few days off work to recuperate. Get yourself to the chiropractor or a good massage therapist to aid in your recovery.
5. Don't be so cranky at the young. Over-50s should be the wise, tolerant concert etiquette gurus at every festival. Teach them that getting up on your boyfriend's shoulders may be fun for them, but it is super annoying to stand behind someone with their butt crack in your face while you are trying to see the stage. Make them aware that dancing is fine, but creating a ten foot radius around themselves by bashing into people is very uncool. Let them know that just because they put down a 20 foot wide blanket doesn't mean they own that real estate. Share your own blanket with others. Buy your young neighbors a beer. Chances are you make more money than they do, and you will make some new young friends.
6. Be very tolerant of the drinking and drugging going on all around you (and maybe with you). As over 50 concert goers, we should have a wealth of experience dealing with people who are way too drunk or are freaking out on whatever the new drug of the day du jour. Help, don't judge. If it was your kid in trouble, you would want a kind older person to hold their hand or get them to the Rock Med tent.

7. Get up off your a** and move from stage to stage. Over 50s tend to stake their claim at one stage and stay put. Don't. You don't need to see a whole performance. Move around. There is so much going on at once. You shouldn't miss it.
8. If you can, pay extra for the VIP experience. Over 50s appreciate the shorter lines for the bathrooms, the shady full bar and the tent with the water misters going while you have that gin and tonic. Worth the extra bucks, especially if you are going all three days for 10-12 hours a day.

9. Now is the time to break out your ugly footwear. Comfortable shoes are so important. Outside Lands stages are extremely far apart. Go ahead and break out those big white orthopedic walking shoes. No one will remember what footwear you had on.
10. Relax, have fun. Feel free to dance like a crazy person. You are over 50. No one is looking at you anyway!
REAL LIFE. REAL NEWS. REAL VOICES.
Help us tell more of the stories that matter from voices that too often remain unheard.