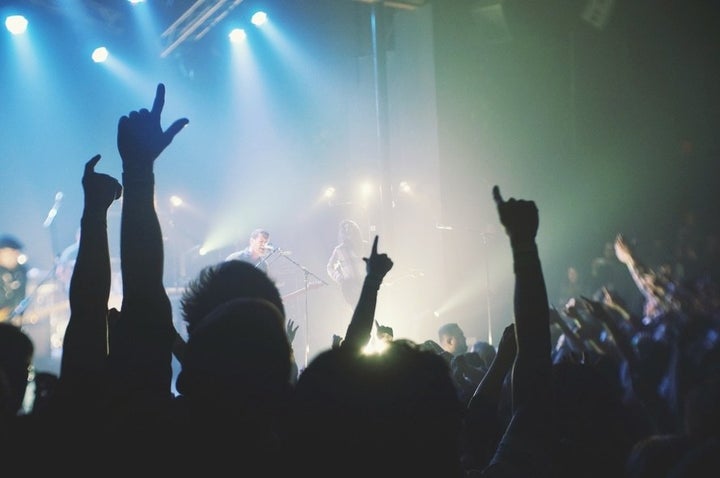 Co-authored by Matt Walsh, Between Friends.
Music festivals are a classic part of Chicago summers, but recent reports of groping and sexual assault at Swedish music festival, Bravalla, have cast a dark cloud over upcoming fests. It's time for festival organizers, musicians, and music fans to prioritize this issue, and take responsibility for preventing sexual violence at music festivals, so that everyone can have a good time.
The attacks at Bravalla are not isolated incidents, by any means. Sexual violence at music festivals and within the broader music community has been an ongoing problem throughout the years, with numerous reported rapes and sexual assaults at festivals throughout the world, and issues with sexual violence at local festivals, including a Lollapalooza attendee wearing a shirt that said "Rape Your Face" just last year. The looming threat of sexual violence has turned festivals into unsafe places for many music fans, particularly women.
Despite this history of sexual violence at festivals and shows, local festival organizers have fallen short on ensuring a safe festival experience for music fans. Browse the websites for Lollapalooza, Pitchfork, and Riot Fest, and you'll find policies on prohibited items, entrance regulations, and food and drink, but you won't find any policies on anti-violence, or what to do if you are harassed or assaulted at their festival.
We cannot end a problem by ignoring it. The Center for Disease Control lists a general tolerance for sexual violence within the community as a risk factor for further perpetration. The more we ignore sexual violence at music festivals, the more likely it is that the violence will continue. And really, sexual violence and the tolerance of it undermine the incredibly positive experience most music festivals are and can be.
To be sure, festival organizers have numerous safety concerns to consider. But recognizing that safety is an issue must include proactively addressing sexual violence. Music festival organizers can look to New York Comic Con for inspiration on how to address sexual violence at their festivals. After Comic Con attendees reported frequent experiences of sexual harassment, New York Comic Con implemented a comprehensive anti-harassment policy, which includes reporting options and resources for those who experience harassment.
Locally, groups such as FASN (Feminist Action Support Network) have taken proactive steps to show that sexual violence at shows is not an inevitability, and should not be treated as such. FASN implements safer space policies at DIY events throughout Chicago. Back in 2011, Between Friends and Rape Victim Advocates distributed resources about ending violence against women at Pitchfork, partly as a response to the booking of Odd Future.
Musicians themselves have proven to be some of the best allies in addressing sexual violence at festivals. Speedy Ortiz created a help hotline for audience members, and Mumford and Sons, who denounced recent sexual violence at Bravalla have refused to perform there again until the issue is addressed. Musicians can go a step further by advocating for clear anti-harassment policies at festivals, or by following Mumford and Sons example and refusing to perform at festivals that do not have such a policy in place.
Music fans have a right to know that violence isn't tolerated at the festival they are attending, and that something will be done if somebody is violent. Ultimately, festival organizers have the power to make a huge impact in creating safer spaces for music fans by:
Creating a clear, visible zero-tolerance anti-harassment policy, and being prepared to enforce this policy.

Partnering with local anti-violence organizations and rape crisis centers to train festival staff and security personnel on how to intervene when violence may be occurring.

Designating an area at the festival where music fans can receive crisis response and support from trained anti-violence advocates.

Having clear reporting options for fans who experience harassment or violence while at the festival.
Festival attendees themselves can help prevent sexual violence by stepping in if they see someone who looks uncomfortable, or if they see someone being harassed. Being an active bystander can include telling the harasser that their behavior isn't acceptable, checking in with the person being harassed if they are okay or asking for security. Music fans can ask festival organizers what their policies are, and advocate for the recommendations outlined above.
Sexual violence at music festivals has been widely ignored for too long. Continuing to host festivals without implementing enforceable anti-harassment policies puts music fans at risk, and is unacceptable. It's time for festival organizers to face the music and actively prevent sexual violence, so that every fan can enjoy one of the best parts of summer in Chicago.
This weekend, find the #OurMusicMyBody interactive display at Pitchfork to add your voice to the conversation.
Join the effort to make music festivals safe, fun experiences for everyone by following Rape Victim Advocates and Between Friends on Facebook and Twitter and stay tuned for information on a panel discussion that will be held in mid-September, right before Riot Fest. Together, musicians, festival organizers, and anti-violence advocates and fans will discuss what we can do to end sexual violence in the music community.
Related
Popular in the Community