Swedish Electronic Dance Music artist Avicii, a popular figure on the global EDM circuit, mixed it up big time with his recent foray into country music. His song "Hey Brother" was big news with both EDM and country fans alike, introducing both to a genre they may have not been interested in before.
With 1.4 million Twitter followers of @Avicii, his fans are receptive to his work and magnify the social effect when they share. Perhaps that's an important reason that versions of "Hey Brother" charted on a number different genre weekly listings including reaching the top of the Billboard Dance Chart and making Billboard's Country Airplay chart. The song has become a hit around the world, driven by social networking.
I recall my first experience with music crossovers with the 1991 release of "Deadicated: A Tribute to the Grateful Dead." As a Deadhead, hearing new takes on the music I loved was eye opening. It got me interested in artists I hadn't listened to previously and as a result I ended up buying some of their albums and seeing others live, including Indigo Girls, Dr. John, and Jane's Addiction. Back in the 1990s, artists had fewer ways to introduce their music to new fans. Radio ruled and a collaboration like "Dedicated" worked, but there was no social media available.
It seems to me that many artists don't tap the idea of crossover. They stay comfortably in their niche and play to their established fan base. But in today's world, reaching out to new audiences has never been easier. Social media allows experimentation that were difficult in an era when artists were beholden to radio airplay to get noticed.
Another avenue to reach new audiences is the festival circuit. At Gathering of the Vibes, an annual music, arts and camping festival happening July 31 through August 3 at Seaside Park in Bridgeport, CT founder Ken Hays curates bands so that music fans are likely to hear artists for the first time. With John Fogerty and Widespread Panic headlining, other highlights on tap for Gathering of the Vibes are Umphrey's McGee, moe., Rodrigo y Gabriela, Ziggy Marley, Maceo Parker, Edward Sharpe & the Magnetic Zeros, and Slightly Stoopid. Because of the mixed genres, there's likely something new for everyone.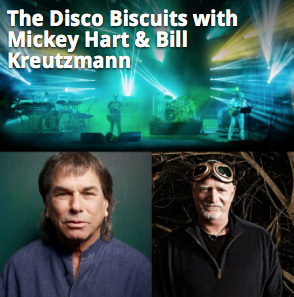 Taking the festival crossover even further, unique collaborations are possible. At Gathering of the Vibes, I'm particularly excited to catch Grateful Dead percussionists Bill Kreutzmann and Mickey Hart as they sit in with the Disco Biscuits.
I've seen Kreutzmann and Hart together several times in their post-Dead incarnations and have enjoyed the trance-like beat they set down in their Rhythm Devils collaboration. Playing with the Disco Biscuits, innovators of the "trancefusion" movement in modern rock. The melding of improvisational drumming from the jam band scene with technology savvy dance rock will surely pump and pulse and get tens of thousands of fans to tune into the vibe, dancing, becoming one organism where the line between artist and audience blurs.
It's quite likely that people will be tweeting and posting to Instagram, Tumblr and Facebook as they are introduced to new music. Away from radio and traditional record labels, bands are finding new fans.
Popular in the Community