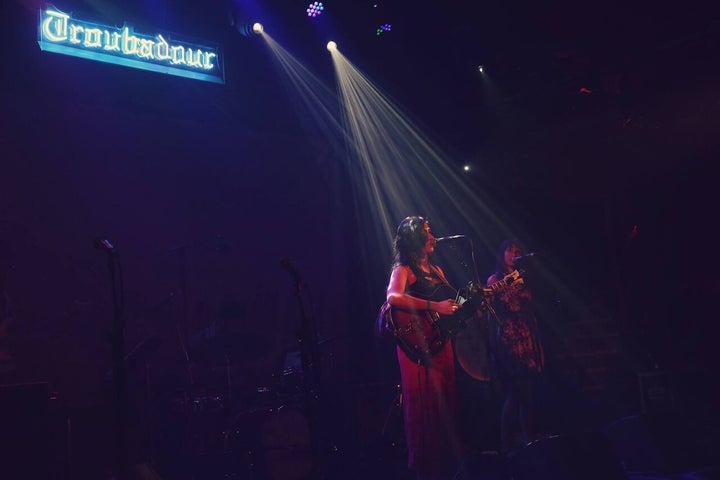 Not too long ago, I had the exquisite pleasure of reviewing Maryama's latest music video, Where the Mermaids Are. I was immediately captivated by her voice, which reminded me of Sade, but with more of a classical essence than Sade's. So I thought I'd request an interview. She was kind enough to sit down with me and answer a few questions.
Not only is she, in my mind, a true diva, but she was delightfully funny, as well as modest. Truly, I don't think she knows how talented she really is.
What is the most trouble you've ever gotten into?
Ha ha, so many to choose from. I used to be quite the rebel but never really got caught until late so I was fine. There is one very recent story though that still cracks me up. A couple months ago, after we played a really successful show, a few fans and friends invited me back to their place for a barbecue. We did the typical contact exchange and I put the address in my GPS and here we go! Let's just say my "google map" hates me! I arrive at the neighborhood and my map says turn right. I look and there is a private-complex garage on my right and I'm thinking, ok, this is their property garage and then the garage opens for me and I'm like, ok, this is definitely their garage. As I drive in, they call and say: "Um, we don't have any garages!" And then I watch the gate close behind me. Did I mention this was a PRIVATE PROPERTY GARAGE? So now I'm thinking, "Ok, Maryam, it's ok; turn around. It will probably open and you can leave and nobody is gonna freak out that you're in their property at midnight!!" So I turn around and I'm waiting and nothing happens! Guess what? This is one of those gates that need a key, an actual physical remote to open. So now I'm standing there, in nowhere-land, in somebody else's garage at 12 AM. At this point I'm thinking, screw it. I'll just go knock on their door and explain how I'm such an idiot. So then I proceed to the little human door at the other side so I can go knock on someone's door. What do you think is the most horrific thing you can experience at this moment? Yup, that happened. The little human door also needed a PHYSICAL KEY for me to get out of this damned garage! Ladies and Gentlemen, with the help of Siri, google map and my own impaired brain chemical reactions, I had managed to get myself jailed in somebody's property! At that moment, I realized that there should really be a number, kinda like 911, that people can call whenever they screw themselves over. At this point the horror is setting in! I have no way out or in so I called the friends/fans, who by the way, will probably never show up to another gig. Let's just say somehow a friend of mine got my body out of that garage and I left the car behind. Then I went to one of the houses at 8:00 am and said, "Um excuse me, I accidentally jailed myself in your garage last night, can you please open the gate so I can leave, thanks!?" You could have taken a picture of this guy's face at that moment and put it in a dictionary beside the word "huh?".
What are the five things you can't live without?
My family, music (Duh), food, water and comedy!
What's your favorite song to belt out in the car or the shower?
What kind of guitar do you play? And why?
I recently got my very first Fender Stratocaster Deluxe. I love the options, the tone and just overall comfort. Choosing a guitar is kind of like Harry Potter choosing his wand – it has to speak to you.
What musicians influenced you the most?
Oh, this is gonna be a long list! First and foremost Sade is the reason I am who I am, and sound the way I do. I remember I used to listen to her on repeat as a 12-year old on my way to middle school, and she is still the queen of my musical world! In general when it comes to songwriting and singing styles, I'm really inspired by the UK sound. Anywhere from Coldplay to Adele to The Cranberries to Amy Winehouse and let's not forget The Beatles and K.T. Tunstall! I'm also fascinated by artists such as Becca Stevens, Snarky Puppy and Lianne La Havas, and as a composer I'm inspired by Thomas Newman, Gustavo Santaolalla and Ryuichi Sakamoto and Hussein Alizadeh.
In my review of your music video, I described your musical style as "sophisti-pop." How would you describe it?
That has always been the question mark in my mind to be honest. How do you describe a musical style inspired by The Middle East , UK and US , Jazz , Persia, etc., all at the same time?! I've been calling it Jazz-Pop with a hint of Persian spice, but I really think if there was a genre named "True Fusion," that would be it!
Where do you find inspiration for your songs?
It's kind of something you don't find, but comes to you. I think the best songs are those that you write when you feel so strongly about something and you just can't keep it in anymore, and you need to create a piece of art or just this entity to express yourself. This upcoming record, Where the Mermaids Are, which is named after the single, was mostly written when I was going through my immigration process and just experienced so many things and felt so many things that were anywhere from struggles you have as a new person in a different world, as a woman separated from the familiar, to new beginnings and young love!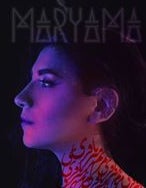 What is your songwriting process? Does the music come first and then the lyrics?
It's always different. I don't really try to pick one of the two, but rather let it come naturally. Sometimes you really need to send a message and it almost becomes like writing poetry. That's when the words are more important and you need to arrange the music in a way that lets the words shine! But there are also times that you just have this feeling you want to express, and that's when musical melodies and harmonies become your tools.
So far, has Where the Mermaids Are been well-received by the critics? By listeners?
Yes, it's been only a week since fans began listening to the song, and I receive many messages daily regarding how much they like the song. And besides that, the critics, like you, and from other outlets, have been most complimentary. I feel very humbled!
Will you be touring in the near future? If so, where?
I'm definitely planning on organizing a tour in the near future. We'll most likely start with a California tour and also hit some outside festivals on our way! All this info will be available on my website.
It's presumptuous to ask at this point, but are there any new songs on the drawing board? If so, when do you plan to go back into the studio? Will you be doing a full-length album in the future?
I'm currently working on the release of my first record – Where the Mermaids Are – which has 6 songs on it and we're very excited to share this material. As a composer, I also write a lot of instrumental music for films, etc. So I've also been producing a semi-instrumental record called Persianality, which will also hopefully be released in 2017.
Have any major labels expressed an interest in your music?
I got quite a few calls from smaller labels but at this point I'm going to wait for better offers.
The production values on your music video were superb. Who produced it?
I actually produced it myself and it's basically the first time I've ever produced a video! It was directed by a dear friend of mine, Hunter Janos, and many other friends helped with acting, costume and makeup and photo. It was really a production that came out of love and friendship, but I can't wait to work with an actual producer in the future. It's always hard when you spread yourself thin as an artist and I think one of my biggest dreams is to hit a point where I can be just the artist, and have a team that focuses on other aspects.
Do you have a band that backs you up, or do you use session players?
Yes, I'm really happy you asked about the band! We actually call ourselves the Maryama Band, and the idea behind the band was very much inspired by one of my favorite artists –the Becca Stevens Band. We've been playing together for years and everybody in the band is so special to me and to the music. I was never a big fan of just using session players and, cliché or not, I think that connection you have with your band family really comes through in the music and on stage. I'm really honored to be able to feature these incredible musicians on the record; and the really amazing thing about our team is the diversity. Everybody is from a different side of the world, and yet they've focused on giving life to my songs. The band members on the record are : Maleke Clemmons (Piano); Julian Karahalios (Back vocals, Bass); Marcelo Bucater (Drums); Michael Olinger (World Percussion); Nick Hon (Drums); Linnea Sablosky (Back vocals); Sina Dehghani (daf;) and Julian Cunningham (Back vocals). I did all the lead vocals/guitars and Setars.
Your voice is wonderfully distinctive; did you undergo formal vocal training, or are you simply a natural?
Thank you! I was always in choir growing up and I started taking voice lessons way later in life. I then enrolled in college as a Jazz Voice major and the rest is history. Recently, I've been learning Persian traditional singing, which is opening a whole new world to me, as well. And I guess the distinctiveness comes from all these different amazing vocalists I'm inspired by.
Find out more about Maryama here.
Support HuffPost
The Stakes Have Never Been Higher
Related
Popular in the Community