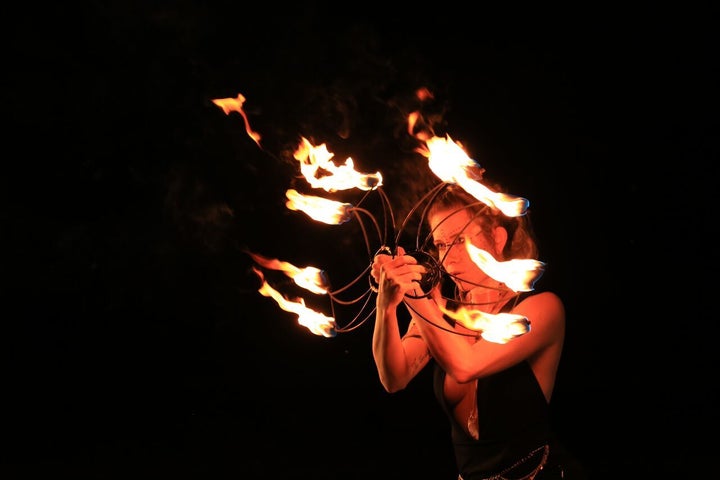 Recently, I had the opportunity to review "Crystal Heart," the latest single by Velvet Winter. The creative mind behind Velvet Winter is Talon Majors, whose music and voice are simply divine.
I had occasion to interview Talon and find out more about her as a person and as a singer/songwriter. Not only is she a talented musical force, but she's a lot of fun.
What is the most trouble you've ever gotten into?
I'm laughing out loud because there are So. Many. STORIES. I used to be a massive partier. But the incident that comes to mind is spending four days in jail for speeding at 120mph when I was 20 years old, heading to spring break in Florida with a friend of mine. I was so scared. But I learned how to play poker there! Hahaha! The charge was dropped.
What are the five things you can't live without?
In this order: My family, Hiro (my husky), music, sex, adventure.
What's your favorite song to belt out in the car or the shower?
"Back to Black," Amy Winehouse.
What kind of drums do you play? And why?
I play drums and sing. When I played metal, I had a Pearl Reference Series 7-piece ridiculous vanity kit ….and later a DW custom. Both of those suited the styles of music I was playing at the time. (I shed a tear when I sold the DW and took up singing full time, haha).
What musicians influenced you the most?
Beth Gibbons of Portishead, Johnny Cash, Frank Sinatra, Ella Fitzgerald
In my review of "Crystal Heart," I described your musical style as indie-rock with a thick influence of electronic. How would you describe it?
That's perfect! I always say it is "electronic soaked indie rock", though it is ever evolving. I have songs ranging from something you'd hear in a movie to something you'd hear at Coachella.
How did you come up with the name Velvet Winter?
It was a tough decision. I grew up in Colorado. I love cold weather, and the serene vibes of winter. Untouched snow in the mountains looks like frosted velvet. There is something sacred to me about the fierce, cold beauty of a mountain.
Where do you find inspiration for your songs?
Most of my songs are about things that we as humans go through in life. My main inspiration is life events that brought about internal growth through pain and hard times. I've written about health issues, breakups, sex, addiction, abuse and love, mostly. I love a song that takes you on a journey. I try to provide that experience in hopes that someone going through something similar can hear it and relate.
What is your songwriting process? Does the music come first and then the lyrics?
It depends! Both actually. Drumming came before singing for me, so sometimes I write a beat and sing to it. Most of the time I start with a vocal melody that comes to me and build on that, though I have also been inspired by writing poetry first and letting the song emerge that way.
Was "Crystal Heart" well-received by the critics? By listeners?
Yes! I am so pleasantly surprised by how well it's doing. I couldn't be happier with choosing it as the first release. I am looking forward to seeing how people like the new material.
Will you be touring in the near future? If so, where?
I am putting together my stage show at present. I've been offered some great opportunities so I'm really excited to see how this all plays out.
It's presumptuous to ask at this point, but are there any new songs on the drawing board? If so, when do you plan to go back into the studio?
I am constantly in the studio (and filming music videos). In fact I just left the studio and I'm filming all day tomorrow! So, yes! I have two singles out right now. "Crystal Heart" and "Black Hole."
The production values on the single were very good; who produced it?
The amazing Andrew Furze and Todd Bergman.
Any plans for either an EP or a full album?
I am finishing the last song on the upcoming 6 song EP, this coming week, finally! Then, right back to it!
Find out more about Velvet Winter here.
Related
Popular in the Community