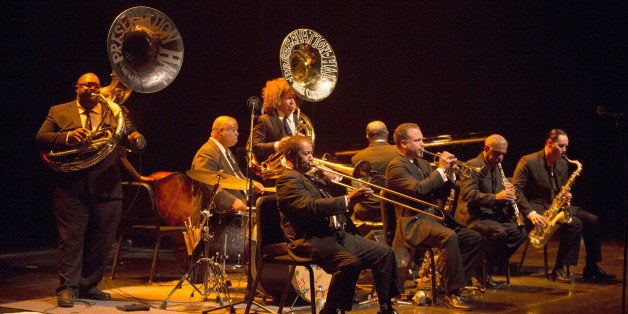 This week marks the start of the 35th Montreal Jazz Festival, an annual celebration of music that despite its name, really elevates a range of styles to an international stage for 11 days in Montreal. In prep for this special landmark year, I caught up with André Ménard, the festival's artistic director and co-founder, who has helped grow it from less than 10 concerts to over 600 performances, each year.
Coupled with their team's incredible business and cultural success, Ménard sees the appeal of festivals as a cornerstone to the music experience -- that as much as how we listen to and exchange music has evolved, the live experience has, for the most part, stayed the same. This truth is reflected in the growth Ménard and his team have demonstrated over 35 years, when their festival started "a little revolution" that turned sleepy summers in Montreal to a cultural extravaganza that's even inspired redevelopment of the public spaces around the Places des Artes - all to help bring more free music to the city's residents and visitors. However, Ménard admits that they could never have predicted this incredible success, or "would have been seen as megalomaniac[s]."
Back to its name, one that might be confusing when you see Snoop Dogg, Rufus Wainwright, Diana Ross, and the Montreal Symphony Orchestra on the bill. The festival has evolved over the years from being strictly focused on jazz into a true celebration of music. "The music of our time is still very much influenced by jazz," said Ménard. "The jazz attitude, the jazz way of creating music is present in a lot of our music today."
For Ménard it doesn't need to be so prescriptive. "I've always seen music as a living body," said Ménard. "We cover the whole gamut of music, especially jazz, from the 30s until now. We [also] experiment with programming that can be quite daring, quite surprising" while still offering a great musical output.
With all that has changed and grown over the years, as much as Ménard focuses on the artistic elements, he and the team take their other responsibilities very seriously, like tourism development.
Music festivals have popped up all over the world, including in the U.S., however, Ménard believes their formula in Montreal is unique. Out of the approximately 600 events this year, the majority are free and within a 2-3 block radius of each other, giving it a concentrated and communal feel. It has an impact in the hundreds of millions of dollars each year, but thanks to its focused approach, Ménard believes it has an even more important impact on the perception of music.
"It's not a VIP experience we're selling here. It's really inclusive, socially and economically." It's also inclusive for all members of the family, with music that can interest all generations. "The vision of the jazz festival is a bit utopian," Ménard said. He also noted that currently sponsors cover nearly half of the festival's $30 million budget each year, which is used to fund more free concerts, including a major performance this year by singer, Diana Krall, who first performed at the festival early in her career.
When asked how they might continue to grow what has already become such a major cultural force for Montreal, Canada, and the world, Ménard brought it back once again to the access and quality of music. In fact, he sees growth as challenging the artists to go outside of their routine formula and offer new music, approaches and innovation that provides a unique perspective that can only be experienced at the Montreal Jazz Festival.
He said, "If you're playing the Montreal Jazz Festival, then you should try and do something special, not your usual club set." It's a chance for them to go "from digital back into the analog context of a concert," conveying an attitude that helps make celebrated music events like the Montreal Jazz Festival a unique opportunity that's got to be experienced live.
The Montreal Jazz Festival runs from June 26-July 6, 2014. For more information visit, montrealjazzfest.com.
REAL LIFE. REAL NEWS. REAL VOICES.
Help us tell more of the stories that matter from voices that too often remain unheard.