It's another beautiful day in sun-drenched Los Angeles.  I drive over to the iconic, A&M/Henson's Recording Studio.  Today I'm enthralled to interview a most talented and kick ass musician.  He's in the studio working on some new songs for his eccentrically and wicked cool band The Boxmaster's I'm graciously shown to my room upstairs in Studio A (one can't help but feel the magic of artists from yore ie., The Rolling Stones, The Doors and Guns N' Roses to name a few, implementing their rhythmic harmonies and guitar riffs on these, some say  "haunted" walls). And so the epic sit down interview goes with Mr. Billy Bob Thornton himself.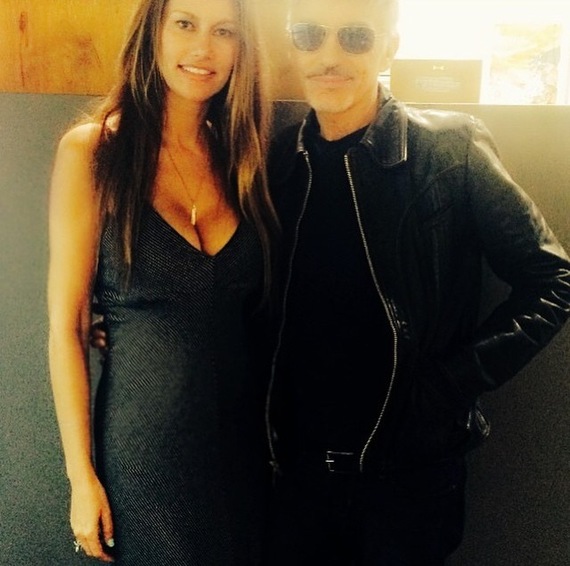 Susan Holmes-McKagan: Congrat's on The Boxmaster's recent fourth album "Somewhere Down The Road" (and a double album at that)! Tell us a little something with regards to insight on this latest CD and your most recent music?
Billy Bob Thornton:  The Boxmaster's can't really be deemed just to any one music category... We fit into the "Americana" radio stations and charts.  Americana is basically where they put everyone who's not metal, hip-hop, pop or Nashville country... You will hear various artists on Americana radio stations like Steve Earle, Emmy Lou Harris, Dwight Yoakum as well as bands on there such as Phish, etc... It's basically American roots music.  The Boxmaster's double album first CD is sort of a mix of late 60's LA rock, inspired by "The Birds' and also a little Tom Petty Influence--but also The British Invasion.  And then there's the dark side of the record (because we have two sounds on there), we do these really dark moody song's that were inspired more by J.J. Cale, Kristofferson, Johnny Cash and John Prime... So we just thought we should put a double record out, and show both sides... The first side is sort of the more "jangly" pop rock /English vibe... at the end of the day, the first side of the record, sounds a bit like what some call, "the best band who never made it" a band by the name of Big Star (out of Memphis). As a kid I grew up around the Memphis scene and sound, loving artists such as, The Box Tops, The Gentry's and Big Star)... so we kind of put all those sounds together, and that's what the first side of the record really is a compilation of... I'm lucky to have played in bands since I was a little bitty kid, and I think everyone can't help but have creative and musical influences... We (The Boxmaster's are very beholding to the people we love, to our heroes like this... whether it's Elvis, The Beatles, etc)...
SHM: You have a huge number of fans! How would you describe them?
BBT: They're all so great!  We are very thankful for their amazing support and without them they would not have made our new album feel so revered.  Our loyal fans have now helped us top the European charts to # 8, as well as doing nicely here in the states too.  We have an excellent cult following, that are I guess I would say, somewhat eccentric.  At our live shows, our audience consists of everything from scientists to red necks!
SHM: Your Deserted Island Albums?    
BBT: The Allman Brother's Band "Live At Fillmore East," Kris Kristofferson "The Silver Tongued Devil and I," and The Mother's Of Invention "Burnt Weeny Sandwich"
SHM: So for the Emmy Award Winning tv show "Fargo" you won a Golden Globe and a Critic's Choice Award. Amazing! We know about your Academy Award winning movie career, but now how is your view of doing television?
BBT: It was such a joy to do it! The producers, the production team, the crew and the other actors I worked with couldn't have made that a better experience... I was tremendously happy to see it obtain the accolades, and the notice or awards, it received... I was extremely proud of that.  It also was perfect for me because as a film actor, you may not want to get involved in a television series that lasts seven years. As I also need time to tour, and make records and of course, be with my awesome kids.  "Fargo" was only 10 episodes; therefore, it only took 4-5 months to shoot, so it was kind of like doing a ten hour independent film. The two mediums (tv and film) are definitely getting closer as an art form.  There's a plethora of good stuff on tv now.
SHM: How do you keep so fit? Curious to know what your rider particulars are while filming or on tour?
BBT:   Well I'm sort of a "Vegan who cheats", in that three or four times a month I'll eat some turkey, and once in a blue moon I'll eat some salmon.  I actually have allergies to wheat and dairy, so I stick to a regimented and pretty clean diet. Some of my favorite go to dishes would be a kale and quinoa salad with beets and walnuts (minus the cheese), that's actually from one of my favorite restaurants in Brentwood, CA called  "A Votre Sante."  I also regularly frequent Whole Foods market, and always make sure and grab my favorite 100% raw coconut water, it's the one that is never heated, in the clear bottle with the green cap on it...I think it's by Harmless Harvest.
SHM: Favorite hobbies? Life motto?
BBT: On tour we always bowl, we take the crew and all go... On one of our nights off we even bowled a few games with some of the guys from Def Leppard, which was great fun... Also I enjoy taking hikes with my kids, and love to watch my Cardinals play baseball.  I'd say my go to motto would be "Do It Your Way," because that's always going to be one's best... Don't pretend...Just do it your way, because if you show the real you, then that's the strongest thing you have.
SHM: Smart, attractive people (and we all know you're no slouch in the ladies dept, in particular, seem to gravitate to you) I am sure there are many an individual, who would like to know what your secret weapon is for obtaining the likes of such gorgeous beauties as Angelina Jolie to your new beautiful wife Connie? Advice/tips?
BBT: I think you're born with whatever you are and/or whatever you have, and I think you have to present that and convey the truth of who you are... and whoever likes that truth - that's whoever you end up with.  Yes I have been linked to some very physically attractive women in my years, but I also have dated unconventional looking women too, and for some reason the news always seems to hype up the relationships I've had on the, I guess what some would define as the more glamorous ones. Physical beauty only goes so far... If you find a person with a mindful heart, mind, and also is  aesthetically pleasing to you then you've got it made.
SHM: Best way to keep up with all your latest stuff?         
Calling all HuffPost superfans!
Sign up for membership to become a founding member and help shape HuffPost's next chapter