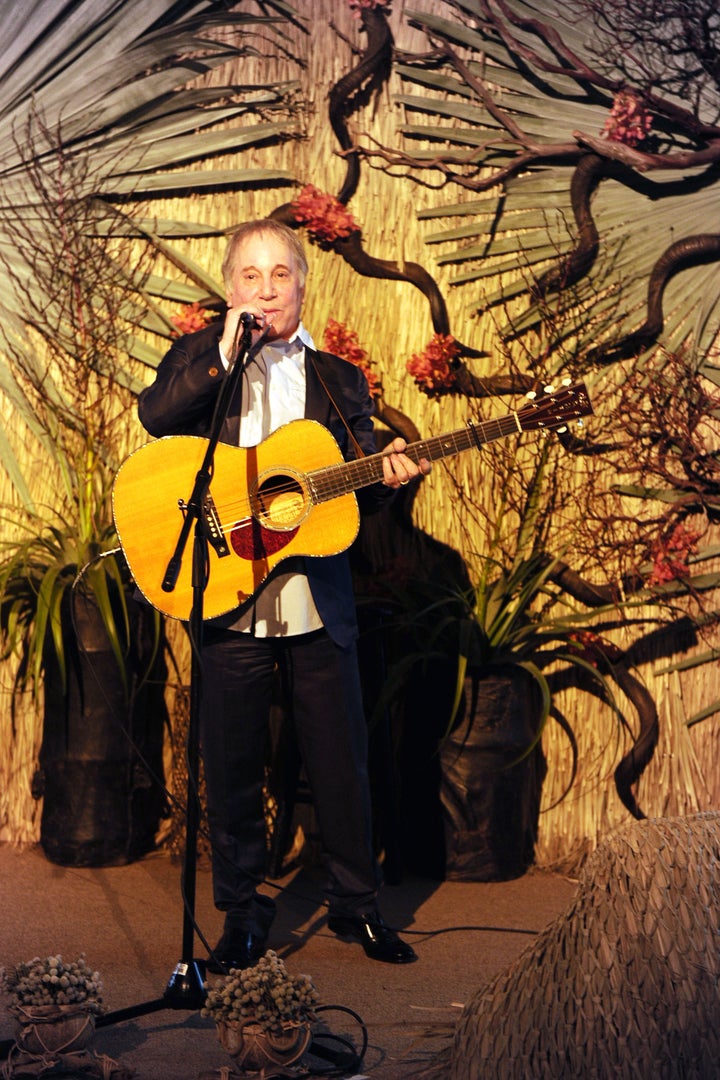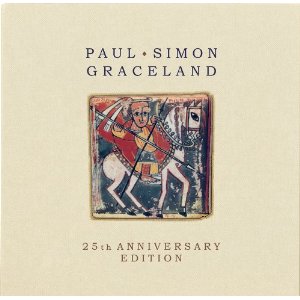 PAUL SIMON: GRACELAND 25TH ANNIVERSARY
DELUXE BOXED SET: $119.98
CD/DVD SET: $15.98
LP: $24.98
Paul Simon's album Graceland has turned 25 sounding better than ever. Its impact on music and culture is vast, and any list of the best albums of all time looks silly if Graceland doesn't appear on it somewhere. The best selling solo album for an artist who continues to produce great music, Graceland is a landmark work. But not one that has grown dusty with Importance: It's not just a "significant" work with historical meaning; it's also an exhilarating collection of songs as timeless and current as ever. This is the first of a series covering the boxed set, its cultural impact, the story of the boycott and the music itself. You can buy the album in any configuration from Paul Simon's website or any major outlet.
GRACELAND: THE BOXED SET AND MORE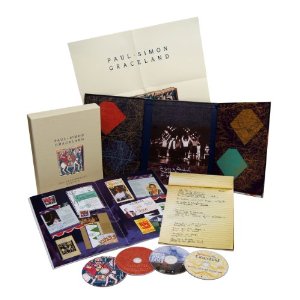 Graceland is available in a newly remastered edition in various configurations. You can buy it as an LP with a free digital download of the tracks, you can buy a CD/DVD set which contains the album and a documentary film about the making of Graceland, or you can buy the deluxe set.
I am NOT a fan of bulky boxed sets, whether it's music, TV shows, or movies. I often wonder if the people who design them ever bring these things home. Where do they put them? I much prefer boxed sets that stay roughly within the dimensions of other DVDs or CDs so the boxed set -- even if it's a lot thicker -- can fit on a shelf alongside all the others in my collection. Unless you have a big coffee table and want to give a boxed set pride of place in your home, they just don't make sense. Heck, this deluxe boxed set won't even fit on most of my bookcase shelves!
But when it arrived in the mail, I have to admit I broke into a grin. If the size of a boxed set is going to reflect the importance of the work contained within, Graceland could be two or three times its current size as far as its impact on music and importance in my life. The hard shell is beautifully designed and contains the full complement of stuff. You get a full-sized booklet with photos and liner notes and lyrics. You also get a fold-out display that contains a reproduction of the legal pad Simon originally wrote lyrics in as well as all four discs: the album, an extra CD with demo tracks and a 10 minute discussion of the album by Simon, the DVD of the documentary film Under African Skies and the first DVD release of Graceland: The African Concert which was recorded in Zimbabwe in 1987.
I'm also a curmudgeon about exclusive bonus material (fans shouldn't have to remember to buy album A at Best Buy and album B at WalMart to get extra stuff). But I will mention that if you buy the set on Amazon you also get a third CD with five live tracks from the Graceland tour recorded in Spain in 1989. (The one thing missing for me? I've always wanted to hear the mixtape or album that obsessed Simon and led to Graceland. Even after seeing the documentary it's unclear to me whether this was an album by the Boyoyo Boys, a mix tape made by an individual, or an "official" compilation featuring them and other acts. In any case, rights issues probably made it impractical, if anyone even considered it.)
The boxed set is beautifully designed on the outside and looks impressive. If you want to make a statement, this does the job. The album, of course, sounds better than ever, with new, subtle details emerging from the remastering. The demos are interesting for completists but most people won't listen to them more than once. The rest of the packaging has some downsides. The CDs and DVDs are held in awkward little "holes" (they're not quite slots) and are a little tricky to get in and out. The 76-page booklet of photos and liner notes is lovely. It contains a nice intro by Jesse Kornbluth and lyrics big enough to read (a nice change of pace from CD booklets). But the bulk of the book contains an oral history of Graceland and I'd say 70 percent of it repeats statements heard in the documentary film. I assume the rest of the quotes are pulled from the interviews that didn't make the final cut. So once you've seen the film, the bulk of the booklet feels repetitive.
Graceland: The African Concert is long overdue on DVD but it's more of a document than a satisfying film on its own terms. The concert presented runs 90 minutes and contains the exact same set Simon and the artists performed at Madison Square Garden on the tour, minus the encores of some Simon & Garfunkel tunes. It's a perfectly acceptable souvenir but by no means a great concert film. I assume at some point it will be available on its own.
The real attraction, of course, is Under African Skies, the documentary film by Joe Berlinger. He's a talented director with little visual flair. Berlinger finds fascinating topics and explores them in a messy, disorganized way. The journey is worth taking on his films, but it's not a disciplined one. Berlinger shines here in letting Simon tell the full story of making the album and knowingly breaking the cultural boycott on South Africa called for by the African National Congress. His critics at the time are graciously given their full due and eventually the entire back-and-forth becomes clear.
Mixed in with this political tempest are shots of Simon reuniting with many of the people who played on the album and rehearsing songs with them. Here Berlinger's visual limits are most evident -- musicians jam for a while before we even get a sense of the space they're in and how they're positioned next to each other. And as Simon himself has pointed out, these are early rehearsals and the shows themselves will be much tighter. Ultimately, Under African Skies gets the job done and is far and away the most interesting extra available timed to the 25th anniversary of the album. It is not a classic the way the making-of about Bridge Over Troubled Waters has proven to be in a deluxe set released just last year to celebrate its 40th anniversary (!) but it's something Simon fans will certainly enjoy.
So that's the boxed set: beautiful but oversized, awkward for holding the actual discs (like a surprising number of boxed sets, frankly) with a very good making-of documentary, a decent concert, and the usual bonus material. It has many pluses and minuses but the money is on display. For most fans, I think the CD/DVD set is a no-brainer. You get the new documentary DVD and the bonus tracks of demos and Simon discussing the album. It's slightly larger than a standard CD (6 by 5.5 inches) but most shelves should just about accommodate it. The LP, of course, is for the audiophiles who can't give up their turntables. I envy them getting to sit down and listen to the album while looking at that iconic cover. Maybe that's why my eyes lit up on seeing the boxed set: those of us used to CDs or even digital-only albums rarely get the chance to see graphics life-sized and in living color anymore.
Tomorrow: Graceland: Its Cultural Impact.
Until then, enjoy the official video for "The Boy In The Bubble," the great opening track on the album.
Thanks for reading. Michael Giltz is the cohost of Showbiz Sandbox, a weekly pop culture podcast that reveals the industry take on entertainment news of the day and features top journalists and opinion makers as guests. It's available for free on iTunes. Visit Michael Giltz at his website and his daily blog. Download his podcast of celebrity interviews and his radio show, also called Popsurfing and also available for free on iTunes. Link to him on Netflix and gain access to thousands of ratings and reviews.
Note: Michael Giltz was provided with a free copy of the deluxe boxed set with the understanding that he would be writing a review.
REAL LIFE. REAL NEWS. REAL VOICES.
Help us tell more of the stories that matter from voices that too often remain unheard.