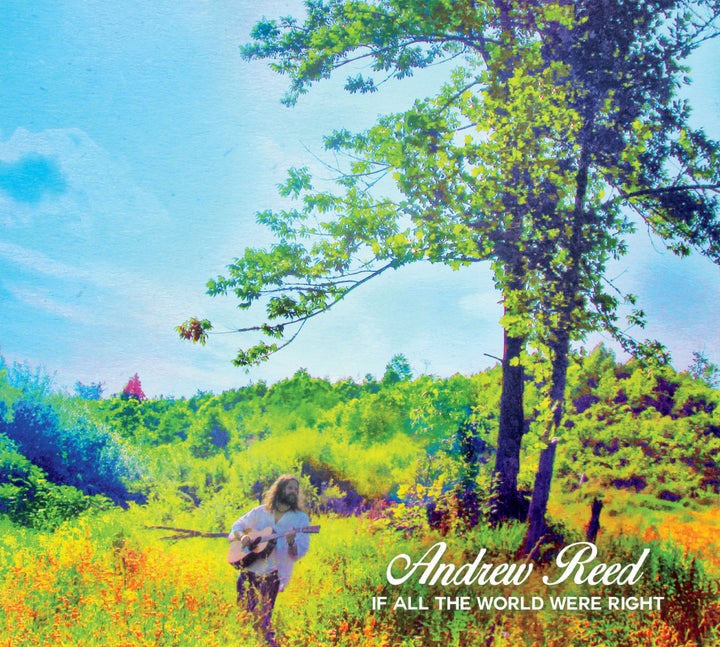 January 1, 2018 ushers in not only a new year, but a new album from Andrew Reed, called If All The World Were Right. The concept of the album revolves around the journey of the Prodigal and the sound of the album is influenced by Seals & Croft, Cat Stevens and the Moody Blues.
The album, says Reed, is "about my journey, but I don't think it is unique to me at all. Most of us go through really tough patches during our lives. So much of it has to do with our thinking and the emotions that result from our thinking. We are constantly thinking about how to interpret or reconcile our lives... BUT we have a choice in how we experience the world! And all it takes to improve things is to change your thinking or perception of things. Once I got ahold of that idea many years ago, Bam! My life changed!"
Stylistically, Reed's music is usually tagged as a blend of rock, Americana and new classic rock. Musicians contributing to the album include: Trevor Walker and Rob Geisler on bass; Aaron Price on keyboards and piano; Courtney Hodges on backing vocals; Paul Babelay on percussion; Alex Bradley on trumpet; Joseph Dowdy on saxophone; Kyle Snuffer on trombone; Kara Poorbaugh on viola; Franklin Keel on cello; and Andrew Reed on guitars.
A baker's dozen tracks comprise the album. "Sailed Away" features a Phish or Chicago-like melody full of smoothly strumming guitars and a bright piano. Reed's voice is laid-back and imbues the tune with a soft comfort. "Cured My Mind" rides an oozing organ and twangy guitar accents. The soft rock melody is easy-going and meandering, almost as if a jam session.
"Life In The City" begins like a subdued Smashing Pumpkins song, potent but tight and compact. The rock melody is light and crisp, almost frosty with energy. I love the sax solo, as it gives the tune a hint of jazz essence. Reed's voice is snug and reedy with color. "Putting Things In Order" presents a bluesy jazz aroma tinged with country-lite. The melody drifts and flows and then intensifies to a psychedelic feel as Reed's voice soars with gentle hues.
The title track delivers jangly guitars descending to a quasi-prog rock feel, with sparkling accents from the guitars and then takes off into a glowing gospel-like intensity. "Carolina In The Morning" is country-flavored Americana, flowing at a leisurely pace. I love the extended sidestick on the snare and the bassline pulsing with deep color. "Where She Goes" offers a folk/Americana melody rolling gently on mellifluous tones. Reed's voice is tender and quixotic.
"The Ghost of Robert Johnson" rides a thick bluesy melody rife with wicked energy. Reed demonstrates his vocal versatility on this tune, as his voice takes on a chilling twang. The guitars radiate a revelation of hues and flavors pungent with dark tones. "Open Road" is a laid-back rock/Americana tune with country tints. The crying slide guitars add to the carefree ambiance. The second guitar solo really packs a harmonic wallop.
"All Of My Life" rides a soft folk melody, mellow and unhurried. The combination of glistening guitars and the delicate piano gives the tune a delicious beauty. "Hourglass" travels atop a country-rock melody full of prog-rock energy, especially when the strings kick in. I really like this tune because of its orchestral/prog rock feel.
"Sailed Away" (Reprise) presents a dreamier, slower version of the first track. I liked the first version, but frankly, this version is better because of the bright horns and the potent dirty guitar solo. "All The World Is Right" features Reed reciting a poem accompanies by strings and piano.
If All The World Were Right is a grand album. The lush, smooth melodies flow with subtle harmonics and the rhythms are simple, graceful and elegant. And Reed's voice imbues the tunes with an easy intimacy that's undemanding and gratifying.
Related
Popular in the Community