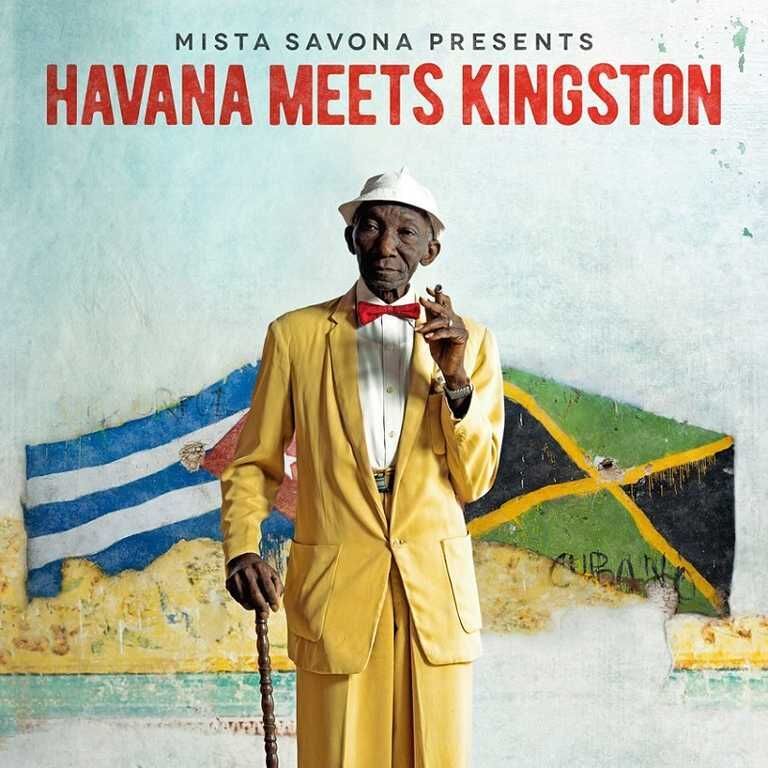 Havana Meets Kingston releases November 3, on VP Records/17 North Parade. The album is the brainchild of Mista Savona, aka Jake Savona, Australia's renowned reggae and dancehall producer. Recorded at Egrem Studios in Havana, the album features the talents of Sly & Robbie, Bongo Herman, Winston "Bopee" Bowen, Changuito, Barbarito Torres, Rolando Luna and Felix Baloy, along with Turbulence, Randy Valentine and Maikel Ante. More than fifty musicians from half-a-dozen countries bestowed their geniuses to the music.
According to Jake Savona, "When I first visited Cuba in 2013, there was something in the air- it just seemed to be begging to happen. The album simmers with an energy, warmth and sincerity that seems increasingly hard to find in this digital age."
Havana Meets Kingston comprises fifteen tracks. "Chan Chan" delivers a smooth Cuban melody flowing with splendid guitars, restrained horns and an exotic sensuous rhythm. There's a spectacular trumpet solo highlighting the tune. "Carnival" rides a cool reggae melody with a solid groove. Skanking guitars and a crisp piano give the tune an undulating feel that, in combination with the vocal harmonies, provide a tasty tang.
"Interlude" provides brief insight into the social interaction of the musicians in the studio. "El Cuarto de Tula" reflects an upbeat Cuban melody with a bright piano and delightful accents from the horns. A pulsing rhythm emanates from the bass contrasting against the rapid-fire vocals. The mood of the music is ebullient. "San Miguel" exudes a laid-back jazzy Cuban groove traveling on a sublime guitar. A sparkling piano complements the guitar with bright colors. The piano and guitar solos, as well as the trumpet solo, display beau coup genius by their respective artists.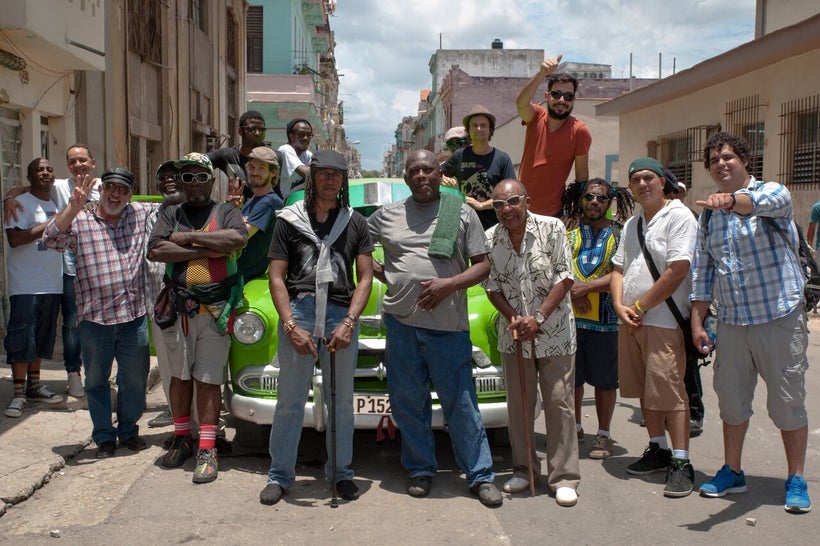 "100 Pounds of Collie" rides a roots reggae melody with a suave groove and silky vocals. This is one of my favorites on the album because of its effortless flow. "Candela" emanates a velvety Cuban melody with a thrumming potent rhythm. A glossy guitar drives the melody, while superb vocal harmonies provide luminous colors and a vivacious mood. "In The Ghetto" packs a muscular R&B flavored dancehall melody riddled by radiant vocal harmonies and convincing brass pigments. The closing sax oozes a dark bluesy flavor that's more than delicious.
"Vibracion Positive" oozes an intoxicating reggae melody chock-full of mellifluous vocals and a crunching groove that's infectiously attractive. This is another favorite because of the pulsing bassline and silky-smooth vocals. "Heart Of A Lion" pushes out a flamboyantly pulsating reggae melody with a groove aching with impact. Layered voices add depth and zestful spiciness. This tune shudders with hip-swiveling rhythm. "Interlude" features a laid-back heaving rhythm traveling a subterranean bass. The trumpet rising above the groove is insanely scrumptious; it has to be heard to be believed.
"Carnival Horns" showcases a sprawling Cuban-flavored reggae melody replete with a smorgasbord of succulently honking horns, giving the tune a bright blush of brilliant hues. "La Sitiera" supplies an opulently chilled Cuban melody above which the divine voice of Beatriz Marquez floats gorgeously. "Dubwise" delivers a dub reggae melody with a bassline of infinite depth and dewy background vocal harmonies. "Row Fisherman Row" closes the album out with a roots reggae melody rumbling with a catchy beat and persuasive vocal harmonies. The bass on this tune is extravagantly excellent, trembling with the force of an earthquake.
All I can say is wow! What a great album. If you miss Havana Meets Kingston, there's something wrong somewhere. This album will grace many if not most Best Album of the year lists.
Find out more about Havana Meets Kingston here.
REAL LIFE. REAL NEWS. REAL VOICES.
Help us tell more of the stories that matter from voices that too often remain unheard.
This post was published on the now-closed HuffPost Contributor platform. Contributors control their own work and posted freely to our site. If you need to flag this entry as abusive,
send us an email
.