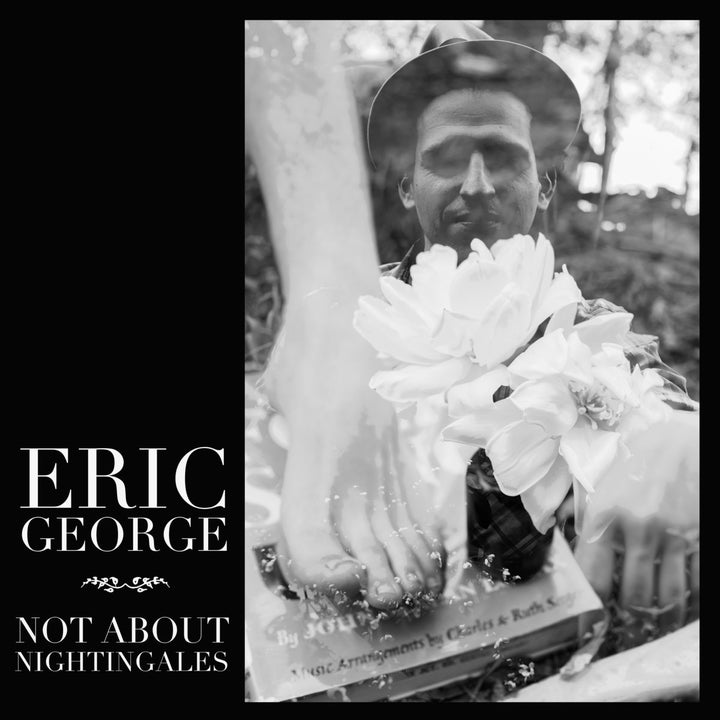 Not About Nightingales is the new album from Eric George, slated to drop August 23. Hailing from Vermont, the singer/songwriter has one foot firmly planted in tradition folk music, while the other foot fluctuates between soft rock, Americana, bluegrass, delta blues and jazz.
Not About Nightingales features Eric George on guitar, banjo and harmonica; Luke Hauserman on bass; Sean Keenan sits in the pocket; Pete Sutherland plays fiddle; Shay Gestal plays violin; Monique Citro plays cello; Erich Meisberger plays pedal steel; and Henry Finch tinkles the ivories. Jocie Adams and Addie Herbert provide vocal harmonies.
The album has ten tracks. The first track is "Few Little Lines," an upbeat folk number with a steady, sparkling melody emitting a shadow of bluegrass influence. Eric's tenor is laid-back, effortless and agreeable. "River For Your Dam" begins with twangy, drawling guitars that drive the flowing, moderate melody. Sutherland's fiddle gives the tune an old-fashioned brightness that works well.
"I Was Trying To Describe You" opens with a simple acoustic guitar, and a light groove. The folk melody exudes a trace of R&B underneath, hidden below the delightful violin. Light, muted resonant background vocals fill in the gaps, adding a nimble vocal flavor. "Cure For His Soul" is a sing-song folk tune, with a fun, traditional folk melody that emanates an old-timey feel. Once again, Sutherland's fiddle adds tantalizing twangy harmonic accents. "Thought You Had A Home" rides a soft rock melody that's vaguely reminiscent of Chris Isaak because of the sensual feel of the guitars. There's a lilt to the lyrics that sounds almost Celtic, which complements the stream of the music.
"I'm Satisfied With You" combines bluegrass and folk into a melody that rides on the shimmering banjo. The lyrics are simple, aided by the simplicity of Eric's phrasing and mellow vocals. "To Say Hello" exudes a jazz sensibility, flowing with threads of conventional 1960's soft pop. The vocals deliver an undulating sonority heavy with wisps of recollection. "Friends With Silence" presents a drawling country folk essence, like an early Johnny Cash tune, simple and catchy in a nostalgic manner. Eric's vocals offer a ripe country accent, a bit like Buddy Miller. And the pedal guitar brings all the elements of the tune together, as it drawls with slow, meandering intensity.
The title track begins with an a cappella choir-like rendition that really sets it apart. The melody carries more than a hint of old-time gospel, which is charming. Eric's vocals encompass a hymn-like tang that complements the pious feel of the song. The last track on the album is called "Some Times." It's a simple folk tune featuring Eric accompanied only by an acoustic guitar, initially. Then the song gathers an upbeat feel as the tempo increases.
Not About Nightingales offers strong melodies built upon delta blues and folk influences, nice arrangements and Eric's comfortable voice. The inclusion of rock and bluegrass elements and even a bit of jazz influence, provide the folk melodies with alluring nuances. If you're into good, easy-to-listen-to folk music, then this album is for you.
Find out more about Eric George here.
Pre-order Not About Nightingales here.
Popular in the Community