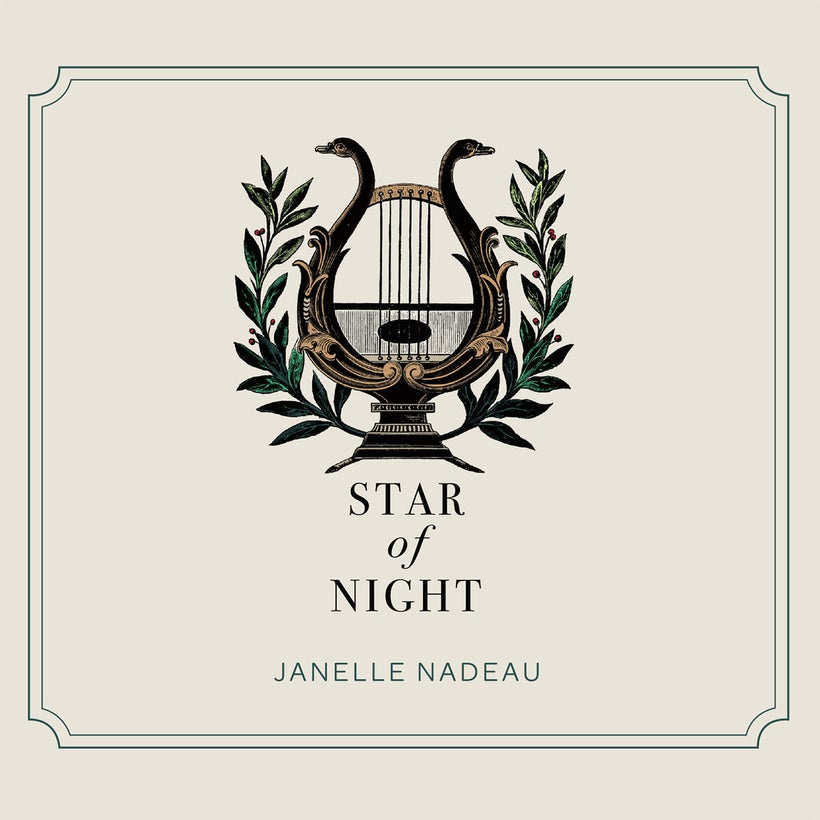 Janelle Nadeau drops a new album November 30. It's called Star of Night, a collection of beloved Christmas songs. Produced by Stephen Fisk and Janelle Nadeau, the album features Janelle Nadeau on harp and vocals; Stephen Fisk on guitar and vocals; and Ian Mackie on percussion. "Whether you are driving in your car, cozying up on the couch or having a Christmas gathering, this album will be perfect to engage in the spirit of the holiday with a fresh sound," says Nadeau.
Nadeau is the acting principal harpist with the Vancouver Opera Orchestra, as well as playing with the Turning Point Ensemble. A classically trained harpist, Janelle graduated from the Harp Performance Program at the University of British Columbia, and studied with Richard Turner, Heidi Krutzen, Rita Costanzi and Deborah Henson-Conant. She has performed with Diana Krall and Kanye West.
Star of Night comprises ten tracks. First up is "Oh Come, Oh Come Emmanuel." The tune begins with an austere resonant harp accompanied by an acoustic guitar, adding tremulous accents. There's an intensely devout flavor to Nadeau's interpretation of the song. "Huron Carol" opens with a sparkling harp and a lightly rubbing guitar. Imbued with an Ennio Morricone aroma, the melody encompasses a subdued supercharged quality that's wonderful.
"It Came Upon A Midnight Clear" oozes muted twinkling hues, offering a warm, soothing interpretation of the song. The vocals are soft and gentle, almost fairy-tale-like. "What Child Is This" delivers a gorgeously evanescent take on the popular song, light and airy, full of charming ozone-colored tones. "We Three Kings" features a stronger guitar contribution, giving the tune a delightful Celtic tang that sets it apart from the usual run-of-the-mill versions.
"Silent Night" tenders a slow, measured take that's a bit off-putting because it tends to drag under its own weight. "God Rest Ye Merry Gentlemen" presents a leisurely intro flowing into more sprightly melody rife with deep percussive effects and silky smooth vocals radiating a soft tonal glow. "Do You Hear What I Hear" mirrors reverberating textures and a proximate elegance suffused with thick residual energy floating underneath.
"Oh Come All Ye Faithful" provides a more traditional feel, appending a subtle, imaginative conclusion of drifting pigments that gradually fade, like snowfall ceasing. The final track is a delicious version of U2's "Peace On Earth." Nadeau's velvety voice and Fisk's hushed tenor blend together wonderfully, imbuing the music with tiny hooks of mellow savor that are lushly translucent.
Star of Night is outstanding, extending innovative renditions of popular Christmas tunes. Nadeau's versions don't vitiate the innate beauty of the tunes. Instead, they extract the inner core, mediate, and add luxurious intimate coloration. If you're seeking serene Christmas music, Janelle Nadeau's Star of Night has what you're looking for.
Stream and download Star of Night here.
REAL LIFE. REAL NEWS. REAL VOICES.
Help us tell more of the stories that matter from voices that too often remain unheard.
This post was published on the now-closed HuffPost Contributor platform. Contributors control their own work and posted freely to our site. If you need to flag this entry as abusive,
send us an email
.