"Never doubt that a small group of thoughtful, committed citizens can change the world. Indeed, it is the only thing that ever has."—Margaret Mead
Rockdrive began in 2008 with a show that I was playing at a small rock club on the Sunset Strip. A last minute gig in the midst of Los Angeles' notoriously ubiquitous holiday season hibernation, I had convinced the venue to allow my attendees to bring donations for the LACoFD Toy Drive in lieu of paying the standard $8 cover. Aside from the show having a great turnout, the Rockdrive—as I had whimsically dubbed it at the last minute—was an unwitting success resulting in almost 10 trunk-loads of toys and not a single person electing to pay the cover to the club. Hardly world-changing, but we certainly made a lot of kids happy the next morning.
Fast forward to a year later. At a party, I meet Angelique Sheppard and David Garner, an LA music scene power-couple who both happen to be fans of my work on Current TV. A duo whose pastimes include throwing massive yet refreshingly informal jam sessions with some of the city's most up-and-coming talent, they run in social circles where record deals are as common as spray tans in Beverly Hills. We ruminated on the serendipity of our meeting for a few moments before I remembered my Rockdrive project from the year prior. Before long, they were sold on the idea of uniting their talents for curating spectacular musical events with my desire for creating a scalable concert series to raise money for local need. Realizing that the "concert charity" is not a new idea, the key differentiator for Rockdrive, we thought, would be that rather than benefiting communities that were continents away, we were going to cater to the deficits that we saw here in our own ecosystem. A common passion for the three of us, we discovered, was public education—particularly here in Southern California. (At the time of Rockdrive 2009, the Los Angeles Unified School District faced budget cuts in the range of $200 million to $300 million and dropout rates nearing 40 percent.)
So, with a simple goal of staging unforgettable evenings of live music while raising money for local charities, we secured a night at Hotel Cafe, partnered up with Causecast, and sold out the evening with a roster of buzz-worthy artists including Bruno Mars, Angel Taylor, Kina Grannis, The Davey G. Project, and many more. Ticket proceeds went to benefit Communities in Schools, the largest dropout prevention organization in the United States, and The Story Project, a local inner-city literacy program that teaches through mediums such as film, poetry, and music.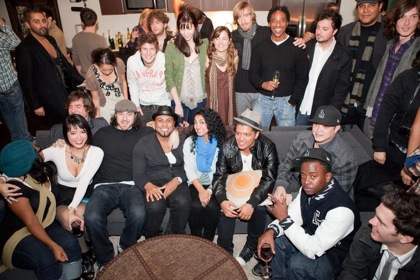 The artists of Rockdrive 2009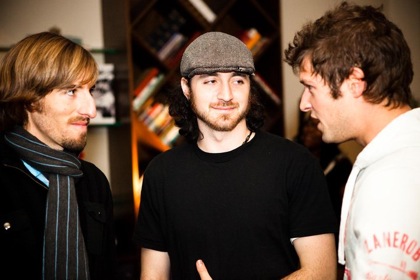 Benjamin Hall of Elevaters, David Garner, Max Lugavere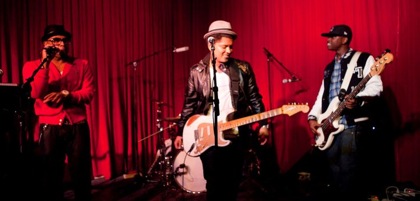 Bruno Mars playing Rockdrive 2009
This year, Rockdrive 2010 will expand to an even bigger venue and take place on Saturday, December 11th at The Troubadour. Already on the bill is Aqualung, Terra Naomi, Angel Taylor, Josiah Lemming, Sara Haze, Cary Brothers, with lots more to be announced soon.
And, for 2011, we're developing an initiative that we hope will catch on. Inspired by TED's TEDx program—allowing anybody, anywhere, and at any scale, to stage independently organized TED events—we want to empower people everywhere to be able to stage Rockdrives and ignite a musical conversation which will result in the enrichment of their communities. Whether in living rooms, local recreation centers, or concert halls, anybody can get involved and host an evening of music and goodwill and in the coming months we will be building an infrastructure to support them.

Tickets to Rockdrive 2010 are available now. See the full lineup at Rockdrive.org.
Popular in the Community