Ah the 1970s, the era of the singer-songwriter. Earnest and tuneful people could be found in coffee houses all over America, strumming their guitars and pouring their hearts out. It was a style easily derided by those who prefer their rock and roll "harder." But it proved a wellspring for countless artists who have endured and flourished. Four new reissues remind us of that period. All of the artists included here began before the Seventies and/or had tremendous success after it. Like all major talents, they encompass a far greater range of styles and influences than one tag like "singer-songwriter" can signify. But the 1970s was a great decade for all of them and the music on these releases proves it.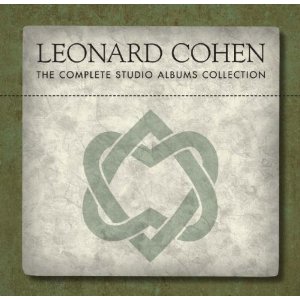 LEONARD COHEN -- THE COMPLETE COLUMBIA ALBUMS COLLECTION ($169.99 from LeonardCohen.com; Sony Legacy) Now first things first: don't panic. just because this boxed set contains every single album Cohen has created since his debut in 1968, don't imagine the 77 year old is retiring. He has a new album due out in 2012 called Old Ideas. So this isn't the end of the story, just a summing up, albeit at a very late stage. The boxed set is as simple and elegant and direct as you'd expect from Cohen: the limited edition sold only on his website includes all 17 studio and live albums he's released. (At other sites like popmarket.com, you can buy the boxed set containing all 11 studio albums.) A simple box that happily fits alongside your other CDs, it contains individual mini-sleeves for every single album as well as a booklet containing a new essay and track notes. Each album is carefully remastered and sounds terrific. If you bought the recent reissues of his first three albums, note that the bonus tracks included on them are not here. What you get is the original studio albums.
I've been a serious fan since the Jennifer Warnes tribute album Famous Blue Raincoat won me over. So what are my impressions on seeing all this music gathered together in one spot? First, look at all those live albums! Until recent years, I didn't think of Cohen as a live act. But here we have six live albums covering his entire career. Though I'd prefer to see Cohen in as intimate a setting as possible, strangely I prefer the Live In London set recorded at the massive O2 arena in 2008 and the similarly widescreen productions of his tour heard on Songs From The Road. Keeping an audience of that size perfectly quiet and focused on the song is a special achievement. And something about the grandeur of the settings brings out the showman in him.
I often jumped from his classic debut right to Various Positions and I'm Your Man. Is it possible that I'm Your Man -- the career peak that garnered tons of press and adulation and a new generation of fans (including me), not to mention tribute albums -- didn't even break into the Top 200 on the Billboard charts? Shockingly, it is. Cohen has always been a much bigger presence in Canada and the rest of the world than he is in the US. But this set is allowing me a chance to focus again on early gems like Songs Of Love and Hate and New Skin For The Old Ceremony. Maybe others will learn to savor the pleasures of recent albums Dear Heather and Ten New Songs more fully. He really hasn't missed a beat but they seemed to come and go without the attention that is their due.
The constants are that Grand Canyon of a voice and songwriting that always delivers a gem or two (even in the dark days with Phil Spector). One might imagine an artist so consistent in his themes and preoccupations for four decades might be repeating himself. But Cohen is just digging deeper.
On the down side, the booklet does not reprint the liner notes from the individual albums, which appear on the mini-sleeves in such tiny fonts that they're impossible to read. Those early albums delete the bonus tracks just made available. And anyone who would want this boxed set probably already owns most if not all of it. But it's an impressive collection. And happily, the box it comes in contains enough room for another few albums. Leonard Cohen isn't done yet.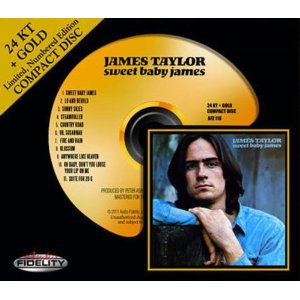 The cover of James Taylor's second album might just be the defining image of the singer-songwriter era. Sexy and sincere, whether posed casually on the cover or captured in dreamy black and white on the inside, Taylor was the epitome of this movement. He sang beautifully, favored songcraft over the folkie importance on lyrics and created songs that were personal and specific enough to resonate with everyone. Of course Taylor made his debut on the Beatles' label Apple. But that album was rather busy with its arrangements. Sweet Baby James is the one that exploded in popularity (selling three million copies, it's still his most popular studio album), stayed on the charts for two years and was nominated for Grammy's Best Album Of The Year award. Others came before and after him. (Audio Fidelity also just released Carly Simon's signal album No Secrets and the Crosby Stills & Nash debut is coming soon; all of them of course sound gorgeous.) But James Taylor was the man: not too political like Jackson Browne, not too granola like John Denver and not too hard to ever sound out of place on soft rock radio.
The album is practically a template for so many others to come. The sound is warm and inviting, but producer Peter Asher developed it with meticulous care -- Taylor's songs popped out at you on the radio. Asher creates a spare but precise sound. No element is introduced casually and every instrument has such purpose that it adds quiet drama to every tune. It begins with the killer song "Sweet Baby James," which begins as almost a folk tune or lullaby but segues gently into a driver traveling the Berkshires on a snowy December, immediately linking Taylor both to the past of sing-alongs around the campfire and the future of deeply personal songwriting that he epitomized. The tune begins just with the sound of his acoustic guitar, then slowly a steel guitar joins in and then brushes on the drums, with piano and more to come. In its own quiet way, this makes the song feel as big as a Phil Spector production, though the mellowness is never disturbed.
"Lo and Behold" touched on religious themes and showcases Taylor's eternally under-appreciated guitar playing. (Flashiness is always rated higher than the melodicism he specializes in. "Sunny Skies" is the jauntiest tune by far, though it remains a little too impersonal to stay with you the way Taylor's best songs do.
"Steamroller" is a goof, a faux raunchy white boy blues that works well here (and adds some much-needed muscle to the album) but the joke comes across even better on the live track he included on his iconic Greatest Hits album. But it's part of the album's core middle section. "Steamroller" segues right into the timeless "Country Road," another song you'd be surprised didn't hit the pop charts but surely got tons of radio time. Taylor then stakes his claim to Americana with the delightful cover of Stephen Foster's "Oh, Susannah," delivered at a wonderfully modulated pace that makes it fit smoothly alongside his originals.
That's a great way to end Side One (remember Side Ones?), especially since Side Two begins with Taylor's signature tune "Fire and Rain," a Top 5 hit and the biggest hit he ever wrote. "Blossom" is next. Like "Sunny Skies" it's better melodically than lyrically. "Anywhere Like Heaven" feels more direct and confessional, but his vocals are a little strained and the arrangement -- for the first time -- is a little busy. "Oh Baby, Don't You Loose Your Lip On Me" is the same joke as "Steamroller," only less so. But it's brief at 1:45. Finally, there's "Suite For 20G," the longest track on the album and one on which Asher throws a little muscle around with multi-tracked vocals, brass and thumping drums that sound titanic after the album's generally quiet tone. It's a freeing finale to an album that contains three tunes for the ages -- "Sweet Baby James," "Country Road," and "Fire and Rain" -- but is even more important for the vibe it creates. Many others would follow suit.
PAUL SIMON -- SONGWRITER ($13.99; Sony Legacy)
Few artists have ever enjoyed the sustained excellence that Paul Simon maintained from his final album with Simon & Garfunkel in 1970 through the Rhythm Of The Saints in 1990. Only the soundtrack One Trick Pony is a misfire. Otherwise, he produced seven albums in two decades and each and every one was among the best of their year and more often than not THE best of the year. No wonder he won the Album Of The Year Grammy for three out of those seven albums -- Bridge Over Troubled Waters, Still Crazy After All These Years and Graceland.
Simon's work has been compiled numerous times. The new, very reasonably priced 2 disc set Songwriter is Simon's own effort, an attempt to highlight what he considers some of the best songwriting of his career and perhaps shine a light on some overlooked gems. As I've already made clear, Simon is wildly talented and you should own virtually every album he's put out since Parsely, Sage, Rosemary & Thyme. If you don't, this set is a sprawling introduction. (I'd prefer you check out the classic version of S&G's Greatest Hits and Graceland as a starting point for newcomers.) So let's look at Songwriter for what it reveals about Simon and his attitude towards his music.
Now, don't read anything into the fact that only three Simon & Garfunkel tunes are included. The set is called Paul Simon -- Songwriter and of course all those tunes have been collected countless times before. Why is "Bridge Over Troubled Water" only included with Aretha Franklin's version? Because a great cover often proves a song will endure and there's no better cover of any Paul Simon tune than Franklin's brilliant re-imagining of that classic. It's certainly not a dig on Art.
Those first three songs are "The Sound Of Silence" from a Webster Hall show this year, "The Boxer," from Simon's marvelous solo concert in Central Park and the Franklin cover. For many years, Simon moved away from writing songs on a guitar and worked backwards from the rhythm to the melody and lyrics. But on his most recent solo album he's returned to that approach to refresh his songwriting. So including these versions make it feel like Simon has come full circle and embraced the singer-songwriter within him.
The fourth track kickstarts a look at his solo career. "Mother and Child Reunion" is the perfect choice. It was his first solo single after S&G and hit the Top 5, proving audiences would accept Paul Simon on his own. (Hey, you never know.) More importantly, it shows Simon fully incorporating world music -- in this case, reggae -- in a mature manner. Yes, "El Condor Pasa" and other S&G songs showed that inclination, but "Mother and Child Reunion" emphasizes how central incorporating music from around the world has always been to Simon's art.
Track 5 jumps to his second album for "Tenderness." He'll include "Peace Like A River" from the first album next, but Simon shows chronology isn't as important as creating a compilation that flows and works, with the mellow "Tenderness" working better nestled in between "Mother and Child Reunion" and "the slightly more up-tempo "Peace Like A River." Plus, "Tenderness" features the gospel greats The Dixie Hummingbirds, another nod to Simon's passionate exploration of music in his own backyard as much as music across the globe.
That second album is There Goes Rhymin' Simon, his first solo work to be nominated for Album Of The Year. (It lost, reasonably enough, to Stevie Wonder's Innervisions.) His solo debut post-S&G was marvelous but there's a confidence and artistry on display here that is breathtaking. Simon clearly isn't just going to survive as a solo artist. He's going to flourish and do work that exceeds what came before and he knows it. That's why he includes four tracks from this album.
But only one track from Still Crazy After All These Years, the timeless title track about bumping into an old romance? Simon has your attention so he's not going to waste it by focusing on the tunes you already know. (And I always thought Dan Fogelberg ripped it off, but since his tune "Same Old Lang Syne" is apparently autobiographical, I'll let it slide. BUt heck, he even used Michael Brecker for his sax solo!)
But why this particular tune? Is it the gentle gospel hint in the keyboards, the easy intimacy of the lyrics, the way musically this song is the key to the entire album and gets refracted and replayed throughout? It's a shame Simon didn't offer track by track commentary. For me, the most distinctive passage is the way the song seems to be heading in a conventional track until Simon sings "It's all gonna fade" during the bridge and the tune wanders off in a haunting, woodwinds-filled passage that turns into a gorgeous sax solo (by Brecker). It's an unexpected musical turn (especially in a pop single) that takes the song from nostalgia into the more sophisticated territory of bitterness and gentle regret. Simon also includes just a single track from One Trick Pony, but it's that evergreen "Late In The Evening." Even a troubled project can offer rewards.
You'll find three tracks from Hearts And Bones, the album that was almost a reunion for Simon & Garfunkel. Curiously, he didn't include "The Late Great Johnny Ace," the haunting closer. Maybe Simon preferred the trickier musical turns of "Train In The Distance," "Renee And Georgette Magritte With Their Dog After The War" and the title track. Was the mournful closer "The Late Great Johnny Ace" too easy? Too traditional? Was there something about it that he remained unsatisfied with? Or "Song About The Moon," delightful in its simplicity and yet musically clever, just the sort of tune that gets overlooked because it's too "easy." Of course, that's the problem when trying to pick and choose from such a rich catalog.
Simon included three tracks from his masterpiece Graceland. You could do several albums of great covers, but Willie Nelson's "Graceland" would be my choice for one other marvelous performance by another artist of his work. And heck, we already own the album anyway.
It's no surprise Simon would choose four songs from The Rhythm Of The Saints, an album forever overshadowed by the epic greatness of Graceland. Rhythm contains some of his most fluid and subtle songwriting and Simon has made wide choices here, especially the beguiling "Spirit Voices," which demonstrates how Simon let's the music guide him here so effortlessly.
In the past, Simon probably would have included more than just two songs from his Broadway musical The Capeman. But with recent all-star concerts reclaiming those songs, he probably already felt they'd been given their due. His three most recent albums all are represented by three tracks apiece. You're The One and Surprise are the work of a proud professional, though Surprise in particular was a disappointment for me because I expected so much more from his pairing with producer Brian Eno. But So Beautiful Or So What is a bracing return to form (if you can say that about an artist who virtually never dips below "good"). You can see the rock-solid skills and maturity of insight he's possessed from early on combined with casual musical sophistication that's worn lightly on "Rewrite," "Love and Hard Times" and the title track.
Has Simon opened our eyes to some new insight on his work with this compilation? How could he, really? Anyone paying the slightest attention to popular music in the past four decades has known what a rare and consistent talent he's been.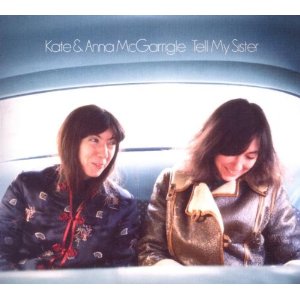 This Canadian duo of sisters is far less well known than Leonard Cohen, James Taylor or Paul Simon. But if the sad passing of Kate McGarrigle last year piqued your interest, by all means snap up this set. It contains their brilliant debut, marvelous follow-up and unreleased songs enough to almost comprise a new album in itself. They were perfect for the Seventies: steeped in front porch music, authentic, seemingly uninterested in commercial success, Canadian (just like Cohen and Neil Young and Joni Mitchell!) and dropping in the occasional song in French because they were bilingual and heck, the song just had to be in French.
The younger Kate was more focused on a career, but Anna had written "Heart Like A Wheel" and their voices just worked together and when Kate was getting another chance to record, she made big sister Anna come on for the ride. The great producer Joe Boyd captures the casual vibe of the Seventies well in his memories of the duo. When Kate brought Anna down from Canada to the Chateau Marmont, Boyd assumed it was just to watch after Kate's son Rufus (from her marriage to Loudon Wainwright). He had no idea Anna had written the song "Cool River" that initially convinced him to record Kate. Then they sang together and he heard that magic. Did they have enough songs to record an album? Why, yes they did. And so came Kate & Anna McGarrigle, one of the landmarks of a great decade. From Kate's jaunty "Kiss and Say Goodbye" opener to Anna's classic "Heart Like A Wheel" to the traditional "Traveling On For Jesus" that winds it up, this is a pitch perfect album. It's rock and roll (or punk if you prefer) in the purest sense -- two people making exactly the music they want.
Their discography is a rich one, but this three CD set with the debut, Dancer With Bruised Knees and a third CD of demos and unreleased tracks is the ideal place to start. It takes you right back to an era of singer-songwriters when anyone anywhere could write songs that spoke to you, when a poet could turn to pop music and score success, when a guy with long hair and guitar could tour the country and fill arenas, when a short Jewish kid from Jersey could dream of being like his idols the Everly Brothers and two gals from Quebec could do precisely the same music they did in their home and reach fans worldwide.
NOTE: Michael Giltz is provided with free copies of CDs to consider for review, including digital downloads as well as final review copies. He typically does not guarantee coverage and invariably receives far more music than he can cover.
Popular in the Community