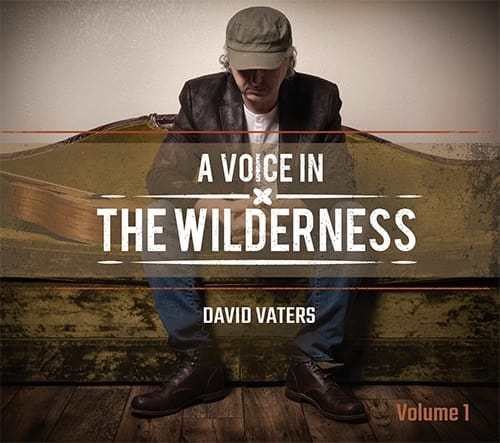 David Vaters recently dropped his album, called A Voice In The Wilderness Vol. 1. The album is an assembly of "pleas, prayers and poems" depicting the splendor and miracle of God's grace toward mankind. The musicians on the album include: Tom Hemby on guitars and mandolin; John Hammond and Brian Fullen in the pocket; Jeff Cox on bass; David Vest and Johnathan Brown on keyboards; Charles Owens on harmonica; Susie Vaters and K.J. Raney on background vocals; and David Vaters on acoustic guitar and vocals. The album was produced by Dave Vest and David Vaters.
Stylistically, Vaters' sound is probably best described as country rock, with elements of the blues, gospel and folk music mingling in the shadows of the music. The result is a pervasive, palpable sound that is pregnant with an intense pang of protectiveness and articulate intimacy.
Voice In The Wilderness Vol. 1 contains ten tracks. The opening track is "Let It Rain," a slow country rock tune, with a languid melody riding on the delicate guitar. A drawling steel guitar adds depth and a layered effect to the melody. As the tempo accelerates and the melody intensifies, the brilliance of the guitars provides the melody with sparkling passion. Essentially, the song is a sonic prayer. "Running To You" is another country-influenced number that has a SoCal rock element traversing through it. The melody is relaxed, yet deliberate, and complemented by the harmonics of a delightful organ. Vaters' vocals carry a Dylan-esque feel, raspy and a bit twangy, as he eschews any semblance of stoic resignation.
"8 Ways To Sunday" begins with a strong guitar-driven intro, and then segues into an unhurried melody that takes on resonance as the guitars ramp up and the groove is established. The drawling steel guitar and piano give the song a gospel flavor that works well. Vaters' voice is yearning and solid, giving the tune persuasion. "Brighter Than The Stars" displays a folk sensibility, along with a thick country sound that's tantalizing and wistful.
"This Cross" evinces a country/folk essence combined with a devout, religious impression. The melody is catchy and the lyrics convey a spiritual determination that can't be quelled. As the song progresses, Vaters' voice reflects a powerful echo of heartfelt faith. "Mansion In The Sky" oozes a graceful, elegant melody that flows serenely on a nimble acoustic guitar. Put simply, "Mansion In The Sky" is a beautiful, eloquent song.
"God Help Me Out" rides a cogent groove and a rambling melody that emanates a country element at its core, but there is a dose of blues piquancy to the tune that really makes it zing. In short, it's an ardent sonic prayer to God for His divine intervention. "See You In Heaven" carries a Country Joe and The Fish aroma. A strong, upbeat melody drives the tune forward with barely suppressed energy. The vocals carry a southern lullaby lilt that filters rumor into certainty. "It's Time" begins with a soft piano, and then Vaters' vocals join in, exuding a decisive vitality that remains unmoved by droll contrivances or harmonic gimmicks. Vater's phrasing is excellent, cultivating style and urgency.
The last track is "Brighter Than The Stars," an instrumental number chock-full of superb guitars that glitter and spangle with all-encompassing timbre. The crying twang of the steel guitar infuses the tune with a sunny enunciation that is cool, minimal and indispensable. "Brighter Than The Stars" is my favorite tune on the album.
David Vaters has it going on! A Voice In The Wilderness Vol. 1 reflects a voice of authentic faith, robust melodies, superb instrumentation and powerful lyrics. If you're into Christian-based country rock, this album offers an undiluted collection of convincing songs.
Find out more about David Vaters here.
Related
Popular in the Community