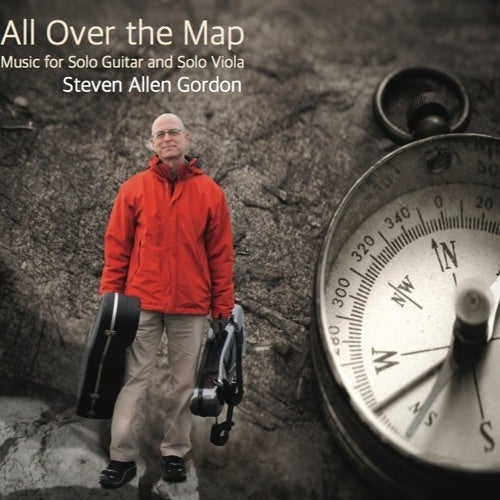 Steven Allen Gordon dropped a full-length album not long ago, called All Over The Map, Music for solo guitar and solo viola. An established musician, Steven Allen Gordon has worked with renowned film composers like John Williams, Jerry Goldsmith, Hans Zimmer and Marco Beltrami, along with artists such as Natalie Cole, Celine Dion, Rod Stewart and Ray Charles. In addition, he is a voting member of the National Academy of Recording Arts & Sciences (NARAS).
On All Over The Map, Gordon incorporates classical music and elements of modern jazz. The album comprises fifteen tracks. Although all the tracks on the album surpass superb, the highlights include "Suite In D Minor For Solo Viola (Prelude, J.S. Bach)," "Breaking Point," "Ballad For Viola and Piano," "Prelude In D Major (Prelude, J.S. Back), "Vivo, Con Molto Preciso," and "Blues Intro."
Gordon's virtuosity and touch on the viola is extraordinary, providing fugitive colors, moods and textures that blow you away. The instrument's deeper tones resemble the expression of a cello, while the higher tones bring to mind a violin. In Gordon's capable hands, the viola's distinctive voice assumes a clarity and resonance all its own.
"Blues Intro" demonstrates Gordon's talent on the guitar, as it finances a jazzy blues melody radiant with bright timbres achieving an almost layered feel that's delightful. The rapid cadence of "Vivo, Con Molto Preciso" blends piano and viola flavors together in a concoction that on the surface seems incompatible. But the amalgamation exudes tight piercing pigments approaching the raucous.
"Prelude In D Major" suffuses warmth, sparkling muted energy and a delicious sonority oozing with finesse and raining washes of tonal flow. "Breaking Point" thrums with energy as dark and light sonic tints juxtapose each other. There's a Spaghetti-Western taste to the music that's scrumptiously infectious, as if waiting for Clint Eastwood to appear. "Breaking Point" is my hands-down favorite tune on the album.
"Ballad For Viola and Piano" rides a measured tempo discharging a melancholy dejection replete with a dirge-like extract that's poignantly eviscerating and simultaneously hypnotic. The sad beauty of this tune shimmers with elegant, delicate muscularity.
All the tracks on All Over The Map impart gorgeous sonic aromas, tonal suggestions and sonorous nuances tingling with vitality and dynamics. Gordon's genius and technique materialize on each piece, while his interpretation imbues each tune with a unique persona. In short, All Over The Map is superlative.
Stream All Over The Map here.
Calling all HuffPost superfans!
Sign up for membership to become a founding member and help shape HuffPost's next chapter
This post was published on the now-closed HuffPost Contributor platform. Contributors control their own work and posted freely to our site. If you need to flag this entry as abusive,
send us an email
.