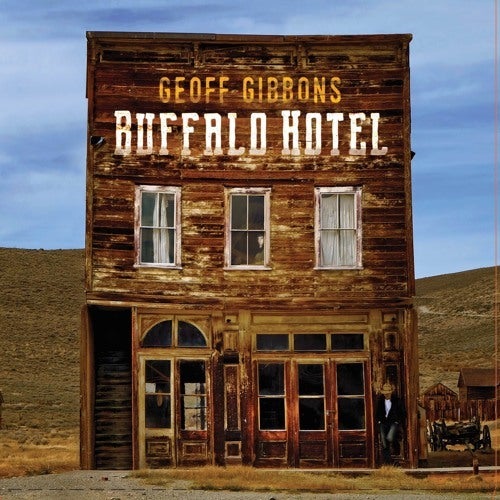 Geoff Gibbons dropped a new album recently, called Buffalo Hotel, a collection of So-Cal country-rock songs inspired by a visit to Muscle Shoals, Nashville and Memphis, and bands such as the Byrds, Fool's Gold and the Flying Burrito Brothers. Co-produced by John McArthur Ellis, who plays guitar and pedal steel on the album, Buffalo Hotel features the delicious vocal harmonies of The Sojourners.
Hailing from Vancouver, BC, Canada, Geoff's early musical influences included Cat Stevens, Joni Mitchell and Neil Young. After playing in a number of local bands, Geoff traveled to Australia, where he played for tourists at night and spent his days on the beach. Upon his return to Vancouver, as part of the duo Silverlode, he shared the stage with Emmylou Harris, David Crosby, and Levon Helm and Rick Danko of The Band.
The first track is "Ain't Going Back," a soft So-Cal song with a splendidly drawling steel pedal and Gibbon's rich tenor. "Lonesome Angel" rides a country-folk melody with a solid beat and a sterling banjo, giving the tune a definite country flavor. The highlight is the warm piercing cry of the pedal steel.
"Carolina Bound" delivers a country rock melody traveling on the guitar. Once again, the whine of the steel pedal adds a charming essence to the flow of the music. The throbbing, aching rhythm makes the tune contagiously attractive. "Hard Hard Rain" offers a So-Cal soft rock effluvium full of simmering accents from the pedal steel and a quivering organ. The flow of the tune oozes a creamy extract that gets your foot to tapping.
"Me And Buffalo Bill" is more country western than the previous songs, with velvety background harmonies providing misty colors. "The Other Side" begins with a surfacing ambiance and dramatic deep percussion. The vocal harmonies emanate a gospel nuance that's simply beautiful. This might be the best song on the album because of its lush beauty. "Back To You" features R&B and gospel flavors set in a country rock matrix. Gibbons' voice takes on hints of gritty rasp that's ooh la la.
"Ever Get To Georgia" reflects filaments of Southern Gospel hiding in a measured country rock melody. Supple hues from the organ and smoldering guitars imbue the tune with warmth and tenderness. "Blinded By Tumbleweeds" kicks things up a notch, presenting a buoyant So-Cal rock melody full of traces of zesty country aromas. This is one of those songs that demands you get up and dance.
"Picture Of Adeline" finances a sensuous, wicked country rock melody reminiscent of Chris Isaak. This is another favorite. "City From The Stars" supplies a gentle country melody full of slick guitar inflections and a delightfully twanging pedal steel. "Where Midnight Rolls" demonstrates Gibbons' vocal range, as his tenor assumes a scraping Rod Stewart-like rasp.
Buffalo Hotel is outstanding! Geoff Gibbons knows how to write infectious melodies and exquisite lyrics. And he has the vocal chops to pull it all together. If you like So-Cal soft rock, then Buffalo Hotel is a must-listen-to.
Support HuffPost
The Stakes Have Never Been Higher
Related
Popular in the Community