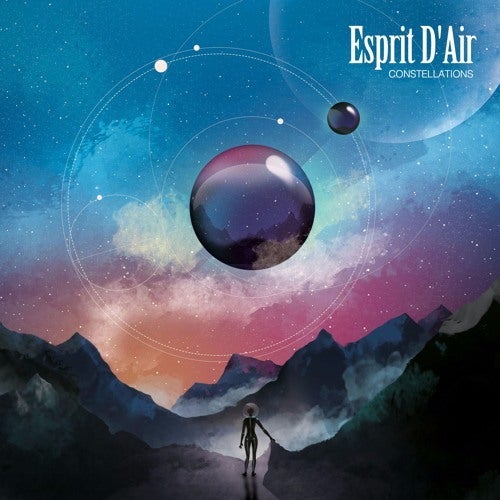 Esprit D'Air recently dropped a new album, called Constellations. And it's lit! Esprit D'Air revels in the matrix of DIY, recording, mixing and mastering their own releases, along with producing their own artwork. When it was released, Constellations skyrocketed to number 3 on Amazon's Hard Rock & Metal charts.
Based in London, Esprit D'Air consists of: Kai on vocals and guitar, Ellis on bass and Daishi sits in the pocket. Stylistically, Esprit D'Air combines hard rock, electronic and metal elements into a distinctive brand of J-rock rife with pyrotechnical guitars licks and contagious melodies that grab listeners viscerally, refusing to let go.
Constellations contains eight tracks. "Ignition" combines hard rock, metal and electronic elements into a tune pregnant with mysterious sonic symbolism. When the guitars descend, Kai's vocals provide a beautiful timbre riding on a mellow, sparkling melody. Then the guitars and synth invade once again, sending the music spiraling upward.
"Rebirth" jumps off immediately with surging guitars and a driving groove, then transitions into an electronic progressive rock melody that pulses with dynamic energy. Daishi's drums thump with raw power, as the guitars and synth flow in bright layers above the beat. I love the scorching double bass drums in this song. The bassline is cogent and compelling. A blazing guitar solo sends the tune rocketing into the heavenly realms as Kai's vocals soar intensely.
The intro to "Guiding Light" combines a smooth synth with a scintillating piano, followed by heavy guitars that rampage, and then descend into a mellow melody that introduces Kai's high tenor on silvery gossamer wings. As the harmonics of the melody escalate, the song really ramps up, but eschews reliance on dense guitars, which are there, but under control. Instead the tune rides on the coruscating melody. "The Hunter" begins with ferocious guitars exuding a metal melody. Then the tune takes on a prog rock essence built upon a rock/metal foundation crunching with energy. The vocal harmonies emanate a brilliance that contrasts with the vivaciously emerging guitars. Rather than a blistering guitar solo, there is a delightful melodic interlude of electronic coruscation that really makes the tune sparkle with a luminous flavor.
"Starstorm" rides an electronic melody and showering guitars. The melody exudes an exotic rock element that increases as the melody almost takes on a thrash metal/psychedelic feel, but stops before reaching too far. Kai's vocals are the focal point of the song, elucidating a keening, yearning sonority that's spectacular.
"The Awakening" delivers a hard rock melody with sinuous harmonics, giving the tune the power of a waterfall as it gushes out and down. There's a gracious metallic undertone buried in the melody; and as it emerges the tune assumes an aura of suppressed energy. Hellacious licks consume the guitar solo, providing a purified, incandescent effluvium. "Reminisce" starts off with a bright synth encrusted with harmonics. The melody then takes on a genteel quality heavy with electronic sparkles and fuzzy guitars that add sonic luster. Kai's vocals advocate and cultivate dazzling articulations, seeming to float above the music like a bird on high.
The intro to "Versus" is a great drum fill by Daishi that transitions to stuttering guitars and a bassline thick with dynamism. The melody amalgamates straight ahead hard rock with a metal/punk tinge that runs riot with redoubtably strong guitars. A wonderful full stop adds authority to the music when the guitars kick back in.
Esprit D'Air has it going on! This is J-rock taken to a whole new level, a level that equals the best of current rock and metal. And the electronic elements mixed with spurts of prog rock add a unique flavor tumescent with emotion. Constellations sizzles with delicate melodies and raw power simultaneously, giving listeners the best of everything. Don't miss this one! It's akin to Emerson, Lake and Palmer crossed with Slipknot. Excellent music!
Find out more about Esprit D'Air here.
Popular in the Community