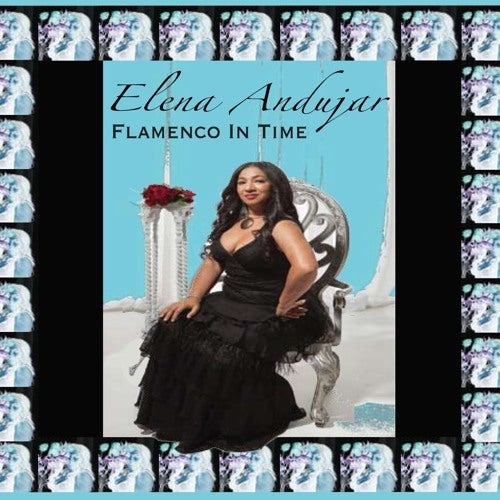 Elena Andujar recently dropped a new album, called Flamenco In Time. Produced by Mady "Pepper" Gomez, the album introduces Antonio Andujar, percussionist, singer and songwriter, as well as the debut of MyMy Lady G, House vocalist, composer and poet.
Musicians on the album include Elena Andujar on vocals; Antonio Andujar on percussion and cajon; Matt Warren on electronic instruments; Pepper Gomez on background vocals; Bruce Gomez on lead guitar; Frank Schabold on bass and keyboards; and Ron Haynes on trumpet.
Based in Miami, Florida, Elena appeared in Taylor Hackford's film, The Devil's Advocate, dancing with Al Pacino, and is featured in Mike Figgs' documentary Flamenco Women, and Flamenco: Passion in Danger, a documentary in the editing stage. Richard Avedon immortalized her in his portrait of Elena.
The music on Flamenco In Time merges Latin/Spanish rap and Latin house music with flamenco elements, creating infectious dance melodies rife with tropical flavors.
"Una Vez Mas" rides a smooth, cool dance melody flavored with bright flamenco hues. The scintillating trumpet towers over the melody, as the chill crispness of the percussion drives the beat. A glistening guitar solo adds soft luminous textures to the tune. "Fever" opens with pulsing synths and radiant trumpet accents. The upbeat rhythm advances with a feverish ambiance that aligns with the title of the song. Andujar's vocals imbue the tune with heady energy.
"El Despertador (Club Mix)" merges potent EDM with rippling flamenco aromas. The melody pulsates with ebullient force, as Andujar exhibits her rapping ability. The background vocal harmonies inject a creamy timbre into the tune. The song rumbles with dynamism. "El Despertador (Late Night Mix)" ups the EDM pulse to Jovian levels, as the percussive effects hammer with muscular force. Rapid-fire rapping is the highlight of the tune, along with sotto voce background vocals sizzling with heat.
"Es Asi (Club Mix)" delivers a powerful dance melody brimming with flamenco filaments. The ascending tone of the synth gives the tune a vortex-like punch. "Es Asi (Dicsofunk Mix)" ramps up the percussive effects and extends the surfacing colors of the synths. The vocals, silky and vivid, infuse the tune with supercharged brawniness. This is a great dance song. "Es Asi (Peak Hour Mix) flows along a different pattern of pulsing EDM, emphasizing cadence and modulation. The vocals are layered and affluent, packing a reckless pizzazz that's contagiously effective. You can't help but get up and dance.
Flamenco In Time is stylish, smooth and boiling with incandescent dance melodies augmented by the vitality of flamenco zest. If you're into EDM pulsing with rambunctious momentum and oomph, then Flamenco In Time is a must-listen-to.
Popular in the Community