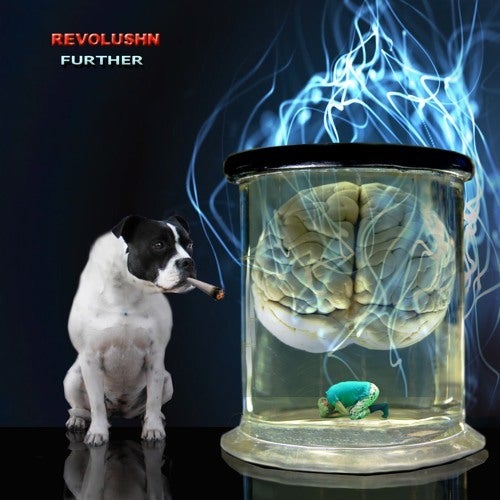 Revolushn recently dropped their new album, called Further!!. Revolushn started out as a studio band that, once they had enough material, put out an album entitled The Freshman, which fared well, receiving critical acclaim and airplay. After shuffling personnel, Revolushn decided to buckle down and put together some songs for another album. They never suspected that writing and recording would eat up sixteen months.
Revolushn is made up of: No on guitar and vocals; Dekay sits in the pocket; Guinevere Q plays bass and adds vocals; Young Sun on guitar and vocals; and Schubert Ola on keyboards and vocals. Stylistically, the band combines pop, blues and psych rock inserted, at times, into a new wave matrix. The result is sophisticated, heavy psychedelic-progressive rock.
There are nine tracks on Further. The first track is "Dinosaurs," with a psychedelic intro that segues into a psych rock melody, thick with layered guitars and a strong, heavy groove. The tune sounds like The Alan Parsons Project covering a Slipknot song with Eddie Van Halen on lead guitar. Translation: it's a heavy rock piece with psych rock and progressive rock elements flowing through it. And it's good!
"The River" has a Ten Days After feel to it, initially, and then becomes more intense as the melody is established, riding on a tsunami wave of guitar layering. The melody is catchy, but heavy and bulky, like giant cranes unloading a cargo ship. An intricate guitar solo sets the tune on fire, as the drums thump and pound ferociously.
"Weird Little Minds" carries a pop new wave influence; the melody is upbeat, riding on tinny guitars. The vocals are filtered, providing a resonant effect that works well. And the vocal harmonies exude a sense of supercharged bedlam.
"Man Who Knew Everything" really sets things on fire. The melody charges forward relentlessly, driven by a wall of guitars. The vocals are snappy and fast. There's a flavor of punk rock in the tune, which combined with the vigorous guitars really gives the song sonic impact.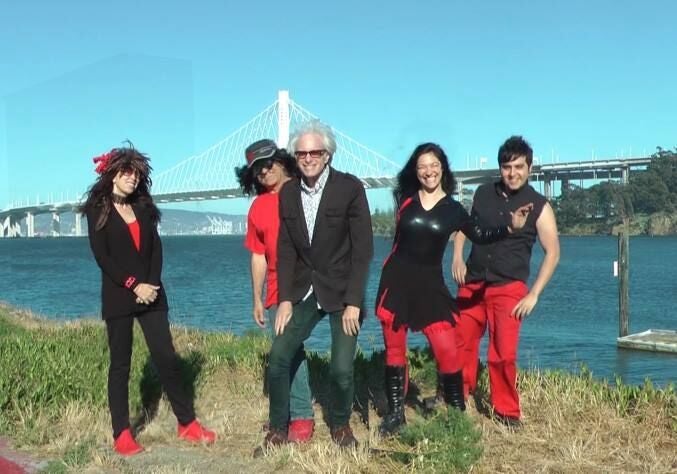 "You Will Go" slows thing down, with its psychedelic flow and deep, stentorian vocals that languish with angst. The melody runs like honey, slow to the point of almost dragging. This drifting quality gives the song a slightly discordant, yet deliberate oozing ambience. The guitar solo is chock-full of ozone-sounding licks and a residual energy that is inarguably impressive.
"Dog Gets High" begins with bizarre voices and sound effects that make your skin crawl, and then transitions into a hard rocking tune with a grungy, grinding melody that conveys a new wave veneer. The vocals are high-pitched and dreamy, and work well with the music.
"All Is As It Should Be" opens with a cogent groove, followed by thrumming guitars that establish a heavy pop new wave melody that sizzles with psychedelic overtones. It's a strong melody and a good song, but for some reason the vocals seem out of place, as if they should be either higher or lower in pitch.
The title track combines elements of psych rock and pop new wave. The melody is buoyantly subdued because of the psychedelic influence. The female vocalist on the track really has the chops for this particular song. A psychedelic guitar solo moves the song into a glistering realm, while the vocal harmonies float overhead.
"Time + Travel=Time" is the last track. The tune exhibits both progressive rock and psych rock influences, with thick layers of guitars flying every which way. There's a spaced-out feel to the music, as if it was composed by intoxicated astronauts, who decided to express their hormonal exuberance as they rocket through the infinite void of space.
Further!! combines psych rock flavored melodies with a progressive new wave feel that is most appealing. It's a strong album, with a tight, cohesive sonic quality emanating from it. The production values are excellent, as is the musicianship.
Find out more about Revolushn here.
Popular in the Community