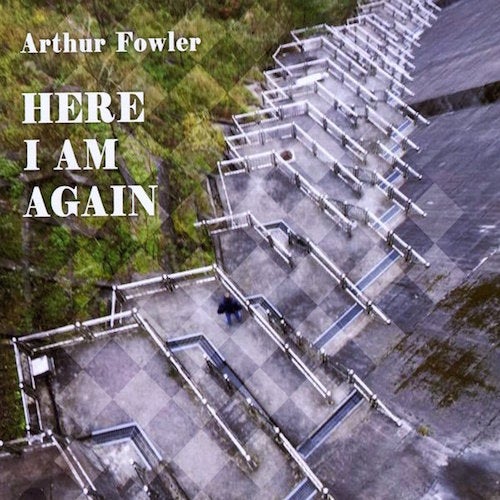 Here I Am Again is the latest EP from Arthur Fowler. Appearing on the EP with Fowler, who handles guitar and vocals, are Kiyo Tahara on bass; Momo on keyboards; Shigehito Kawamura sits in the pocket; Kei Takasugi plays electric guitar and provides guitar effects; Kikuko Yasui on percussion; RiMaNI on backing vocals on "Here I Am;" Felton Crews on electric bass; Johnny Iguana on organ; and Marc Wilson on drums.
Concerning the EP, Fowler says, "With Chicago Blues musicians on the first two tracks, and Tokyo musicians on the last three tracks, this is an electric international fusion of all that I've lived and loved."
Arthur Fowler grew up in Milwaukee, Wisconsin, wanting to play like Jimi Hendrix. This desire got him into the blues jam scene, where he played with jazz diva Kelley Johnson, while both attended the Wisconsin Conservatory of Music. Later, he played with Eva Denia's first jazz ensemble in Valencia, Spain, where he studied with jazz guitarist Joan Soler. At the present adjunct, Arthur is in Tokyo, playing jazz, blues and pop.
Influenced by such artists as Hendrix, Wes Montgomery, Jerry Garcia and Carlos Santana, Arthur's sound mirrors elements of jazz fusion, rock, alternative, and acid folk.
"Here I Am" combines jazz, blues and rock flavors with a trace of Latin fragrance threading through it. The quavering organ sets the tune apart, giving it a metallic undertone that's contagious. The upbeat rhythm is cool and sleek. A spectacular guitar solo really fizzes with energy. "Blues For Wesley" opens with a spongey blues flavor riding a jazz matrix. The wah-wah guitar writhes and slinks with dark articulation full of sassiness. There's a 1950's feel to the tune, like spies running around a television set looking for trouble.
"Tick Tock" delivers a cool, glossy Latin jazz melody floating with sultry colors. I love the bassline, kind of dangerous, kind of wicked, as it undulates with hefty eroticism. The rippling guitar colors phase with wobbling shimmers, while the keyboards run with muted hues. Fowler's voice takes on an exotic, unctuous flavor that shivers with energy. "Los Anos" opens with a Robin Trower-like guitar, pulsing with surging energy. Then the tune flows into a Latin-flavored jazz melody glowing with rich colors. The organ oozes radiant pigments as a tight, tremulous guitar solo wavers overhead. I really like the scampering flow of this tune.
"Disappearing" is probably the best song on the EP. A smooth, Latin jazz melody pours forth with creamy tones riding an infectious rhythm that pumps out a sexy, voluptuous pulse. Fowler's voice, rich and eloquent, invests the tune with a cryptic seductive timbre.
Yowza! I really like this EP. The Latin-flavored jazz melodies emanate a chic cool vibe, as well as cogent rhythms. Arthur Fowler is one cool dude.
Calling all HuffPost superfans!
Sign up for membership to become a founding member and help shape HuffPost's next chapter
This post was published on the now-closed HuffPost Contributor platform. Contributors control their own work and posted freely to our site. If you need to flag this entry as abusive,
send us an email
.