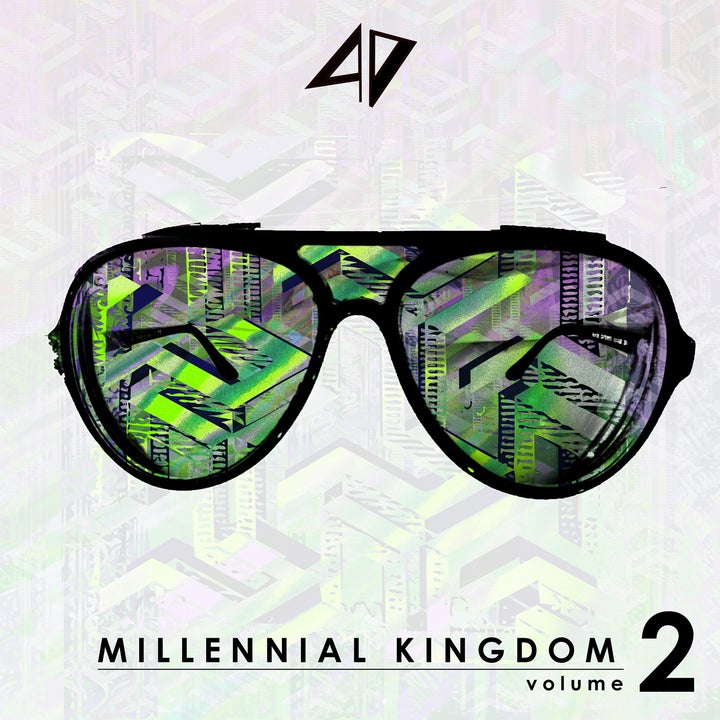 4D, aka Jody Giachello, recently dropped Vol. 2 of the Millennial Kingdom. Vol. 1 dropped at the end of March 2017. Funny thing is Giachello began rehearsing with HAIM on the very day Vol. 1 dropped. He has subsequently performed with HAIM on SNL, Late Night with Jimmy Fallon, Ellen, Graham Norton, Jools Holland and BBC Radio 1. In addition, he is now part of Gretsch Drum's family of superstar drummers.
A multi-dimensional drummer, Giachello's talent is superb. His sound combines stylistic elements of fusion jazz, jazz funk, jazz and crossover jazz into music that has to be heard to be appreciated. Appearing on Vol. 2, along with Giachello, who provides drums and keys, are Dustin Moore aka Neon Phoenix on bass, keys and Moog; Justin Panariello on bass; Christian Wunderlich on guitar; Andy Meixner on guitar; and Steve White on trumpet.
Millennial Kingdom Vol. 2 comprises six tracks, picking up where Vol. 1 left off. "Super Nova" rides a funky jazz groove imbued with fusion jazz flavors. The keyboards bray with reedy tones as the guitars provide mellow accents. Giachello's drumming is fast and smooth, with stellar punctuations on the snare. A spectacular dirty wah-wah guitar sends the music into orbit. "Centrifuge" begins with pulsing synths, followed by tight, complex drums and a reverberating bassline. The melody merges psychedelia and funky fusion jazz into music with a compact industrial flow.
"Har Megiddo (Armageddon)" rides a fusion melody with hints of R&B tinctures flowing through it. The melody is spacey and phantasmagoric at the same time, full of bright potent tones and a whooshing feel. "Oblivion" opens with staccato synths and a droning metallic synth emerging from the industrial jazz melody, like a big machine humming in a wasteland. Layered harmonics inject the tune with a variety of mechanical colors, intense and slightly jarring.
"Triumph (Return of the King) delivers a streaming, cool jazz melody that takes on a horizontal brilliance of textures. The trumpet adds simmering energy as it blats with subdued energy. I really like this tune because of the walkie-talkie, stuttering effect of the trumpet. "Revelation (Millennial Kingdom)" rides skanking dirty guitars and pulsing synth flavors. The melody amalgamates fusion and crossover jazz into a heady steady radiance. The song abruptly takes on a new flavor, when the guitars take over with glaring glistening tones leading into sparkling, tinny-sounding keyboards.
Whew! What a great album. It's on par with Cobham's Spectrum for innovation and delicious tonal savors. This is great fusion jazz, the way it should be. If you're a jazz aficionado, be sure to add Millennial Kingdom Vol. 2 to your collection. It's yummy!
Download Millennial Kingdom Vol. 2 here.
Related
Popular in the Community