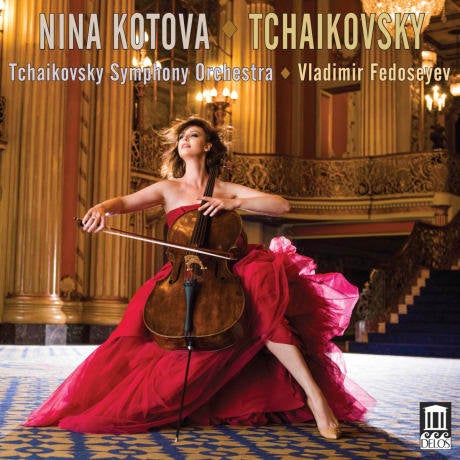 Delos Productions recently dropped Nina Kotova – Tchaikovsky, which includes "Pezzo capriccioso, Op. 62;" "Variations on a Rococo Theme, Op. 33;" and "Serenade for Strings, Op. 48." Nina Kotova is the cellist, with Vladimir Fedoseyev conducting the Tchaikovsky Symphony Orchestra.
Born in Russia, Nina Kotova was a child prodigy, who, at the age of seven, entered adult cello classes at the Moscow Conservatory. By the age of fifteen, she claimed First Prize at the Prague International Competition. After graduating from the Moscow Conservatory, she decided to further her musical studies in Europe and the United States. She now lives in the U.S. Kotova has performed with elite orchestras across the globe, before royalty, and is considered one of the "Masters of the Bow."
Vladimir Ivanovich Fedoseyev has conducted the Tchaikovsky Symphony Orchestra for almost half a century, since 1974. He was the chief conductor of the Vienna Symphony Orchestra from 1997 to 2006, and has guested with other orchestras, including those of Tokyo, Radio France, Berlin and Cleveland.
Kotova and Fedoseyev blend their talents on this latest album from Nina Kotova. What's so singularly impressive about Kotova's interpretation and exposition of Tchaikovsky is her awareness of the music's meaning. This allows her to eschew exhibitionism and translate Tchaikovsky's musical purpose with pensive meticulous introspection.
For example on "Pezzo capriccioso, Op. 62," where impulse is the primary element of the music, as it mutates frequently with tantalizing wisps of whimsicality. The drama of the intro rapidly segues into a charismatic melody radiating an inscrutable sophistication, streams of decorative flowing notes and a quixotic attitude. Kotova infuses the interior section of the piece with twinkling separation (spiccato), along with a playful textured energy that's almost palpable. She terminates the piece with a coruscating climax that approaches overcompensation, but never crosses into dangerous territory, leaving listeners giddy with a vertiginous feeling.
"Serenade For Strings" is probably my favorite piece on this delightful album. Yet "Variations on a Rococo Theme" does present the full-spectrum dominance of Kotova's interpretation, as she makes complacent acquiescence to the mood and suppressed energy of Tchaikovsky's music. Kotova avoids triteness by injecting her playing with carefully controlled grace and style, allowing her to present the incredible virtuosity of Tchaikovsky's genius.
Nina Kotova has it going on! Her understanding and elucidation of Tchaikovsky is nonpareil, flamboyant yet measured, but still emanating the turbulence of the music's emotional impact. Her technique is immaculate and, in combination with her intuitive feel for Tchaikovsky, the end result is a confection of pure elegance. Don't miss this one!
Find out more about Nina Kotova here.
Calling all HuffPost superfans!
Sign up for membership to become a founding member and help shape HuffPost's next chapter
This post was published on the now-closed HuffPost Contributor platform. Contributors control their own work and posted freely to our site. If you need to flag this entry as abusive,
send us an email
.