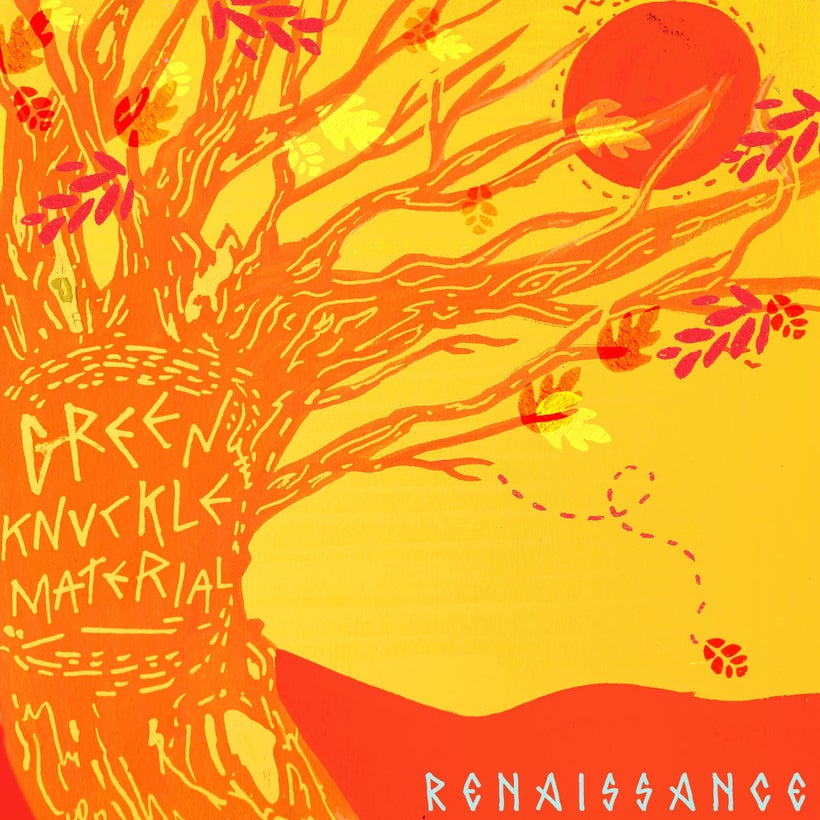 Green Knuckle Material recently dropped a new EP, entitled Renaissance. Hailing from Bergen County, New Jersey, the band is made up of Young Dan on guitar and lead vocals; D String on bass and vocals; Mudd Dog on guitar and vocals; Scatterbrain on rap vocals; and The Hawaiian sits in the pocket. Guest artists on the EP include: Jenna Rose on background vocals; Isaac Del Rosario on keyboards; and Dan Rasczyk on saxophone.
Green Knuckle Material's sound revolves around a mixture of rap-rock, alt rock and pop rock. The band's melodies encompass funk and rock elements, along with driving rhythms, hook-filled choruses and evocative rap verses.
There are five tracks on Renaissance. "Lullaby" features a gentle, smooth alt pop/alt rock melody building intensity as the tune proceeds. The rhythm is subdued but cogent, emphasizing a potent bassline. Dirty guitars ride below the rapid-fire vocals, which range from a tender falsetto to more powerful rock effluviums. "Soon As" begins with a funked-out bass flowing into a rap-rock melody stuttering with raw guitars and quasi-rapped verses. There's heft to the song reminiscent of Living Colour. A little more muscle would make the song outstanding. I love the sax/dirty guitar solo as the two instruments play off each other.
"Hole" delivers a dark throbbing energy, thrumming with an alt rock melody grinding and growling with proximate colors. The keyboards run and chop until they flame, giving the tune a brisk, expansive feel. "For The First Time" blends soft pop rock with rap vocals riding a twinkling piano and strumming acoustic guitar. When the rhythm section jumps in the melody assumes a light funky flavor. The merging of pop rock and rap lacks assertiveness.
"Pictures" emanates a jazzy hip hop melody oozing with mellow colors and flowing harmonic textures. The sax brays dolefully as the melody ramps up and the rap vocals take off. When the music reaches the climax, the intersecting instrumental colors create a layered glistening wall of sound.
Renaissance is a good EP, perhaps a little light on the rap-rock savagery normally associated with the genre, but still worth listening to. The conflation of rap-rock with pop dilutes the dynamic effect of both elements, reducing the tunes to a kind of hybrid impotency.
Calling all HuffPost superfans!
Sign up for membership to become a founding member and help shape HuffPost's next chapter
This post was published on the now-closed HuffPost Contributor platform. Contributors control their own work and posted freely to our site. If you need to flag this entry as abusive,
send us an email
.