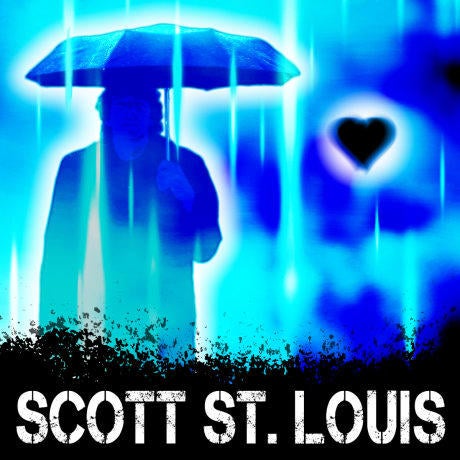 Scott St. Louis recently dropped his eponymously titled album. Hailing from Long Beach, California, at one time Scott was tagged as being in "the top 5% of songwriters working in the industry today." He played with the Ditch Bank Okies and Boss Tweed, and appeared on tour with Rocco Deluca, Mike Martt, Peter Case, The Cadillac Tramps, Tex and the Horseheads and Bad Religion.
Scott St. Louis features the talents of Scott St. Louis on vocals and guitars; Steve Ferrone sits in the pocket; Abe Laboriel on bass; Jimmy Earl on bass; and Russ Irwin on piano.
Stylistically, Scott St. Louis' sound blends rock, prog rock, So-Cal soft rock and punk elements into potent melodies replete with fluid stylish rhythms.
The album contains eight tracks. "Today" delivers a So-Cal soft rock melody full of bright flowing guitars and Scott's distinctive voice. A potent bassline and cogent drumming provide a contagious beat. I especially like the drums on the chorus. "I Think You're Beautiful" rides a sparkling guitar and crisp groove. The melody emanates post-punk and indie rock flavors. A pulsing energetic bassline provides a persuasive bottom. The vocals exude a mature rich essence.
"Not Good Enough" combines a bit of prog rock with indie rock elements. The melody radiates layers of hefty dark sonic colors. "Follow You Down" opens with thrumming guitars and a palpable bassline. A sparkling piano contrasts against the pounding rhythm. The tune reminds me of Bruce Springsteen because of Scott's phrasing and compact articulation. This is one of my favorites on the album.
"Stay" evokes So-Cal soft rock and progressive folk flavors. The melody, rife with gorgeous piano and shimmering guitars, emanates an expansive quality that's excellent. "Deepest of Loves" rides R&B and rock aromas set in a prog rock matrix. The endless depth of the bassline in combination with the drums effervesces with profound rhythm.
"Does Anyone Know The Way" reflects proto-punk, new wave and rock elements throbbing with streaming force. A wave of glistening guitars wraps the chorus in a wall of sound, while the bassline resonates with Jovian power. This is another favorite because of the glossy dirty guitars and multi-layered sonority. "What I Wouldn't Give" rides a rolling indie rock melody full of surging guitars intersecting on the chorus, providing the tune with visible impact and visceral thrust.
Scott's voice borders between tenor and baritone, and is quite unique, exuding a ripe richness chock-full of opaque sensuality and what I refer to as nihilistic sound bites that, like eddies of charged particles, launch moussed up gravitational timbres that are infectiously alive.
Scott St. Louis has it going on in a factor five markup way. Beau coup heavy-duty melodies and compelling, pulsing rhythms bedizen the songs on this album. I love the abyss of the bass, which, along with Scott's brawny vocals give the tunes punch and pizzazz. I strongly suggest you provide this album with your attention. It's yazum!
Find out more about Scott St. Louis here.
Download Scott St. Louis here.
Popular in the Community