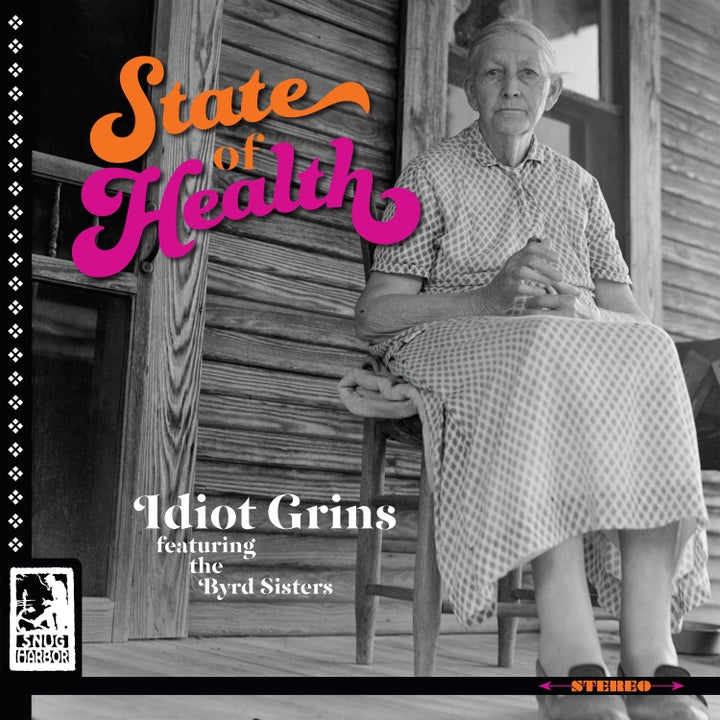 Idiot Grins just dropped a new album, entitled State of Health. Hailing from Oakland, California, the band blends soul, R&B, Americana, funk and country rock into a distinctive sound that is theirs and theirs alone.
Idiot Grins is made up of Michael Conner on organ, piano, clavinet, harmonica and synths; Evan Eustis on bass, backup vocals, mandolins and lead vocals; John Hansen on lead vocals and backup vocals, electric piano and accordion; Michael Melgoza sits in the pocket and sings backup; and Randy Strauss plays guitar and lap steel.
State of Health features some heavy-hitting guest stars: The Byrd Sisters (Lauren, Lena and Lisa) on background vocals; Johnnie Bamont on saxophone; Jeff Cressman on trombone; Marvin McFadden on trumpet; Renee Jenkins plays trombone on "Dream;" Joe Goldmark on pedal steel; and David Frazier on percussion.
The album contains a dozen tracks. "Get Busy Dying" rides a smooth, cool R&B melody and a potent rhythm. The horns blare with delicious fervor and the vocal harmonies of The Byrd Sisters imbue the tune with buff energy and shimmering textures. "Frock" delivers a funky soul flavor, bright horns and velvety vocals. "Philly Belly Cheesy" features a measured soul melody reminiscent of Otis Redding. It's smooth and flows with indulgent leisurely tones.
"Build It" delivers a funky R&B melody full of raucous energy and a wailing guitar that sizzles with heat. "Unkind" offers another silky soul melody that radiates gentle potent warmth. The horns balance the high tenor vocals with tender colors and suffused hues. "That's Some Funky Business" travels on a funky R&B melody quivering with oozing flavors from the organ. Accents from the horns inject goosed up tones that complement the vocal harmonies.
"Televised" rides home on a silky-smooth soul melody and immersive simmering vocal harmonies from The Byrd Sisters. The horns almost talk with cascading accents that flow like foamy surf. "Take It Back" is pure funk sitting in a buoyant R&B matrix. The highlight of this song is The Byrd Sisters and their da-woop harmonies. "Dream" melds soul, R&B and country rock into a pulsating melody rife with magnetic energy.
"Mama's Tears" is drenched in a meandering, throbbing country-soul melody. The steel guitar cries with heartbreaking tones that drawl and drip with melancholic colors. This is probably my favorite song on the album because of its drifting dynamics. "Breathe" begins with a layer of warm guitars leading into a soft country rock melody featuring twangy vocals and divine background harmonies. "Big Starry Night" rides a powerful country rock melody that sparkles with energy from the braying horns and lustrous vocal harmonies.
State of Health is a scrumptious album. The melodies are catchy and drenched in charming harmonics, while the vocal harmonies set the entire album apart, especially the dulcet tones of The Byrd Sisters. If you're in the mood for some tasty, fun music, look no further.