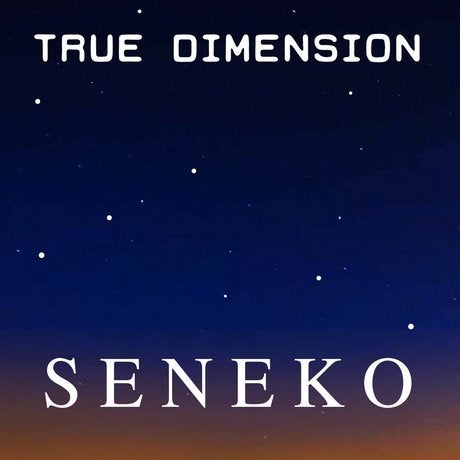 Seneko is the musical project of Stan Olshefski, who recently dropped his sophomore EP, entitled True Dimension. Based in New Canaan, Connecticut, Seneko dropped his self-titled EP last year, a collection of songs revolving around the concept of love.
Musicians contributing to the EP include: David Dorn on keyboards; Jackson Epley on bass; Jon Conley on guitars; and Dave Racine sits in the pocket. Seneko's sound amalgamates stylistic elements of alt country, alt rock, folk and Americana into contemporary, stylish music with pop additives.
True Dimension consists of six tracks. The title track opens the EP with an alt rock melody flavored with a new wave essence. Vamping guitars complement the quavering high-toned synth, giving the tune a shimmer of soft colors. Seneko's vocals deliver a celibate nasality that's capriciously rife with an infectious alien tang. "Pierced Lip Smile" rides a British proto-new-wave country-imbued melody with glowing vocal harmonies and delicate yet glistening guitars. The rhythm streams horizontally but is attractive.
"You to Save Me" offers a country melody infused with alt rock zest. A trilling organ emanates filaments of oozing hues, as the guitars surge with gentle emerging pigments. The crying guitar adds a slightly dark elegant texture to the tune. "My Little Curioso" bubbles with a reggae-infused rock melody. There's a tropical ambiance to the tune that's engaging and effervescent. Seneko's voice assumes a swing timbre I really enjoy.
"Mind The Violets" packs a SoCal soft rock melody with new wave radiance and a delightful country relish threading through it. Jangling Byrd-like guitars exude a sparkling gloss. The tune is vaguely reminiscent of Leon Russell, with its intersection of rock and twangy country extracts.
"Take Me Indigo" travels on a gentle guitar-driven alt rock melody, humming with silky harmonics. When the organ takes over on the solo the tune brims with quivering washes of sound. Seneko's vocals provide a cool, richer tonality than any of the other tunes.
My two favorite tracks on the EP are the title track and "My Little Curioso," the former because of Seneko's outlaw-flavored vocals, kind of bored, kind of antsy, and the latter because of its fizzy feel.
True Dimension is a good EP. The new wave/country/rock blend is appealing, and the rhythms pulse with subdued energy. And Seneko's voice bestows a striking luster to the music. If you're looking for music with umbral sonic colors and distinctive surface textures, True Dimension is just what the doctor ordered.
Popular in the Community