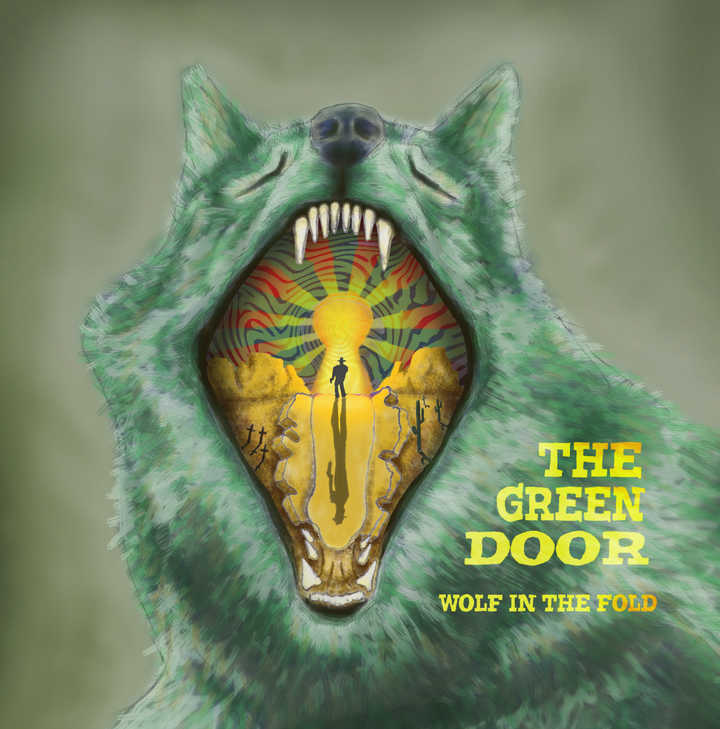 The Green Door just dropped a new EP, called Wolf In The Fold. Hailing from San Francisco, The Green Door is made up of Mike Carnahan on lead vocals and guitar; Vanessa Wolter on drums and vocals; Reese Abell on bass and vocals; Even Wardell on guitar and vocals; and Devin Triplett on organ and vocals.
Formed in 2008, The Green door amalgamates elements of Spaghetti Western with garage rock and acid rock. The end result is what the band describes as "Western psychedelic rock."
Wolf In The Fold contains six tracks. The title track opens with pungent guitars and a rolling, rumbling rhythm that stampedes with relentless energy. The Spaghetti-rock melody emanates heady psychedelic aromas that drift and waver in spirals. The vocals echo with heavy brilliance, as if recorded in a dungeon. "Tall Grass Is Tangled" rides a Spaghetti Western melody riddled with quavering notes from the organ and a crisp snare. The feel of the song is vintage Tarantino, expensively raw and metallic, like nerd-chic seething with country psychedelia. I love the dirty guitars that attain obscene levels of spaced-out kaleidoscopic colors.
"You Won't Hear That Anymore" features a psychedelic rockabilly melody driven by riffing guitars full of bright resonance. The subtle braying of the organ provides an ectoplastic under glow. "Back To Houston" rides a country rock melody that's tight and compact, exuding a ringing wall of tones. The vocals are hollow and muffled, but fit the music.
"Borderland" slows things down a bit, offering a darkly-flavored So-Cal country feel with hallucinogenic aromas. The vocals assume an indulgent reediness, while howling background harmonies float eerily from the backdrop, giving the tune a drunken mood-altering ambiance. "Rivers" begins with a mish-mash of African-flavored vocals and a thumping tom-tom. There's a definite feel of Gregorian chant mixed in with the exotic timbres. It's mind-blowingly different but excellent.
Wolf In The Fold is marvelously good, original to the point of being unprecedentedly inventive. The combination of Spaghetti Western flavors merging with acid rock results in ferociously goosed up phantasmagoric cowboy rock n' roll. The Green Door does hallucinatory country rock with style!
Popular in the Community