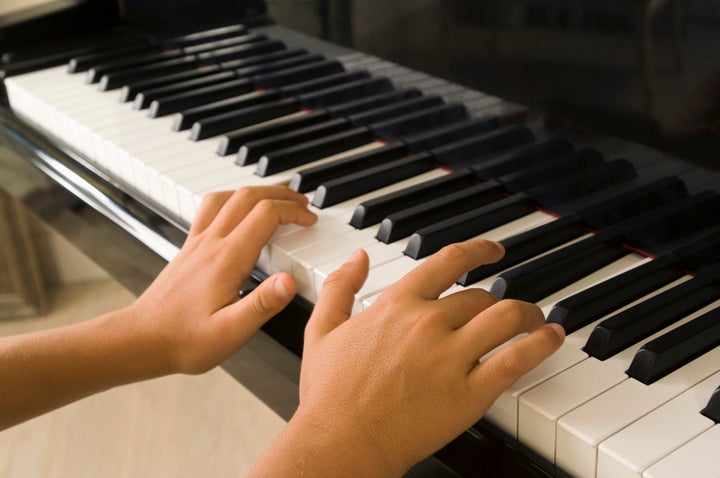 What is music therapy? George, a young boy with autism, lumbered down the hall, whining and crying as he approached the music therapy studio. He entered the room, removed his jacket, shoes and socks and threw them on the floor. From past experience I knew that it was pointless to try to immediately engage him in a structured interactive instrument-playing or turn-taking music experience. If I got too close, he attempted to pinch and scratch me. I succeeded in encouraging him to sit down on the floor, and then I moved toward the piano.
George continued crying and hitting his head with the palm of his hand. I listened carefully and realized that he was crying in the key of C minor. I began to improvise on the piano slowly and quietly, matching the pitches and tempo of his crying. When he stopped vocalizing, I stopped playing. When he resumed vocalizing, I resumed playing. I used the "iso-principle" to "entrain" to his responses and meet him where he was.
After several minutes George gradually quieted down and stopped crying. I moved to a chair and invited him to sit across from me. Then, and only then, was he able to interact more actively with me and the music. We continued the session taking turns passing a mallet to play the drum; striking pitched plastic tubes called "boomwhackers" on our shoulders, hands and knees; hiding a beanbag up our sleeves, retrieving it and tossing it into a tambourine; and strumming the autoharp. All the while I sang short, repetitive melodies with lyrics describing our actions. A change had occurred: George's aggression and frustration had yielded to participation and socialization. That is music therapy.
What is music therapy? Mrs. A had been very involved with her church women's auxiliary and other community organizations. But now, in the advanced stages of Alzheimer's disease, she spent all day confined to her "geri-chair" in a skilled nursing facility. She had no say in what she ate, when she ate, when she got dressed or when she took a bath. The nurse's aide had wheeled her chair into the dining area, parking it against the wall with two other ladies in their chairs.
I began to sing and play "Hail, Hail, the Gang's All Here" on the guitar. I gave Mrs. A. a choice of the tambourine or maraca. She reached for the maraca and grabbed it, then tapped it rhythmically on her thigh while I sang "You Are My Sunshine." When asked to return the maraca, she released it only when offered a new choice between a tambourine and bells. Now gripping the tambourine firmly, she joined in with tuneful singing of "Amazing Grace" with correct lyrics at the correct time in the song. When the song was over, Mrs. A. looked me in the eye and offered, "You have a lovely voice, dear." That was the only sentence she spoke that session. During that song she displayed "reality orientation," singing the same song I was at the same time. She connected with another human being, summoned up some self-expression and had regained some dignity, if only momentarily. That is music therapy, too.
What is music therapy? Reports of the healing influence of music date back to David playing his harp for Saul and to the writings of Plato and Aristotle. The formal profession of music therapy, however, began after World Wars I and II, when community musicians performed in veterans' hospitals and doctors and nurses noticed patients' positive and emotional responses to music. In 1944, when it became evident that these hospital musicians required special training, Michigan State University founded the first music therapy degree program in the world. Professional music therapy associations began, and in 1998 the National Association for Music Therapy and the American Association for Music Therapy were unified to form the American Music Therapy Association (AMTA). In the U.S., the Certification Board for Music Therapists offers the credential MT-BC (Music Therapist-Board Certified). There are many music therapy associations in other countries, and also a World Federation of Music Therapy.
Although initially music therapists worked with adult patients with physical disabilities or mental health issues in hospitals, today's music therapists serve a much more diverse clientele encompassing the entire lifespan, from prenatal to end-of-life experiences. Music therapy is provided in medical, social service, educational or arts institutions or within the community at large. Not only may music therapists assist those with any type of disability or medical diagnosis, but many now address issues of wellness and prevention. Music therapists have increasingly also been at the forefront of disaster relief intervention in response to large scale traumas, such as 9/11, Hurricane Katrina and the recent tsunami in Japan.
Music therapy means many different things to many different people, but common threads among definitions include the importance of music, relationships, developing clients' or patients' potentials and improving the quality of their lives.
Bruscia (1985, 1998) states that music therapy is "at once an art, a science and an interpersonal process" of "intervention wherein the therapist helps the client to promote health, using music experiences and the relationships that develop through them as dynamic forces of change." AMTA (2004) defines music therapy as "the clinical and evidence-based use of music interventions to accomplish individualized goals within a therapeutic relationship by a credentialed professional who has completed an approved music therapy program."
To me music therapy uses music prescriptively to provide opportunities for individuals to establish or strengthen connections, achieve transformations, build and expand upon foundations and reach aspirations. An individual may connect with the music, the environment, the therapist and/or peers, other clients and family members. Music therapy may help someone move from tears to laughter; from aggressiveness, destructiveness or self-stimulatory responses to "socially appropriate behavior"; and from isolation to inclusion, participation and cooperation. The experience may build upon musical and other strengths innate in some individuals and provide opportunities for success. The music therapist systematically designs music interventions to help people reach their goals and potentials in nonmusical and musical domains and to improve the quality of their lives.
Our "work is to tap the unique potential of sound and music for the health and well-being of the clients" (Hesser, 1995). We use music in order "to develop music expression, which presumably, is essential for healthy life" (Sekeles, in Bruscia, 1998). All these are music therapy.
Stay tuned for future discussions on music therapy across the lifespan, covering diverse, pertinent topics such as music therapy with individuals with autism spectrum disorders, music therapy with young children, music therapy in palliative care and hospice settings and much more.
Bruscia, K. (Ed.) (1985). International Newsletter of Music Therapy. (Volume 3). Springfield, NJ: American Association for Music Therapy.
Bruscia, K. (1998). Defining Music Therapy (2nd edition), Gilsum, NH: Barcelona Publishers.
Hesser, B. (1995). The Power of Sound and Music in Therapy and Healing. In C. Kenny (Ed.), Listening, Playing, Creating: Essays on the Power of Sound. Albany, NY: State University of New York, pp. 43-50.
Support HuffPost
A No-B.S. Guide To Life
Related
Popular in the Community