Michael Harren is a musical artist extraordinaire. He is serving as both composer and performer in a new multi-media performance called The Animal Show. It's a collection of stories about animals who have touched him and changed him in some way, ranging from a dog who saw him through his adolescence to animals he met during his artist residency at Tamerlaine Farm Animal Sanctuary. This much-anticipated show will feature storytelling in a traditional way, and some stories will be told using electronic music, sounds, and music played by Harren and a couple of accompanying string players. I was happy to catch up with Michael for an interview about his important work.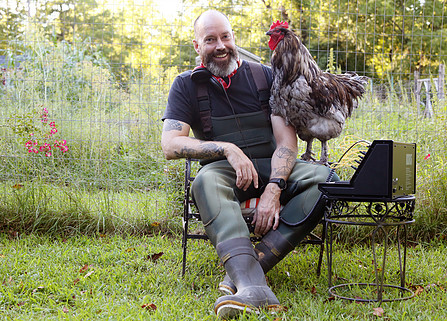 The Animal Show was inspired by your residency at Tamerlaine Farm Animal Sanctuary. What inspired you to do that residency?
Something about seeing animals at sanctuaries has always moved me. Sanctuaries are places where animals our society typically regards as property are instead treated as individuals who matter. A couple of years ago I was traveling with some friends to Woodstock Farm Animal Sanctuary for their Thanksliving event. I had literally just released my album, Tentative Armor which was based on my first solo show. I was wondering what to tackle next in terms of subject matter. Woodstock announced that they would be moving to another location with lots more space. That trip with all those animals, the conversation with my friends on the way home. I felt inspired and then something clicked in the next few days and I had the idea to start approaching sanctuaries with this Artist-in-residence idea. We see our pets as individuals with personalities, but not so much the animals we eat. That's why we don't want to eat dogs and cats, right? We know they are individuals who want to be alive. I hope that some of the stories in my show will help people to see that pigs, chickens, ducks, and others also have very specific personalities.
Has that residency included a lot of hands-on work with the animals?
A tremendous amount. I honestly had no idea what I expected from a residency at a sanctuary. Now I know. Lots and lots of work and then heading back to Brooklyn to write about the experience. I mucked chicken coops, cleaned out pig barns, helped build a fence for goats, and even assisted with some medical care for injured chickens and a little duck named Leo.
What all does a residency entail? How many hours per week do you put in, and what do you find that you get in return?
I was only able to make it out to the farm once a month or so during the residency. My creative work doesn't support itself yet, so I had to maintain my teaching jobs in Brooklyn. I made monthly trips to the farm of three to four days. I really learned so much about myself during this, and was able to step out of some fears. I am not a big fan of being outside, but being out there and working to help these animals who, even at a beautiful sanctuary, are in a bad position because humans have so interfered with the natural world. It was very rewarding in a way I did not expect. I have a new appreciation for death, and the idea that each of us, human and non-human, are only on this planet for a short time, and every one of us matters. I mean, I feel that in a much more profound way after this time with these animals. I have seen animals I loved die during this time. Those questions that come up when you lose someone, and that grief. It doesn't matter what species went away. The loss is very real, and every being on this planet has the potential to touch someone else and change their life.
I've seen a lot of support in the vegan community for your upcoming The Animal Show. Do you find that the vegan community is supportive of artists?
I think so, but even still I have been surprised at the support. I ran into someone at a protest recently who said, "oh! are you the guy who's doing that show?" For someone like me who is a relatively unknown artist, that means so much and the fact that someone is taking about this thing that means so much to me. It's wonderful.
What has surprised you the most about preparing for the show?
One think that has surprised me was how much I like chickens. To be perfectly honest, it seemed the Universe was nudging me hard toward doing this residency at Tamerlaine, but at the time I didn't know chickens and I knew that Tamerlaine had a ton of them. I kind of resisted reaching out to Peter and Gabrielle for that reason. I didn't think there would be anything to write about chickens. The fact is, though, that chickens are really wonderful creatures. They are affectionate and they remember you. I mean, there was a chicken there that I helped rescue and I swear he knew me from that moment on. Like, he would come running over to me when I visited the farm, we would hop in my lap and nuzzle under my arm. I didn't think for a moment that chickens would be loving like that.
Do you use any unusual equipment or techniques in your artistic process?
I use a laptop and a few synthesizers when I create this work. I spent some time at Tamerlaine walking around with a digital recorder recording things. I use Ableton Live Software to create the music and manipulate the sounds. I designed way more of the sounds for this show than I normally do. I created a chorus of Turkey Angels that I am really proud of using Granular Synthesis.
How and why did you become a vegan?
I was a vegetarian animal rights activist in my early twenties, and then at some point I decided partying and drugs were more important that animals, and I strangely just tucked that part of me away for a long time. Even after I sobered up, I didn't think about animals again for many years. I did, however, start thinking a bunch about wanting to be non-violent, and it became more and more clear that I could not eat animals or animal products if I wanted to live by that idea of non-violence. Not how I define it anyway. It took some adjusting for a while, but I have been vegan now for almost 9 years and it has become easy.
Does veganism in general inspire your art?
It does, and especially this show. It's the theatrical version of why I am vegan. You know, all these animals that meant something to me and some as a kid. I mean these animals formed my worldview in many ways, and I think it't that way for everyone. Just not everyone is quite ready to make the connection between different species yet, it seems. I don't have a huge body of work, but my last show (which was also my first) deals a lot with loss and what it was like to care for and lose my mother when she was dying of cancer. I think those topics are very similar, ideas of compassion and having new information and deciding what to do next.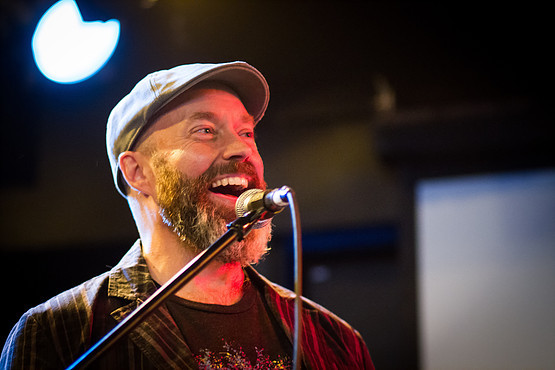 What sort of art do you create? This show merges storytelling and music. Do you find that other art forms intersect?
I got to spend a good amount of time with this photographer named Deitz who runs the website Unparalleled Suffering Photography. He was in town to document the Kaporos rituals here in Brooklyn last week. He stayed with me for part of that time and it was interesting to see how our work intersects. We are both trying to use our art forms to show people the lives of animals through our perspective. I have always loved music, and theater, and movies, all that stuff, so it feels natural to combine these things to me, too.
When did you discover music?
I was always excited about music as a kid, but it wasn't until I was in middle school that my mom bought a piano. I was so excited and taught myself to play. I was so excited to be able to play songs I had heard on the radio all by myself.
Do you remember the first time you truly loved a song?
I think it was the opening scene of The Muppet Movie where Kermit is sitting on that log singing The Rainbow Connection. That's the first time I remember being moved by music. What an example, right?
How did you become a musician yourself?
It took me a long time to find the courage to pursue music, but finally in my late 20's I decided to go to school and study piano officially. I was so afraid of failure, or of not being talented, or paying all that money for school and still being a waiter. it took me even longer to get over my fear of creating and performing my own work, but I feel pretty confident that everything has happened the way it was supposed to.
Which artists inspire you and your own work?
I'm a big fan of folks like Yoko Ono, Laurie Anderson, Peter Gabriel, David Sylvian, Jane Siberry. I think I am really drawn to artists who pave their own way and do work that I perceive as truly original and genuine.
Where else do you find inspiration?
I think I find it mostly in observing the world around me and noticing what moves me.
Do you have a piece of music which stands out as something you are personally and exceptionally proud of or that is particularly important to you?
My song "Go." is something that just came out of nowhere for me. I don't know how I wrote it or if I could ever write something like that again. It was written for my mom so it means a lot from that perspective, but it's a very simple piece that says so much. I feel like I couldn't have written it myself.
If you could collaborate with any artist in all of history, who would you choose and why?
I would go with Yoko Ono on this one. I think she would help me get over some of my fears of what other people think.
What do you most want to achieve as an artist?
I hope this doesn't sound to self-centered, but I really want to have my work support itself financially. It's really hard to work full time to support making my art the way I want it. Otherwise, I would love to get more and more adventurous with my performing and composing. In some ways, I think I still hold myself back.
What's your favorite compliment that your art has received so far?
At the very first public reading of Tentative Armor a woman came up to me and told me she was going through with her grandmother what I had gone through with my mom. She said that hearing my story about caring for my mom helped her realize that she wasn't alone in what she was dealing with. That was the precise movement that I realized that making the kind of work I do is valuable. It feels a little bit self-centered to create solo theater work like this, but that moment really showed me that this work can really be of value to others.
The Animal Show will be performed at Dixon Place on October 27, 28, and 29. Tickets can be obtained from the Dixon Place website.
Top photo by Diana Bezanski
Bottom photo by Jennifer Walkowiak
Related
Popular in the Community