Garrett Miller is a dynamic, talented artist who wears many hats. Since 2012, he has been hosting "Rated G Radio," a successful radio program that he created. Garrett released his first EP, Eyes Wide, in 2013; the album featured his holiday song "Guess What Its Christmastime." He released the follow up full-length album, Blond Jesus in 2015 with songs like "Gay Wedding," "Sweat & Testify," "Witch Sisters Halloween," and the title track. I was happy to catch up with Garrett to find out more about his fascinating careers, his musical influences, what we can expect from him in 2017, and more.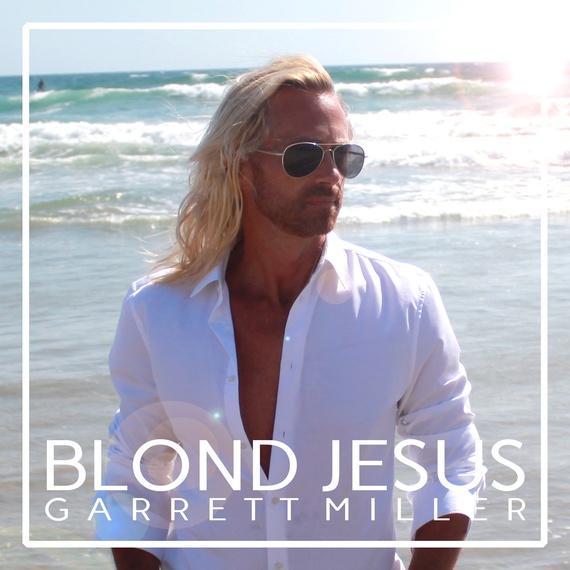 Can you tell me more about yourself and what you are striving to achieve as an artist?
I'm a guy who woke up half way through his life and decided he wanted to make a difference in the world, to share his messages and give people hope and inspiration. That's the altruistic reply - it's honest - though I really, selfishly, wanted to do something fun for a change. For a long time, my life wasn't much fun and I was at a serious crossroads. I had to do something, anything to change or continue going down a rabbit hole which was sucking the life out of me. Literally and figuratively. So, I did. I had no idea of the how, just that I would.
Somewhere at the end of 2011, I decided I wanted to do a radio show where I could talk with people when I got home from work, like a "fireside chat" or going out for coffee - with people other people would also want to listen in on. I had no clue how to do any of it, but I knew I was going to do it. Within six months, though a series of serendipity I was broadcasting live five nights a week.
You know what they say, you get a sample and then want the whole pie. That's kind of what happened. I loved doing the radio show so much, the world of possibility started opening my imagination as well. I'd had blinders on to who I was and who I thought the world wanted me to be for so long, that being an authentic version of myself was something foreign to me. This was the hardest part for me to reconcile. I'm now finding everyone liked the "real" me and the "fake" me was something they tolerated. Trouble was, I wasn't sure who the real me was, or is. It's still something I'm discovering every day.
The radio show soon led to wanting to sing a song. I had no practical experience singing, but knew I wanted to record a song. Like with the radio show, I found a producer, wrote lyrics to a song and recorded it all within a short period of time.
Next, I wanted to be in movies and television; I wanted to act. In the first half of 2016, I was in four indie movies and two television shows as background or bit parts.
As an artist getting to taste several different types of opportunities, I'm starting to get better at figuring out what I like more than others. Right now, I'm enjoying the current wave with the music from the album Blond Jesus. In January, I'll have a new book out. It's finding ways to release the creativity inside that feels impactful.
How did you decide to start your fantastic podcast?
I've always enjoyed listening to people chat on the radio while driving around. My first real "love" of a show was the "Beth & Bill Show" on KEZ 99.9 in Phoenix, AZ. Beth McDonald and the late Bill Austin were the best morning duo in the country as far as I'm concerned. The perfect amount of news, music, chatter, interviews, comic relief, you name it. For 20 years, I listened to Beth & Bill every morning on the way to work. They made getting up fun! Fun was what I wanted to have. That's the real answer - I wanted to have some fun in my life, and chatting with fun people seemed like a good way to do it.
Once it got started, it quickly took on a life of its own, guests soon started contacting me to be on, and often I'll be booked four to five months in advance. For a show that's live five days a week, I'm still like, "Wow!" It's one of the most enjoyable things I get to do, and I have Beth & Bill to thank for giving me a great format as a model.
What inspired you to start creating music?
If you told me 10 years ago that my life today would look like it does, I'd say you've lost your mind. But looking back at my life 10 years ago, I was insane for living the way I did. Around the same time, I started doing my radio show, one of my all-time favorite entertainer's, Kathy Griffin, had a talk show on Bravo. She sang her theme song. It was heavily auto-tuned to make her sound decent - and I loved it. "I'll Say It" was the perfect intro to her show. I said to myself, "If Kathy can do it, I want to do that, too!"
I reached out to the world and said, "I want to sing a song! I can't sing! I need help! Who should I talk to?" Within a month, I was in the studio with my producer, Brian Pothier, who said, "I have worked with worse. I can make this work." I took in the lyrics I'd written out for "Tell Me Something More," and the rest is history.
I sang the song, breaking Brian's Autotune several times, and he delivered a song that, arguably, sounds pretty good considering. It was the most fun thing I'd ever done. Ever. I knew I wanted to do more. Brian offered to work with me on more songs, and that's when I got the bug to create music that I wanted to listen to with my stories.
What has been your most popular song?
"Unlike You" recently spent 18 weeks at #1 on one indie radio network, and debuted at #1 on another and stayed there several weeks as well. It's my story of getting sober, not liking myself and ending a relationship with someone who loved me even though I was a complete jerk. It's also a ballad. For it to get such a great response to a song I was nervous about releasing shocked me in a way that validated sharing real parts of my life with people.
Do you remember the first time you truly loved a song?
I've loved music for so long, this is a tough one! I truly loved Donna Summer's "Bad Girls" and "Hot Stuff" at the same with the Village People's "Macho Man" was happening. I'd play the songs over and over and over. Loudly. On my record player. Before there were headphones. My family was kind in their tolerance of the volume I'd enjoy blasting it out at when I'd get home from my paper route at 6:30 a.m.
Which singers or musical acts inspire you and your own work?
The short answer is George Michael and Billy Idol. I was the first person I knew with a CHOOSE LIFE t-shirt and wore far too much fluorescent clothing ala "Wake Me Up Before You Go Go." Billy was too "rock" for me for a long time, until a friend introduced, i.e. forced me to listen, to his music. Then I was like, "Where has he been all this time?!" Lyrically, both write dynamic, vibrant, inspiring songs. Vocally, both are completely different. If I could sound like anyone, I'd always want to sing as beautifully as George Michael does. Stylistically, I'd love to be Billy Idol any day.
Where else do you find inspiration?
From a lyric perspective, I have to be in the mood to write. I like to tell stories. I have to be in a story telling mode and then I'm good to go. For me, a song is a short story. First, I write the short story out in long form. Usually by hand. Then I begin to form the beginning, the middle and end. If it doesn't make sense to me, it doesn't get into the studio.
I think most of my music I see in my head as a music video or concert performance. I'm very visual, so I have to be able to see the story as I'm telling it. If I can do that, I'm happy. Hopefully, the listeners also are able to go on a similar journey with me.

Which song of yours did you most relate to?
"I AM" is a song declaring my worthiness to me, the world. Originally, I wanted to do this as the title track for the album in a 12-minute, extended remix with only "I AM" as the words in the song. That didn't work once I was in the studio. So there's a spoken intro and a spoken outro that help take the listeners on the journey with me. Now it makes sense and I love it, love everything about it. When I'm having a down day or need a reminder, "I AM" is my go-to song.
How would you like your music to be perceived?
Fun. I hope fun. The objects in the songs may be closer than they appear. Everything I write about comes directly from something going on in my life at the time. If you're part of it, you'll hear it in the songs. If you know me, you'll know the who and the what I'm referencing. It's cathartic for me. If you're a blogger or writer or radio interviewer, you get a creative outlet doing that. When I'm writing lyrics, I'm doing the same thing.
Who are your mentors and heroes?

There are so many good people who've influenced me. I'm lucky the list is long. I always roll my eyes when people mention their parents, but my dad really was, and continues to be, a great role model. Never a mean thing to say about anyone, always thinks through situations before reacting, and leads by example. He is always available anytime I need someone to talk to, a shoulder to cry on, or just someone I could bitch to without fear of judgment. I think one of the reasons I respect my dad so much is that I know who he is. He isn't fake. He doesn't put on a show. He's just a real guy, and, even with all of my faults as a son, he still loves me anyway.

Where and how do you like to relax when you're creating?
I completely zone out. I mentally shut everything else off in my world - the computer, the radio, the puppies, the roommate watching TV in the living room, the ocean waves down the street at the beach. Everything. It's less about relaxing - or maybe my concept of relaxing and being creative are not exclusive. If I'm relaxing, I'm face down on a massage table getting a deep tissue. If I'm creative, I've got a notebook and red ink pen, and I'm writing fast and furious before the thought leaves me.
I might get ideas like a song title or line, but I'm like a dog in that I'm easily distracted. Unless I write it down for later, it's going in one ear and out the other. That's not necessarily a bad thing; I used to spend a lot of time driving in my car. In Southern California. It's typical to have a one-way commute be over 2 hours. So, I had a lot of time to get ideas and let them take root. Sometimes the ideas would germinate and sprout once I got home and sat down at my desk. Sometimes they were over-watered or didn't get any nourishment, and those never saw the light of day again.
I'm more of a concept person. I know the concept of a project, show, song, book or script I want to write. That, I can get my head around. So, when I am sitting down to put it on paper, I'm focused and ready to write. The clock becomes a blur and I'll find myself spending hours taking notes, making outlines, creating characters, or building a plot line. When the juices are flowing, I write until I'm spent.

If you could collaborate with any artist in all of history, who would you choose and why?
I would love to write and record a song with George Michael. I've been in love with his image and music since Wham first hit the scene in the early 1980's. The opportunity to create something historical like a "Careless Whisper" would be at the top of my bucket list. I'm such a mark for him.
What have been the biggest rewards and challenges of having multiple projects going on?
I think people outside of my bubble think I'm doing all of these projects 24/7. For me, having multiple projects is a necessity. If I only have one project to focus on at a time, I'd go nuts. There's no way to spend every waking second on something and have all pieces of the puzzle in alignment with your calendar and time-table. If I only worked on one thing at a time, I'd pull all my hair out and spend most of my time screaming, "Why can't you see this is the only thing you should have going on in your life too!"
Everything I work on tends to be creative - photography, website design, writing stories, writing lyrics, writing scripts, singing songs, acting, and doing Rated G Radio. Each, in their own way, are important to me, special, and time sensitive. So, when they have momentum, I give them the attention they need to grow.
I've learned to accept that others have projects they're involved in and can't always magically push all of that to the side the moment I am ready to work on something. It used to really frustrate me that such-n-such project was taking longer than I wanted. When I stopped pounding my head on the brick walls, other creative opportunities started appearing. That works much better for me, and I'm having much more fun.
Do you have a favorite motto or quote?

Believe and receive! Attract and allow. If you want great things to happen in your life, let them happen. Believe they are happening to you now. Give thanks to God, your angels, your family, your friends, your whoever now that you're receiving exactly what is in your highest good. Be thankful in life. Believe and receive! Attract and allow.
What artistic projects do you have on the horizon?
I'm starting work on my 3rd album, which will be heavily influenced by disco. There will be a couple of guest appearances by major stars singing with me. I can't wait to head back into the studio next year. It all takes money to go record music, so getting the money together is my current focus. Anyone have a blank check they can give me?
My first book is nearly set for release. The Blond Jesus-ISMS features 10 stories from my life told with a little humor, and hopefully a lot of inspiration. I just signed off on the cover with the publisher last week and am putting the final touches on it now. Just like the album - the stories are mine. They may not be perfect, but they're mine and I'm sharing myself with you.

What do you most want to achieve as an artist?
BCS: Blatant Commercial Success. I want #1 records on Billboard now. I want #1 streams on Soundcloud and Spotify now. I want a global tour where I headline major stadiums around the world now. I want the fame, fortune, and respect as an artist recognized for making fun, popular, and profitable music now. I want it all now.

What's your favorite compliment that your art has received so far?
On my first album Eyes Wide, one of the songs is called "FOG". People still email saying this song helped them get through whatever tough time they are going through. That's what the song did for me at the time I wrote it, so hearing listeners resonate with it was a "wow" moment.

When are you most happy?
I'm most happy when I'm spending time with my dogs; Eric, Sookie, Bill, Angie, and Jenny. If I'm working on a creative project, that makes me happy. Otherwise, I'm not all sunshine and smiles, which will probably shock a lot of people, but I'm not. I'm always wondering what I can be doing next.

Where can your readers connect with you on the web?
This one's easy. Everything you always wanted to know but were afraid to ask is at GarrettMiller.com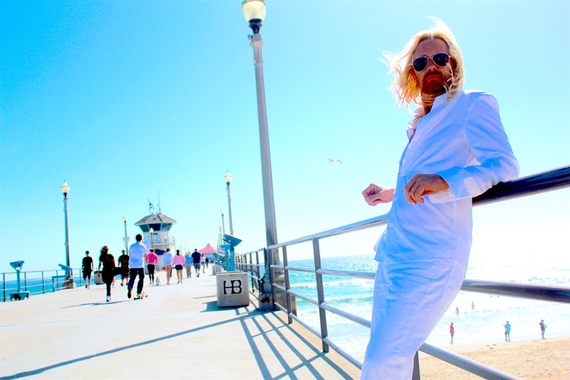 Credit for Photos of Garrett Miller: Nolan Kabrich
Popular in the Community